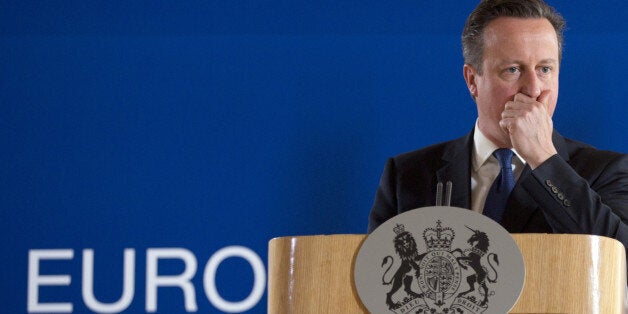 Two of David Cameron's closest allies in Europe have issued stark warnings about Britain quitting the EU, with both peace in Northern Ireland peace and prosperity in the City of London at risk from 'Brexit'.
Irish premier Enda Kenny told the CBI that Ulster would be hit hard by any vote to leave the European Union and suggested that the peace process would suffer as a result.
At the same time, Dutch Prime Minister Mark Rutte warned that any 'Leave' vote in the coming EU referendum would mean the UK was stranded 'in the middle of the Atlantic Ocean' and prove a 'killer' for its financial services industry.
Both men are strong supporters of Mr Cameron at Brussels summits and Downing Street stressed how they were working to help the UK get a reformed EU.
Mr Cameron is set to make a keynote speech on Tuesday, fleshing out his four key demands from Brussels and other EU leaders ahead of the referendum which is due to be held in the UK by the end of 2017.
Mr Kenny, who met Mr Cameron at Downing Street on Monday, told the CBI that economic cooperation was "so much easier between two members of the European Union".
"The EU provided almost €2.4 billion in funding over the period 2007 to 2013 to help Northern Ireland overcome the challenges of a peripheral region that has emerged from conflict," he said.
"Common membership of the EU project is part of the glue holding that transition process together. We have come through a difficult few months politically in Northern Ireland. But I remain optimistic.
"I believe that Northern Ireland can leave the past behind and become a dynamic economy that will benefit not only the UK but the island of Ireland."
Mr Kenny pointed to research done by the Irish Government that concluded a UK exit from the EU was not in either country's financial interests.
"The research also found that Northern Ireland could be the most adversely affected region of the UK in the event of a Brexit. This is extremely worrying on a number of levels.
"The EU has been an important, perhaps underestimated, enabler of peace in Northern Ireland."
No.10 said after their meeting that the Taoiseach had "confirmed that it was in Ireland's interest and the EU's interest that Britain remains a member of the EU and confirmed that Ireland would be as supportive and as constructive as possible in these negotiations".
Earlier, the Dutch Prime Minister warned that if it left the EU, the UK would become "a mid-sized economy in the middle of the Atlantic Ocean, in neither America nor Europe."
"It would no doubt take away a lot of economic potential, and be a killer for the London financial center," he told Bloomberg News.
Related