Pixie Lott has come under fire on social media, after appearing to laugh while attending this year's Festival Of Remembrance.
READ MORE:
The annual event honours the fallen troops who have lost their lives fighting for their country in various world conflicts, and this year's concert was shown on Saturday night, ahead of Remembrance Sunday.
During the broadcast, several viewers spotted the former 'Strictly Come Dancing' contestant - who also gave a solo performance during the concert - seemingly giggling in the crowd at the Royal Albert Hall, as she sang along to one of the night's hymns, while glancing at Rod Stewart, who she was standing next to.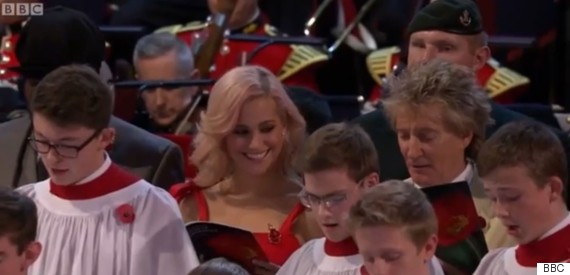 Pixie Lott, during the Festival Of Remembrance
Her apparent laughter has now sparked a backlash on social media, with several users calling for her to apologise, and accusing her of only attending the event to further her public profile.
@PixieLott@PoppyLegion As a forces family Im waiting for an apology after last nights disrespectful antics!! Only there for yourself!

— Suzanne (@RNavyWife) November 8, 2015
@PixieLott nice to see you laughing while the service was carried out, #ignorance#disgusting

— chad (@chadeggerton) November 8, 2015
@PoppyLegion please never ever ever ever have that disrespectful @PixieLott back again. Ever

— Trumpton Police (@PCTrumpton) November 7, 2015
#FestivalofRemembrance@PixieLott I don't know how you could have been any less disrespectful? #bbconepic.twitter.com/JOqMj94bMK

— Keith King (@diabeticguy) November 7, 2015
@PixieLott bad enough you couldn't sing your solo item but incapable of singing hymns +find it funny? #disrespectful#FestivalofRemembrance

— Helen Robertson (@helzrobertson) November 7, 2015
.@PixieLott whomever she is, being deeply disrespectful at the Remembrance ceremony by laughing instead of singing a hymn

— Hugh (@ehu) November 7, 2015
Why was @PixieLott laughing during 'Great is Thy Faithfulness' #disrespectful#FestivalofRemembrance

— Matthew Lunn (@matt_lunn) November 7, 2015
Several Twitter users have also hit out at Rod, though others who have seen the footage have noted that he doesn't actually appear to be in on Pixie's joke.
@PixieLott@rodstewart@PoppyLegion what time will you be apologising for laughing during a hymn last night?? #disrespectful#Remembrance 😡

— Sarah Manfield (@sarahlman) November 8, 2015
@PoppyLegion@PixieLott@rodstewart What were you two clowns laughing at? You were near people who lost friends and family in war! Imbeciles

— Orange and Red (@theorangeandred) November 8, 2015
@PixieLott so much fun during remembrance you started laughing,smirking when you didn't know the words to a hymn!! #disrespectful#ashamed

— Dave Williams (@DaveWillo1987) November 7, 2015
Still angry at Pixie Lott and Rod Stewart for being utterly disrespectful at #FestivalofRemembrance tonight. Excellent presenting by @huwbbc

— Laura Chittenden (@ChunkyChitts) November 7, 2015
Thoroughly disgusted with Rod Stewart & Pixie Lott,so disrespectful,they should apologise unreservedly! #FestivalofRemembrance

— Tracy (@tjb2202) November 7, 2015
Pixie Lott and Rod Stewart giggling through #FestivalofRemembrance - so disrespectful!! Don't know why they were invited, poor performances!

— Áine Gallagher (@AineBGallagher) November 7, 2015
Terrible to see Pixie Lott and Rod Stewart laughing during #festivalofremembrance and can't believe she described it as fun #norespect

— Lynn Turner (@lynnturner31) November 7, 2015
#FestivalofRemembrance Terrible disrespectful behaviour from the dumb blonde, and @PixieLott was just as bad.

— Kev W (@welterw888) November 7, 2015
Following the event, Pixie paid tribute to the troops on her own Twitter page on Sunday:
#lestweforget ❤️ so much fun performing at the Festival of Remembrance! Amazing to hang with @rodstewart x pic.twitter.com/lnRhOqPA5I

— Pixie Lott (@PixieLott) November 7, 2015
❤️ remembering those who fought for us including my family members. Loved meeting those who still are today and their families @PoppyLegion

— Pixie Lott (@PixieLott) November 8, 2015
Responding to the backlash, her spokesperson told The Mirror: "Pixie was incredibly honoured to be asked to perform at The Festival Of Remembrance. Pixie is hugely supportive of The British Armed Forces and The Royal British Legion, and has the utmost respect for them.
"Pixie is involved with The Royal British Legion in various ways every year as it means so much to her and her family."
LIKE US ON FACEBOOK | FOLLOW US ON TWITTER