Alien hunters all over the world have got in to a frenzy (again) after a lady claimed she found the remains of pinky, slimy creature in her back yard.
Gianna Peponis, who claims to be from California, posted this image on her Facebook page immediately sending the internet --still reeling from that mysterious US Navy missile test -- into meltdown.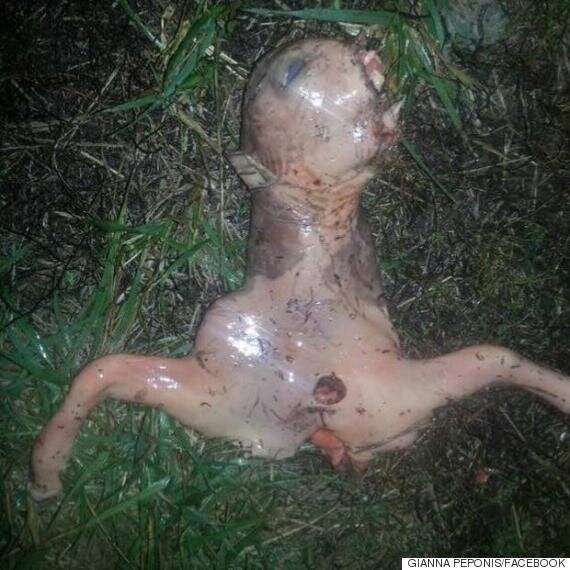 In her post, Peponis stated: "So I found this in my back yard during that strange light in the sky the other night... This is so crazy... I'm afraid of the government to some extent.. If something happens to me please be my voice..."
A number of other Facebook users questioned the validity of Peponis' claim, pointing out that the fleshy mass was most likely an aborted calf.
Kayla Elizabeth Elaine Campbell wrote: "All of you are fools for believing the shit people post on Facebook.
"Y'all need to seriously stop sharing this post. Its a premature calf that the mothers body aborted. These pictures did NOT come out of California after some fake ass alien sighting. I live in Bolivar, Missouri, 7 miles where these picture originated from, and seen these pictures off a friends fb.
"This is the third calf in the last few months. THESE PICTURES ORIGINATED OUT OF PLEASANT HOPE MISSOURI. PLEASE STOP THE IGNORANCE."
However, Peponis stuck to her claim arguing: "If the thing was an aborted animal then why did I hear a defining scream?.. There is going to be opposition in all truth. I've accepted that."
Well, regardless of what it is, we can all agree that it looks disgusting.