The first official walking Tube map has been revealed - and it might just revolutionise the commute for stress-out Londoners.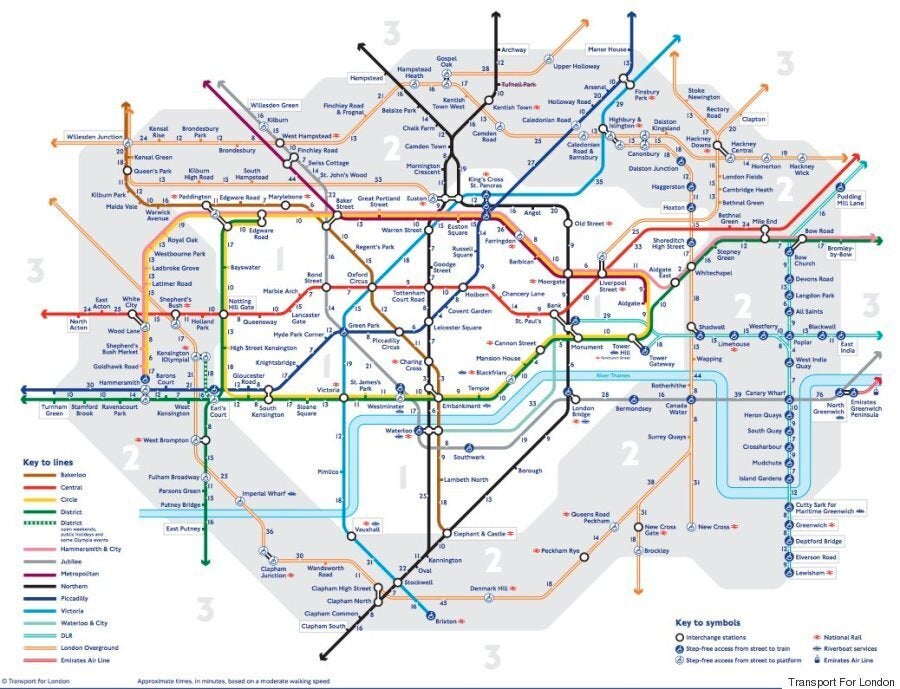 Click picture for larger image
The Evening Standard quoted a spokeswoman for TfL as saying: "What we have seen is that people are desperate for this sort of thing, so we have created it.
"We focused on central London, zones 1 and 2, and based the times of our journey planner.
"It's often quite a difficult message for us because people think we just do the Tube and buses, but we're also responsible for roads, walking and cycling.
"We're investing heavily in improving walking and cycling routes across London, with all the health benefits they bring."
The new map reveals…

The longest walk between two Underground stations is 76 minutes, between Canary Wharf and North Greenwich.
The longest walk between two Overground stations is 45 minutes, between Denmark Hill and Clapham High Street.
The shortest walk between Underground stations is two minutes, between Whitechapel and Aldgate East.
The shortest walk between Overground stations is eight minutes, between Canada Water and both Surrey Quays and Rotherhithe

.
The Standard quoted Gordon Innes, CEO of the Mayor's official promotional company for the capital, London & Partners, who said: "The Tube is the most used transport method by visitors in London, stations for many of our top attractions are within walking distance of each other.
"Walking from the buzz of Leicester Square to the markets of Covent Garden takes just four minutes, but many tourists make the longer journey by Tube.
"Visitors and Londoners alike can now use the new walking Tube map to navigate our fantastic city above ground, while taking in its iconic sights."
Tube Steps Map: London Underground Reveals Number Of Steps Between Stations In Zones 1&2
For all those times you've guiltily taken the Tube just one or two stops – you now have literally no excuse.
A new Tube map, launched to help get Londoners walking, shows the number of steps it takes to get between stations in zones 1 and 2.
Being that the average human can cover 100 steps a minute at a moderate walking speed, the fact that many central London stations are less than 1,000 steps apart shows just how achievable this is.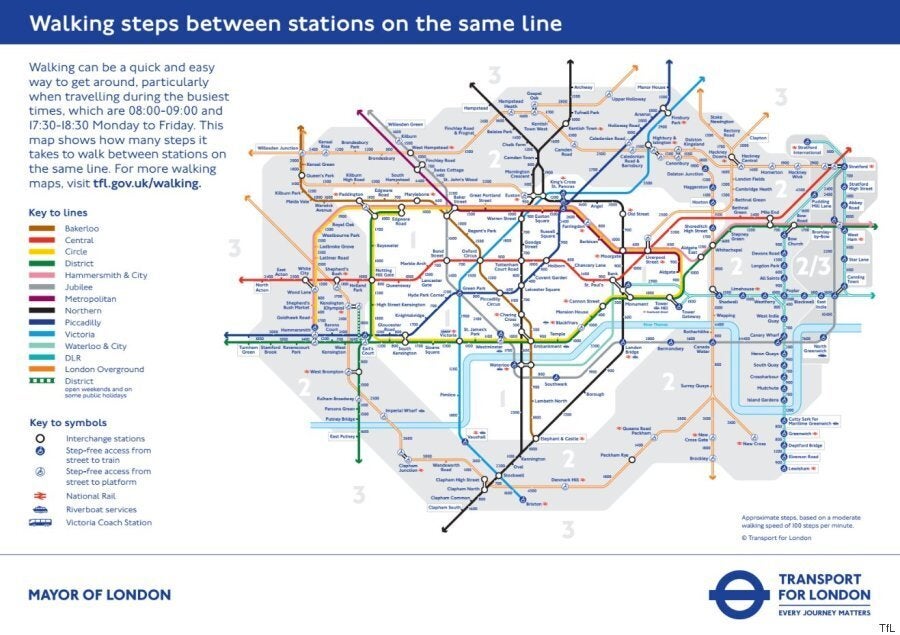 The new map follows TfL's popular Walking Tube map from last year, which shows the times between stations.
The update will be especially helpful to Londoners who set themselves a daily target of steps to take as part of daily exercise and getting fit.
Sadiq Khan hopes the map will be a fun and practical way to help busy Londoners who want to make walking part of their everyday lives.
The Mayor has put a new focus on making it easier and more enjoyable to walk around London and is in the process of appointing a new Walking and Cycling Commissioner in City Hall.
This is how easy it is to walk between popular central London stations:
Leicester Square to Covent Garden only takes 400 steps and 4 minutes
Kings Cross to Euston takes 1,200 steps and 12 minutes.
Khan said: "We need to make it easier and more enjoyable to walk around London. We all hop on the Tube to take short journeys around central London, whether for work or when we're out in the evening.
"The new steps map will encourage more of us to walk these short journeys instead – it's good for our health and it will help support London's small businesses. We've made clear our commitment to tackle air pollution and get more walking and cycling in London, and this is a fun and practical way to help busy Londoners who want to walk more as part of their everyday lives."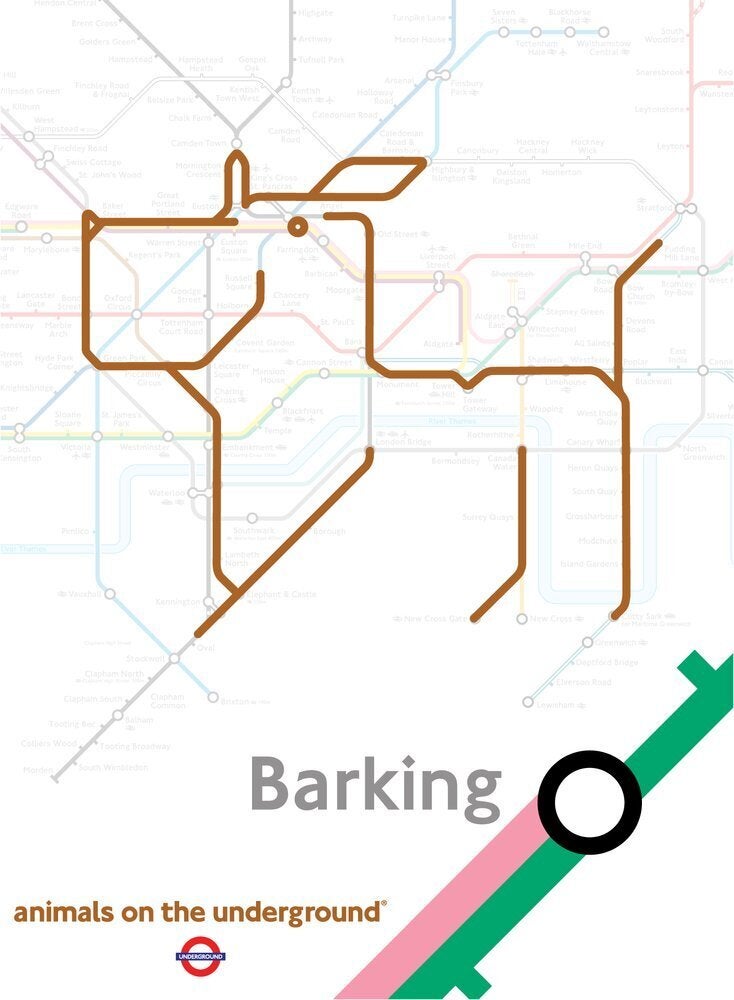 London Underground Animals
Related