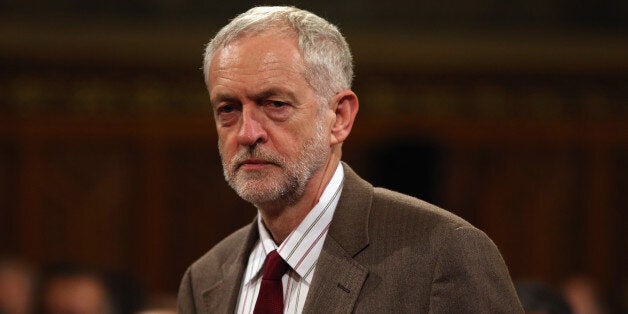 Fresh tensions between Jeremy Corbyn and rebel Labour MPs have emerged amid new moves to pre-empt plots to oust him before the 2020 general election.
Allies of the Labour leader plan to change party rules to ensure he can automatically stand in any leadership election if he's challenged by his own MPs.
The move, to be tabled through the party's ruling National Executive Committee (NEC), follows what is understood to be legal advice that the rules need to be amended.
At present, the rulebook is silent on what happens after a Labour leader is challenged by his own Parliamentarians, a challenge that requires the backing of 20% of MPs, peers or MEPs.
One NEC member told HuffPost UK that rule changes are normally discussed at the July NEC before annual conference but earlier interventions were possible.
Party sources insist the plan is not on the formal agenda of next week's meeting, though some pro-Corbyn activists would like to table it as soon as possible.
Mr Corbyn narrowly managed to get onto the Labour leader ballot this summer after he got the required 35 MPs, 15% of the total, needed for a candidacy.
His colleagues believe it is a 'myth' that he would fail to get enough nominations if a fresh contest were held, not least because his huge support among party members puts fresh pressure on MPs to back him.
But his allies also believe it would be "unthinkable" that the leader would not automatically be on a ballot to face any challenger.
And the rule change would be one means of 'circling the wagons around Jeremy' from attacks by rebel Labour MPs, one source said.
Unlike the Conservatives, the Parliamentary Labour Party has never invoked a formal leadership challenge – although Tony Blair was effectively forced out by critics - and so the rules are untested.
Although the NEC can suggest a rule change, it can only be agreed by the full conference of the party, where constituency parties and trade unions make up 50% each of the votes.
The bigger prize for Corbyn supporters is to ensure they are represented in constituency delegate level.
The leadership rule change emerged as another Labour critic of Mr Corbyn hit out at his leftward direction on the economy, immigration and welfare policy.
Hyndburn MP and former whip Graham Jones told the BBC's World at One programme that his party needed to be "fiscally more responsible" and "stop turning our back on the debate on immigration".
He also hit out at the pro-Corbyn grassroots movement Momentum, blaming it for a "vile" atmosphere of abuse directed at those who hadn't backed him for the leadership.
Shadow minister Richard Burgon hit back, saying "I think we all need to get behind the Labour leader - who's been elected with a huge mandate"
Fresh claims emerged today that Momentum activists are seeking next week to win local party positions in the east London seat held by Labour MP Stella Creasy. Similar local selection battles are taking place across the country.