Alan Henning, a taxi driver from Greater Manchester, was killed by the masked Islamic state executioner, whose real name was Mohammed Emwazi, in December 2013.
Jihadi John, who was educated in London, became one of the world's most hated figures after beheading a series of Western hostages in a gruesome series of propaganda videos.
Officials have said they are "99% sure" he was killed by the strike and can say he is dead "with a high degree of certainty". On Friday morning, David Cameron said: "We can not yet be certain if the strike was successful."
Stuart Henning, Mr Henning's nephew, tweeted on Friday that he had "mixed feelings" as he wanted Emwazi to suffer "the way Alan and his friends did".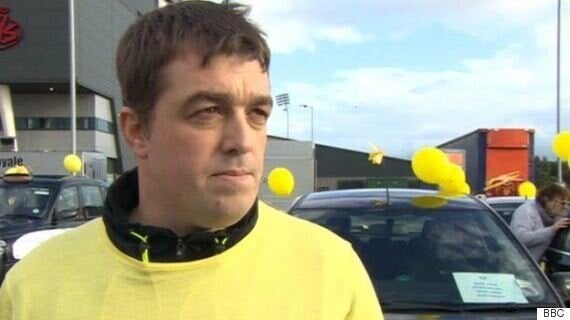 He added he was glad "it" had been "destroyed".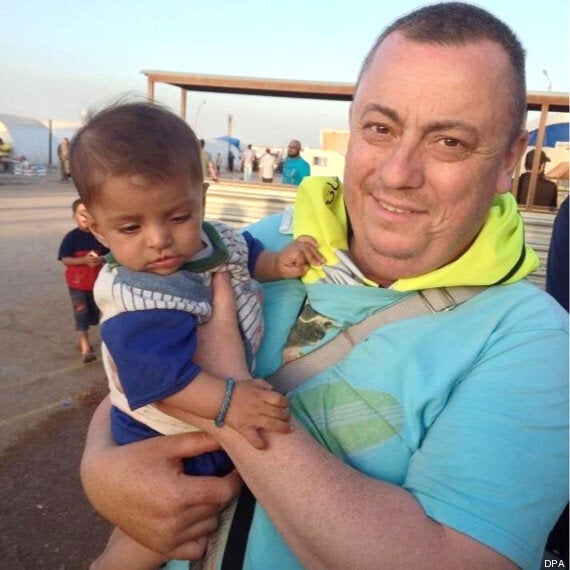 Alan Henning was Emwazi's fourth victim
Diane Foley, mother of Emwazi's first victim, US journalist James Foley, said the news would be "small solace" if confirmed.
She told ABC: "This huge effort to go after this deranged man filled with hate... they can't make half that effort to save the hostages while these young Americans were still alive."
Journalist Steven Sotloff's mother Shirley, whose son was Emwazi's second victim, told NBC News: "If they got him great. But it doesn't bring my son back."
Speaking from Downing Street, Cameron described IS as an "evil terrorist death" cult and said: "This was an act of self defence. It was the right thing to do. Today I want to thank the United States. The United Kingdom has no better friend or ally."
"We have a long reach... We never forget about our citizens."
Mr Henning's daughter has revealed she learned of her father's death when she saw a picture from his execution video on Instagram.
In a Jeremy Kyle Show edition that aired on Friday morning, recorded before the strike on Emwazi was announced, she said: I remember I was just laying in bed on Instagram and er, I just saw the final picture. It was the final picture, after the execution.
"You just kind of go through in your head, like whenever I used to get upset about it, I used to torture myself thinking, 'You don't know what he's going through,' so how can you sit there crying.
"So I used to just shout at myself, you can't cry, you can't be upset, think about what he's going through, think about what everybody else is going through."
On Twitter, people felt aggrieved at the method of Emwazi's apparent death, which was in marked contrast to the psychological torture his victims underwent as their beheadings were announced to the world in one video and then carried out in another.
People also wrote mocking jokes, celebration and relief.
Mohammed Shafiq, chief executive of the Manchester-based Ramadhan Foundation, said: "The killing of Mohammed Emwazi in Syria is a significant moment in the fight to get justice for David Haines, Alan Henning and all the victims of this evil man.
"The Ramadhan Foundation joins the victims of ISIS and their families in preferring him to have being captured alive so he would have seen justice in a court of law but understand why this wasn't possible. Extra judicial killing over justice in a court of law should not become the norm in fight against terrorism.
"Mohammed Emwazi manifested the evil and barbaric nature of this terrorist entity called Daesh which has killed thousands of Muslims, Christians, Yazidis. There is nothing he said or stood for which would justify his barbaric crimes and actions."
IS expert Shiraz Maher said the death of Emwazi had no implications "beyond the symbolism".