"In light of what happened last night, we would like to send our thoughts and our prayers to everyone who was affected in Paris last night. And most importantly, please stay safe," the music mogul said during Saturday night's show.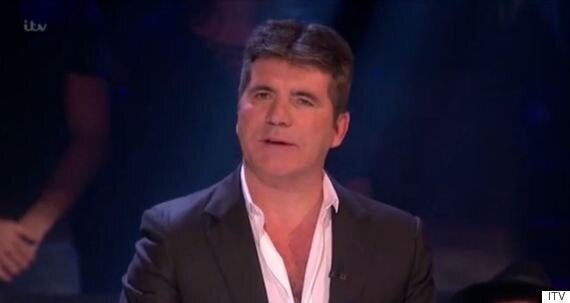 Simon Cowell paid tribute to the Paris terror attack victims
Co-host Caroline Flack explained. "There are a couple of song choices in tonight's show that both the judges and contestants felt we should change."
For the movie week theme, contestant Monica Michael was originally supposed to perform '(Bang Bang) My Baby Shot Me Down' by Nancy Sinatra, while Lauren Murray was due to sing 'Licence To Kill' from the Bond movie of the same name.
Londoner Michael's rendition of Veronika Bozeman's 'What Is Love?' was praised by the judges.
"I have to give it to you. To have to change your song this morning and perform like that? All props to you," said Cheryl Fernandez-Versini.
"This is exactly the sort of song you should be doing," stated Cowell.
BBC Radio 1's Nick Grimshaw said: "It's a sign of you being an artist that you can stand there and deliver,"
Mentor Rita Ora agreed: "That was really incredible."
Dental receptionist Murray also performed to universal acclaim following her rendition of Ariana Grande's 'One Last Time'.
"Another one who had to change her song this morning. I prefer that to the one you had planned," said the former Girls Aloud singer.
Head judge Cowell said: "It feels tonight like the competition has started. Under the circumstances, you nailed the song."
Following their energetic performance of Beyonce's 'Work It Out', a chair was put on stage for Celina by co-host Olly Murs as the panel commented on what they'd heard.
The X Factor boss said: "Under the circumstances, one of the most incredible things we've seen on the show. I hope you're OK."
Celina nodded as her sisters expressed their thanks.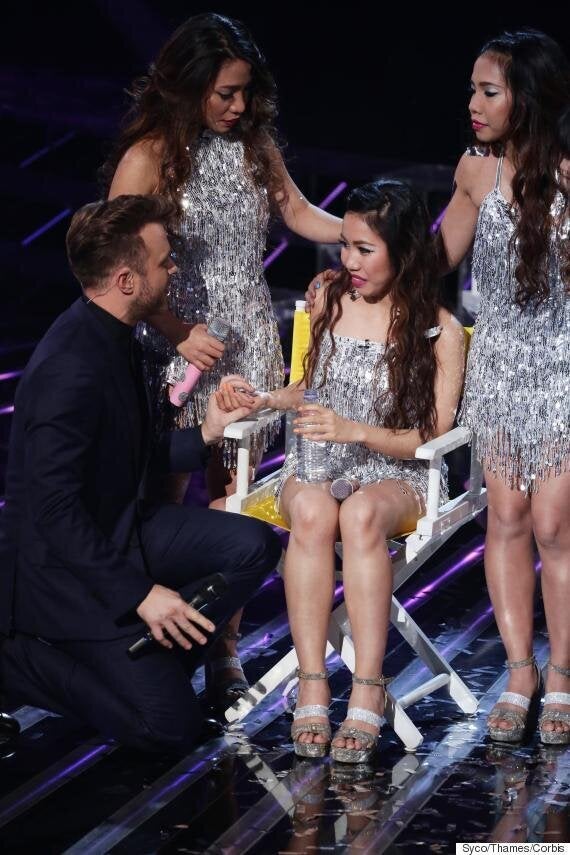 Celina fell ill during the live show
Louisa Johnson tackled Rozalla's 'Everybody's Free' from the movie 'Romeo & Juliet'. "I really, really adore you," Cowell told the 17-year-old from Essex.
Following last week's disaster, backing singer Anton Stephans redeemed himself with Whitney Houston's 'I Have Nothing'.
"Tonight, my friend, you took centre stage," said Fernandez-Versini.
Max Stone's version of Secret Garden by Bruce Springsteen from the movie 'Jerry Maguire' sparked a surprising admission.
Groups mentor Fernandez-Versini admitted she has never seen the Tom Cruise and Renee Zellweger film. "I'll get you the movie, sweetie," Cowell told the Geordie judge.
Opening Saturday's show, controversial contestant Mason Noise, originally axed from the competition for rowing with Cowell, performed 'Men In Black' and won praise from the panel.
"It's like welcome back, Mason," exclaimed Cowell. "You had the elements I always used to like about you: cockiness and arrogance."
There were loud cheers for Ghanaians Reggie n Bollie for their infectious rendition of 'Who Let The Dogs Out'.
Che Chesterman is only 19, but his rendition of Percy Sledge's 'When A Man Loves A Woman', from the movie of the same name, won a standing ovation.
"Do you have any idea how much better your love life is going to be after that?" joked Cowell.
The fate of the contestants is now in the public's hands as two acts will leave the competition this week.
'The X Factor' is broadcast tonight at 8pm on ITV.
Popular in the Community