Islamic State has issued five points of guidance to their members on how to avoid being hacked, following Anonymous' promise to "hunt" the terrorists down.
In a message sent through Telegram, a free encrypted messenger app, ISIS called Anonymous "idiots" and wrote in broken English "what they gonna hack all what they can do is hacking Alansar twitter accounts, emails etc..."
A screenshot of the message, which was released on the app's Khilafah News' channel, shows ISIS making light of the hackers but still listing five different ways to avoid getting hacked, including the use of direct messages on Twitter.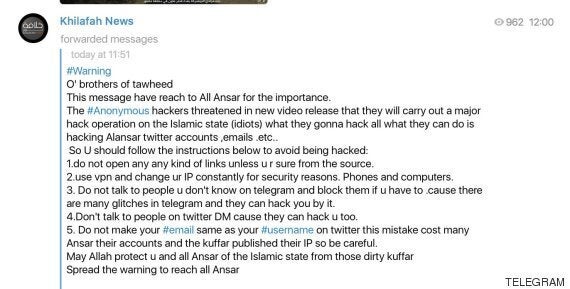 Nick Kaderbhai, a research fellow at the institute told the Huffington Post UK that the message was "released on the 'Khilafah News' channel on Telegram.
"Anyone can subscribe to it (technically) however the more IS channels you subscribe to the more open you are to investigation."
Anonymous has claimed to make a dent in the militant group's online presence. So far, over 8,000 Twitter accounts linked to ISIS have reportedly been taken down.