The prime minister was at Wembley for the friendly encounter that was tinged with emotion and overshadowed by security fears, after terrorists killed 129 people in Paris and another scheduled international friendly, between Germany and Holland, was cancelled over "concrete" evidence of another terror threat.
It was the first match for the French team since Friday, when the attacks, took place including one on the stadium they were playing in.
The emotional highpoint of the match was not anything that happened during it but the rendition of La Marseillaise, when the whole stadium sang the French national anthem.
Cameron appeared to fight back tears as the stadium gave the French side a standing ovation.
Cameron was not alone among the 70,000 people singing and those watching from home who felt it was all too much.
The two teams defied custom during the singing, mingling to stand among one another, rather than separately, and all joining in with the French anthem.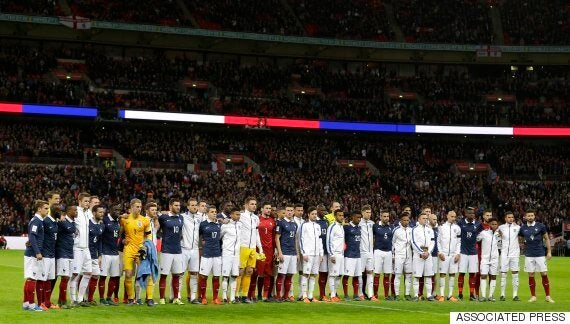 The players during the anthem
Tributes were led by Prince William and Cameron before a poignant minute's silence was observed, for which players from both teams gathered around the centre circle.
Volker Kluwe, president of Hannover Police, told the BBC "there were plans for some kind of explosion".
He added police had "concrete" evidence and warned that people should return home as quickly as possible.
Friday's death toll would have been even higher if the terrorists had succeeded in their plan to get into the Stade de France where the French national team were playing Germany.
One of the suicide bombers reportedly had a ticket for that match but was turned away by security, forcing him to detonate the bomb outside the stadium.
Popular in the Community