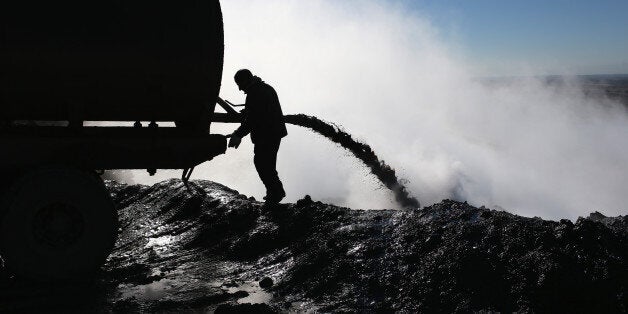 Destroying Isis's ability to extract and sell oil could lead to an uprising from those living underneath the terrorist group, an international finance expert has claimed.
Tom Keatinge, from defence think-tank the Royal United Services Institute (Rusi), claims international governments need to do more to stop vital oil refinery equipment being sold to so-called Islamic State.
It is estimated that Isis is making £1million a day through oil sales in the region.
Mr Keatinge, who is director of Rusi's Centre for Financial Crime and Security, believes cutting off funds from oil sales could lead to Isis increasing taxes on people living under its control – which could in turn lead to revolt.
Speaking to The Huffington Post UK, Mr Keatinge said: "A lot of the oil they sell is sold to people in the territory they control and to the Assad regime. We need to stop them being able to get oil out of the ground in the first place.
Restricting the sale of spare parts for oil refineries, that to me is a more effective way of stopping Isis than trying to cut off demand."
He added: "Limiting their ability to make money from oil means they will have to replace that somehow. Essentially, that will come from increasing tax and that's the point perhaps local people start to rise up. Of course, Isis is not a democracy."
Mr Keatinge also claimed the Government needed to work closer with organisations in the private sector, mainly banks, to help stop money being fed to Isis.
The terrorist group also secures funding from ransom payments and donations.
Speaking in the Commons today, the Prime Minister claimed the UK would be able to "more directly" address the sale of oil to President Assad's regime if "we were taking part in the action in Syria."
Related