A young Muslim man has given a masterclass in how to shut down Islamophobic comments on social media with one politely worded tweet, accompanied by a pretty special seal of approval.
Ahmed Fowad, who belongs to the Ahmadiyya Muslim Youth Association, responded to a social media user who had tweeted "#MuslimsAreNotTerorist' [sic] along with pictures of various groups burning national flags.
Fowad uploaded a screenshot of a letter from David Cameron, who had written to his youth association thanking the group for its fundraising efforts, along with the message, "unfortunately Muslims like us don't make headlines, poppy burners do. We raised £400k for @PoppyLegion".
The letter, sent this month and signed by the prime minister, read: "I warmly thank the Ahmadiyya Muslim Youth Association for all they are doing to support The Royal British Legion's Poppy Appeal of 2015.
"Your participation in this important fundraising campaign is a display of your clear commitment to community work, tolerance and peace. I welcome such positive action by young British Muslims, and I am sure that it will inspire others to make similarly positive and constructive contributions.
"It was with great sadness that I read of the fire that damaged your Baitul Futuh Mosque. I am pleased to see that the incident has not halted the impressive social work of the Ahmaidyya [sic] community.
"I send my very best wished to all those involved with the campaign and hope the energies of your Association and the Royal British Legion will raise substantial funds for this incredibly worthwhile cause."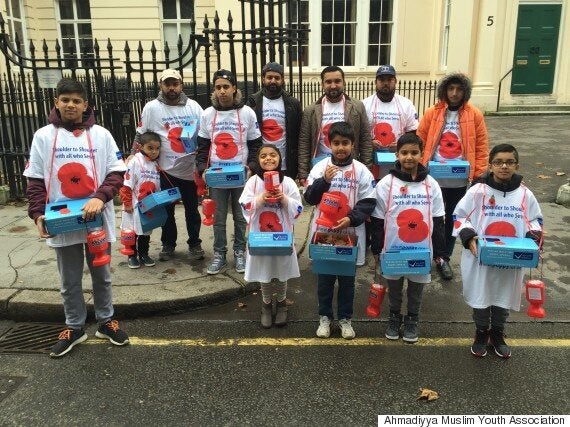 Members of the Ahmadiyya Muslim Youth Association fundraising
Adam Walker, a member of the Ahmadiyya Muslim Community, told HuffPost UK Islamophobes are ignorant of the fact Muslims themselves are also the victims of terrorist attacks.
"So Muslims too have an acute understanding of the suffering and havoc reaped by extremists.," he said. "'Statistics support a strong feeling within the British Muslim community that following terrorist attacks there is an up-rise in anti-Muslim sentiment and attacks. Sadly it is often Muslim women who suffer the most from Islamophobia."
Walker says he believes Muslims should be condemning extremism, but "not because they share in blame, but because it is important for those of us who understand the true peaceful teachings of Islam to counter the perverse misrepresentation of Islam peddled by extremists today."
He added: "It's not unsurprising Muslims are increasingly being pressured into condemning terrorism.
"However, this pressure is underpinned by the assumption that Muslims are complicit or sympathetic with extremism unless they condemn it at every single opportunity. Many of those pressuring Muslims are often blind to the highly effective work being done by people like Ahmadi Muslims to confront and tackle extremism in all it evil guises head on."
The south London mosque, which is attended by thousands of worshippers, was ravaged by fire in October, destroying two community halls and several offices.
The youth association works tirelessly to fundraise for charity, raising nearly £18,000 for the Haiti appeal and more than £42,000 for the Pakistan flooding appeal.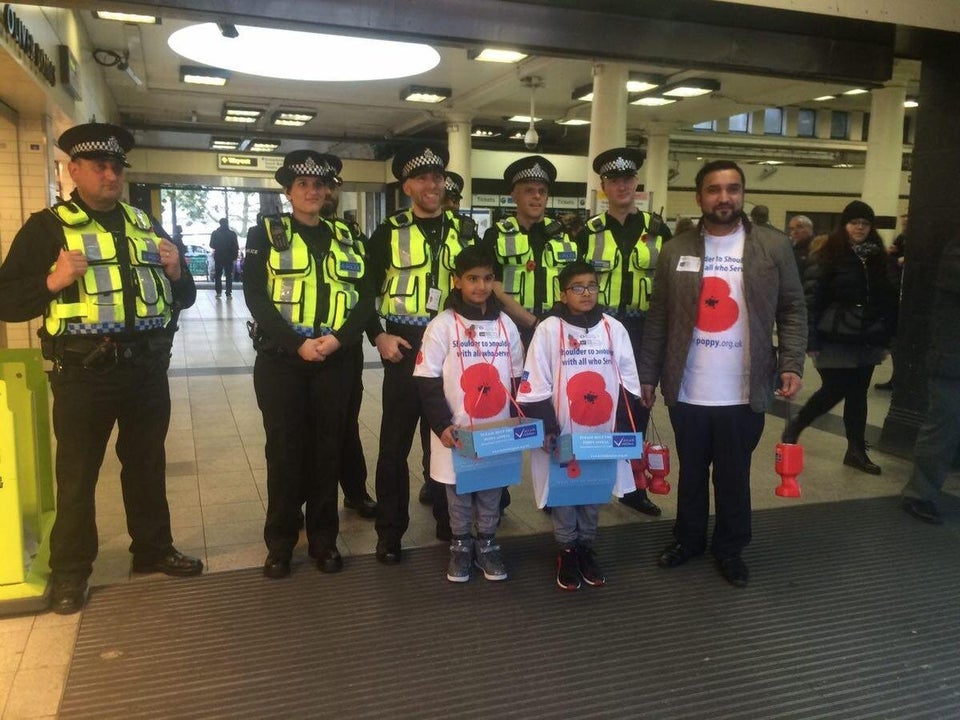 Ahmadiyya Muslim Youth Association raising money for poppies