Following Benedict Cumberbatch's passionate defence of his right to express his beliefs, the star of 'The Bridge', Sofia Helin, has become the latest celebrity to speak up on behalf of refugees, expressing her pride in her home-nation Sweden's response to the migrant crisis in Europe, in comparison with, say, the UK.
"You're taking 4,000 a year and your population is 64 million and we are taking 100,000 and we are nine million. So we have to discuss it,"she tells Radio Times. "It's a big responsibility we have. I am so proud of Sweden, I think it's so beautiful.
When you make it simple, say, if someone stood outside your door saying, 'They are killing me, will you let me come in?' could you say no?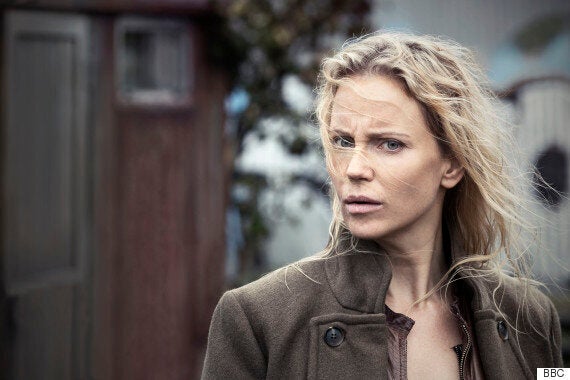 The Bridge's Sofia Helin says there is no alternative when it comes to welcoming migrants into her country
"Why do you have to make it more complicated than that? If they are coming to ask us, don't we have to open our doors? After a few years, people coming in start to gain for the country."
The Bridge's detective Saga Noren may be a woman adept at concealing what emotions she has, but the lady who plays her wears her heart on her sleeve, and today she admits she was terrified to return to the series without her on-screen sleuthing and sparring partner Martin Rohde, played by Kim Bodnia.
Sofia, who returns in the role of the solitary detective in the third series of the hit crime drama this weekend, tells Radio Times of her concern that she wouldn't be able to carry it alone.
"It was a painful process before the decision was made," she says, "and at first I was terrified, unhappy and, of course, sad. But I quite quickly realised this was an opportunity for me as an actor to use the situation. So I started using it, and said, 'Sofia, step forward and do it.' We had a new energy to do something completely new."
Viewers last saw Martin Rohde being arrested for murder, a crime uncovered by Saga Noren, whose sense of justice wouldn't allow her to overlook this, even from her only friend.
In reality, actor Kim Bodnia didn't want to return for a third instalment following disagreements with the show's writer Hans Rosenfeldt about how his character should operate, so both Saga, and Sofia, will have to take on the challenges of the third series alone.
Well, not quite, as she has a new partner of sorts, Henrik Sabroe, and together they must investigate the murder of a gay woman, as Saga's own traumatic family past comes back to haunt her.
You can read the full interview with Sofia Helin in the next issue of Radio Times, on sale now. 'The Bridge' returns to BBC Four this Saturday evening at 9pm with a double bill.