Brussels remained on lockdown on Sunday with authorities searching for key suspects in connection to the Paris attacks. On Friday, the threat alert level was raised to "maximum," while the Belgian government implemented measures to stave off an "imminent terrorist attack."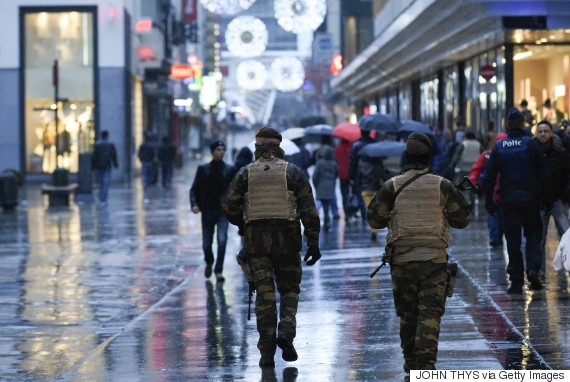 Belgian soldiers patrol the Rue Neuve pedestrian shopping street in Brussels on November 21, 2015
As police teams moved around the city on Sunday, authorities asked residents not to tweet the whereabouts of raids fearing the suspects would likely monitor police movements.
Par sécurité, veuillez respecter le silence radio sur les médias sociaux concernant les opérations de police en cours à #Bruxelles. Merci

— Police Fédérale (@PolFed_presse) November 22, 2015
Police are asking the public not to report their movements on social media, please support & rt #BrusselsLockdown

— Steven Vandeput (@svandeput) November 22, 2015
Residents responded to the request with good humour, retweeting cat pictures instead using the hashtag #BrusselsLockdown.
Raids are taking place. Authorities asked not tweet. So people tweet cat picts. Love my people

#BrusselsLockDownpic.twitter.com/uQwS3M8LyV

— Frederic Jacobs (@FredericJacobs) November 22, 2015
Residents told to stay away from windows. Not sure they got the message #BrusselsLockdownpic.twitter.com/kv3Mosk5mZ

— Matteo Albania (@m_albania) November 22, 2015
They got him #BrusselsLockdownpic.twitter.com/qrKBKRh0Tc

— Geert Van Bondt (@Geertvanbondt) November 22, 2015
Post cat pics, not police movements #BrusselsLockdown#BelgianSurrealismpic.twitter.com/GYfzY65Qof

— Yves-Alexandre (@yvesalexandre) November 22, 2015
This is how my dog feels about the ongoing #BrusselsLockdown#BrusselsAlert#Brusselspic.twitter.com/pXfYrWGd8d

— Méabh Maguire (@MevMav) November 22, 2015
I don't have a cat, but here's my rabbit #BrusselsLockdown#PrayForBrusselspic.twitter.com/KUYV3elfmb

— Marie Emma ن (@Mariemmaaa) November 22, 2015
#brusselslockdown omnomnom pic.twitter.com/fJFmZ7d3uv

— Muriel Reyserhove (@mreyserhove) November 22, 2015
Surrealist Belgians #BrusselsLockdownpic.twitter.com/EXSFZrV1oc

— Sybille deLa Hamaide (@Sdelahamaide) November 22, 2015
Is it safe to come out yet? #BrusselsLockdownpic.twitter.com/6S7J7fYRDc

— Stéphanie O'Keeffe (@stephokeeffe) November 22, 2015
Pumpkin shows solidarity with the #BrusselsLockdownpic.twitter.com/D3YAVzQ9fA

— Leon Jackson (@DrLeonJ) November 22, 2015
Meanwhile in Belgium ... #BrusselsLockdownpic.twitter.com/9RIU4nD1WZ

— Paul Taquet (@au_taquet) November 22, 2015
Hide and wait #BrusselsLockdownpic.twitter.com/FdvctVIMYn

— DM Graphics (@LindsayMonteyne) November 22, 2015
Is it over yet? #BrusselsLockdownpic.twitter.com/au8Fw8thNA

— Hannes Coudenys (@hannes_bhc) November 22, 2015
Exclusive picture of the man the police is looking for #BrusselsLockdownpic.twitter.com/9dHN9gA4yw

— Florence (@flowindey) November 22, 2015
BREAKING NEWS : Belgium Police using the new 200mph Hovercat during terrorist operations #BrusselsLockdownpic.twitter.com/MnIpiOZT3x

— Jayce le Satirique (@jaycelight) November 22, 2015
This, dear outsiders, is how we fight terrorism here. They haven't got a chance! We haz kittens! #BrusselsLockdownpic.twitter.com/sdq1MbrKsz

— Gilles Bordelais (@Gilles_PPDE) November 22, 2015
Darko is using his satellite dish to track the bad guys ... Almost there #BrusselsLockdownpic.twitter.com/RX4k6PAFQI

— patrick de francquen (@patje16) November 22, 2015
You can't keep hiding. #BrusselsLockdownpic.twitter.com/4ls1e9qB3s

— Lore Vonck (@lorevonck) November 22, 2015
Breaking news, the seals are deployed #BrusselsLockdownpic.twitter.com/qqL8MmgjgT

— yazid helissi (@yazhelissi) November 22, 2015
Stay safe, lovely folk of Belgium. #BrusselsLockdownpic.twitter.com/IA07USzISy

— Kylo Ren (@KyloRenn) November 23, 2015
I think this is the point where the #BrusselsLockdown cat fest goes too far. Ht @danieljeriverspic.twitter.com/D54CzQZWuS

— Joseph Willits (@josephwillits) November 22, 2015
Stay inside they said. #BrusselsLockdownpic.twitter.com/hpAfV417Hf

— Julia Reda (@Senficon) November 22, 2015
Picture of Belgium's National Security Council when the door opens in the middle of the meeting #BrusselsLockdownpic.twitter.com/4oWuBRtipO

— Florence (@flowindey) November 22, 2015
I'm absolutely in love with the hashtag #BrusselsLockdown and the Belgian people. pic.twitter.com/sJukzTw3Pr

— Antonio Ábalos (@abalos) November 22, 2015
Cat skateboarding #BrusselsLockdown 🐱 pic.twitter.com/o7WVZlPZMw

— Cath Vandier (@pixelcath) November 22, 2015
Suspicious backpack found in #Molenbeek#BrusselsLockdownpic.twitter.com/kbUvVYtsSg

— Parliamonster (@Parliamonster) November 22, 2015
Yea yea yeah

Whatever

#BrusselsLockdownpic.twitter.com/ikvBdGX70w

— Mr Malky (@MrMalky) November 22, 2015
May the force be with us. #BrusselsLockdownpic.twitter.com/m9OuEVhfXS

— TineEeckhout (@TineEeckhout) November 22, 2015
#BrusselsLockdown supporting Belgian Police. We're stronger than we think! #Bravepic.twitter.com/x5Lq7pKKb1

— Wendy Carrara (@wcarrara) November 22, 2015
I can't say @RealGrumpyCat seems impressed by the #BrusselsLockdown. pic.twitter.com/bNsrjJrmj8

— Daniel Hannan (@DanHannanMEP) November 22, 2015
for our friends in Belgium we are sending this crime fighting duo #BrusselsLockdown#catspic.twitter.com/I0Qwai7Azr

— Michele Scott (@ShellScott17) November 22, 2015
Well played, Belgium. Well played. #BrusselsLockdownpic.twitter.com/5PpvoGocQC

— Kelsey Egan (@KelseyTrrrills) November 23, 2015
SEE ALSO: