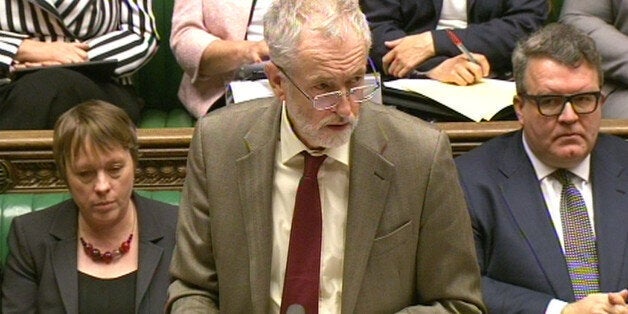 David Cameron mocked Jeremy Corbyn in the Commons today following last week's explosive internal-Labour Party row over Ken Livingstone's appointment to co-chair a review of the party's defence policy.
The prime minister told MPs: "We look forward to this review, being carried out as it is, by Ken Livingstone. Someone who has absolutely no idea about defence but every idea about attacking hard working frontbenchers who try to do their job for the party opposite."
Cameron made the jibe in the Commons after delivering the government's Strategic Defence and Security Review (SDSR).
Corbyn, flanked by shadow defence secretary Maria Eagle, had used his response to the to announcement on military procurement to highlight Labour's upcoming policy review.
Last week Labour was engulfed in a very public row over Livingstone's appointment - with Eagle said to have found out about the news from Twitter.
The pair have very different views on defence policy. Livingstone is opposed to renewing Britain's nuclear weapons while Eagle is in favour.
Laughing at Cameron's joke, Eagle pointed at herself indicating she was leading the review not Livingstone.
Shadow defence minister Kevan Jones had criticised Livingstone's appointment. Livingstone hit back by saying Jones needed "psychiatric help". Comments that were immediately condemned by Labour MPs given Jones has suffered from depression.
Jones was widely cheered by MPs on all sides of the Commons earlier on Monday when he stood up to ask a question of the defence secretary.
In the Commons today, Cameron promised to set out a "comprehensive" strategy for tackling Islamic State (IS) on Thursday that will include British air strikes on the terrorists' bases in Syria.
He confirmed he would be coming to parliament to "make the case" for wider military action after holding talks with French president Francois Hollande in the wake of the attacks on Paris.