London mayoral hopeful George Galloway has used a new poll apparently showing that one in five British Muslims has "sympathy" for those who "leave the UK to join fighters in Syria", to accuse fellow contender Sadiq Khan of "turning his own people into scapegoats for votes".
The Sun reported that results of a Survation poll showed that more than 5% of British Muslims have "a lot" of sympathy for those who travel to Syria to join the Islamic State, with another 14% having "some sympathy". The number among young Muslims aged 18-34 is even higher at one in four, it wrote.
Labour contender Khan wrote an opinion piece for the tabloid where he said the poll findings and the Paris attacks on November 13, in which 130 people were killed, were a wake-up call for Britain, which needs to "take its head out of the sand and act to tackle extremism and radicalisation at home".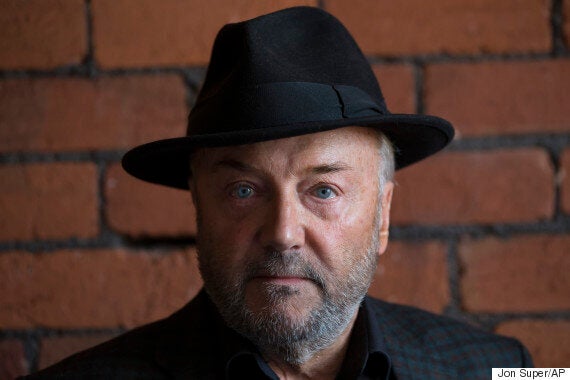 George Galloway has attacked fellow mayoral contender Sadiq Khan for commenting on a poll about British Muslims' sympathy towards those who travel to Syria to fight
Khan wrote: "Tackling extremism is a challenge for everyone but I believe British Muslims have a special role to play."
He opined that the Paris attacks "could have been us" and said tacking extremism was "a challenge for everyone, but I believe British Muslims have a special role to play."
Khan then explained: "Why? Because we are best placed to ensure the extremists' messages of hate are not believed by other Muslims.
"British Muslims must challenge these extremist views wherever they come across them."
Galloway has since tweeted his disdain, claiming Khan was "turning his own people into scapegoats. For votes."
Galloway also contended that the Sun headline - "One In five Brit Muslims' sympathy for jihadis" - was incorrect.
That suggestion is one shared by others, with commentators pointing out that the Survation poll did not mention IS when it questioned participants about their feelings on those fighting in Syria. Instead it asked them if they had "sympathy with young Muslims who leave the UK to join fighters in Syria".
"Ambiguous", is how some evaluated the question. The findings were "utter rubbish", contended Dr Rob Ford, a politics professor from The University of Manchester.
Questions both before and after "the sympathy" question, did however, directly refer to IS.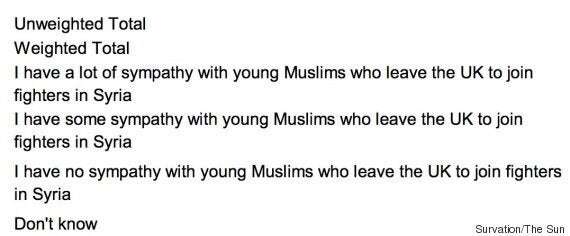 The Survation poll question about fighting in Syria does not mention the Islamic State
Several Britons have travelled to Syria to join IS and have often been the face of the terrorist group's recruitment and execution videos. Abdul Rakib Amin, from Aberdeen, and Reyaad Khan, of Cardiff, appeared in a jihadi recruitment video last year. Both were killed in the IS stronghold, Raqqa, in August by a British drone strike.
London-raised Mohammed Emwazi, better known as IS executioner Jihadi John, appeared in a number of murder clips and was believed to have beheaded at least five western hostages. He was killed by a US drone in the ISIS capital of Raqqa earlier this month.
Other key findings from the survey included 38% of respondents blaming the actions of the West, such as the invasion of Iraq, for so-called Islamic States's attacks - a further 6% said the biggest cause if poverty and discrimination against Muslims. A third of those surveyed said their leaders needed to do more to condemn ISIS.
The survey findings come as hate crime attacks in the UK, in the week since the Paris attacks, have increased 300%, with women being the main targets.
There have been 115 hate crimes against Muslims in the UK in the week after November 13, a report to the Government's working group on Islamophobia found.
The figures were compiled by Tell Mama helpline and have been released by The Independent.
Most of the victims were Muslim girls and women between the ages of 14 and 45, who wore traditional dress. The attackers were mainly white men, aged 15 to 35.
The report states: "This is concerning since the cases show that women who wear the hijab are the ones being targeted for general abuse and threats.
"Many of the victims have suggested that no one came to their assistance or even consoled them, meaning that they felt victimised, embarrassed, alone and angry about what had taken place against them.
"Sixteen of the victims even mentioned that they would be fearful of going out in the future and that the experiences had affected their confidence."