The five things you need to know on Monday November 23, 2015…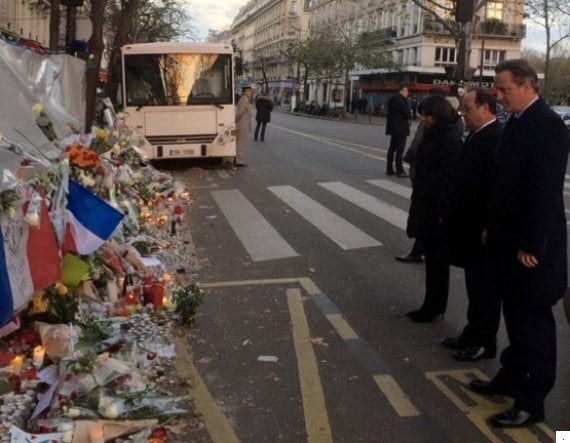 David Cameron is in Paris for a meeting with Francois Hollande to discuss joint plans on combating ISIL (the PM just tweeted a pic of the pair of them outside the Bataclan concert hall).
But the real action is back home with gathering momentum for a fresh Commons vote on UK bombing. No.10 sources say the PM will make a statement on Thursday setting out the Government response to the Foreign Affairs Committee's key tests for military action in Syria. To my mind, the most significant shift in the Parliamentary arithmetic in recent days was FAC chairman Crispin Blunt announcing that he felt all the tests it had set for military action had now been met.
But there are still around 15 Tory diehards and Defence Select Committee chairman Julian Lewis has replaced Blunt as the Tory of choice for leftwing MPs. Not for nothing did John McDonnell yesterday cite Lewis saying the Government was 'asking for trouble'. Leadership figures remain unconvinced that the Vienna peace process has made serious progress, that UN resolution is the wrong one and are sceptical if any ceasefire can be enforced.
Michael Fallon was on Today, but the most interesting lines came from Maria Eagle, the Shadow Defence Secretary. On military action she said "there is some support…but we are not there yet", and she said the UN resolution "is very helpful in clarifying matters". Eagle also underlined the point first made by Tom Watson this weekend that it will be the Shadow Cabinet - not Corbyn - who decide Labour's policy and whipping. Like John McDonnell yesterday she gave a strong hint there will be no Labour whip: "we will make the decisions about the whipping arrangements..or whether there is a whip"
And Eagle had this intriguing line on Corbyn too: "my understanding is that he's not a pacifist and that means that it is possible" [he could vote for military action]. Some Labour MPs tell me that a more telling signal is that Corbyn voted against UK military action in Iraq in 2014. With even Ed Miliband firmly on board for airstrikes against ISIL in Iraq, the result was Ayes 524, Noes 43. And the tellers for the Noes? Jeremy Corbyn and Pete Wishart.
The Syrian issue has thrown into sharp focus the divisions between Jeremy Corbyn and his followers and much of the Parliamentary Labour Party. But does this go wider than just defence and foreign policy?
Angela Eagle, asked by John Pienaar yesterday if Corbyn and McDonnell were suited for high office, refused three times to answer directly. Ed Miliband, asked the same question on the Today prog, was unequivocal: "Of course". He added with typical self-deprecation: "In the end that's a decision for the electorate, as I discovered to my cost".
And on the way the party resolves its tension between the PLP and the leadership, Corbyn's speech on Saturday had a very significant line. He floated the idea of 'indicative' votes among the wider party membership on key issues like the tax credits votes. This is an idea for online interaction that has been backed by Tom Watson in the past, but what if it meant, for example, that the leadership polled party members on a Syria vote and found an overwhelming desire to vote against?
The Indy reports that Corbyn has authorised a scathing attack on his internal critics via a Facebook post accusing them of creating an "atmosphere of chaos" in the party through "constant sniping" and "bitter attacks" by 'New Labour grandees" and others. The post written by Corbyn supporters states "We are here to tell you that we're sick of it. Not only is it now boring, but it is entirely destructive." It warns MPs to "do your job and represent us".
The Indy has also got hold of remarks by McDonnell to a conference organised by the Trade Union Co-ordinating Group, warning the press coverage of Corbyn means "we have to commit ourselves now to media reform… [to] break up the ownership of our media."
Miliband on Today sounded much warmer to the new leadership and McDonnell than many Labour MPs, praising McDonnell for bringing in Stiglitz and Piketty. And he was bullish about his one member one vote reforms: "it has a strength in depth in terms of our membership that it didn't have before". But several Labour MPs have already retweeted this howl of pain about the party's direction from blogger
One thing may unite Blairites and Corbynistas however and that's their enjoyment of this exchange between Miliband and Jim Naughtie at the end: Miliband: "I'm not going to be a backseat driver" Naughtie: 'Having crashed the car it's a bit difficult..' EdM had the grace to laugh too.
The PM has makes a Commons statement on the strategic defence and security review this afternoon and overnight we know he's spending £12 billions more on equipment, with new 'rapid brigades' in place by 2025.
But the FT splash reports that to fund the extra defence cash, the Government is cutting elsewhere with police, welfare and business grants in the firing line. And it's the nature of those police cuts that could shape the response to the Autumn Statement and Spending Review on Wednesday. Osborne on Marr sounded defiant on cop cuts, insisting "the resources are there to deal with the terrorist threat". We may get more armed cops, but will we get fewer neighbourhood police?
Of course, it's not just national security but social security that matters. NHS chiefs want more cash and Osborne has to find a way to ease his tax credits damage. The most intriguing line in the Chancellor's Marr interview came when asked if he still planned a £10bn surplus. "The precise level of the surplus will be set out in the forecast on Wednesday," he said. John McDonnell said this showed the Tories' fiscal plans were "falling apart".
The IFS has said setting a surplus of say £1bn rather than £10bn would give Osborne some wriggle room for health and tax credits. But he can't defy his own welfare cap so there's word in Whitehall that housing benefit will be chopped deeper to perhaps pay for fresh tapers on tax credits.
BECAUSE YOU'VE READ THIS FAR…
Speaking of Ed Miliband, the former Labour leader is focusing more on green issues these days. As a veteran of the Copenhagen global climate change talks, he has a piece in the Guardian today suggesting that Britain should become the first major country "to enshrine net zero emissions in law", with the date determined by advice from the independent Committee on Climate Change. On the Today programme, he said there is 'no more important' issue than climate change.
Prince Charles, another long-time greeny, has given an exclusive interview to SkyNews in which he adds his voice to those linking climate change to the Syrian civil war. "There's very good evidence indeed that one of the major reasons for this horror in Syria, funnily enough was a drought that lasted for about five or six years, which meant that huge numbers of people in the end had to leave the land," he said.
Funnily enough, that's exactly what Charlotte Church said a few weeks back and was pilloried for it by some on the Right…
The Mark Clarke affair rumbles on for the Tory party with more revelations every day. The Mail on Sunday had some extraordinary new allegations yesterday involving sex tapes, sex on pool tables, broken jaws, you name it. The Sunday Times claimed Rob Halfon had claimed on expenses the cost of his overnight stays in a London club (though it's unclear how many, if any, of those stays claimed for involved a mistress).
Today, the Telegraph on its front page has a claim that a 22-year-old Tory activist found herself naked in an MP's bed one morning, with no memory of the night before. Tory chiefs investigating the whole saga say the woman has 'no recollection' of how she ended up there.
The Sun reports that Grant Shapps pushed through shamed Mark Clarke's appointment despite protests from No 10, insisting he got a 'second chance'. One senior Tory source said: "The decision to hire Clarke was on Shapps' say-so." But a friend of the former co-party chairman said: "Hiring Clarke was a decision taken by the whole senior management board."
If you're reading this on the web, sign-up HERE to get the WaughZone delivered to your inbox.
Got something you want to share? Please send any stories/tips/quotes/pix/plugs/gossip to Paul Waugh (paul.waugh@huffingtonpost.com), Ned Simons (ned.simons@huffingtonpost.com), Graeme Demianyk (graeme.demianyk@huffingtonpost.com) and Owen Bennett (owen.bennett@huffingtonpost.com)