Russian warplane was shot down by Turkey after ignoring warnings

NATO to hold extraordinary meeting at Turkey's request

Vladimir Putin has said the downing amounted to a "stab in the back"

One pilot is dead, the other was captured by Syrian Turkmen rebels
Turkey has confirmed that it shot down a Russian warplane Tuesday, claiming it had violated Turkish airspace and ignored repeated warnings, in an incident Vladimir Putin said amounted to a "stab in the back".
NATO is said to be holding an extraordinary meeting in Brussels at Turkey's request.
Turkey claimed the Russian Sukhoi Su-24 jet was shot down by its F-16 fighter planes near the Syrian border, but Russian authorities believe it was shot down from the ground. Russia also denies the plane crossed the Syrian border into Turkish skies.
Putin's spokesman said the downing of their aircraft was a "very serious incident", but said it was too early to draw conclusions, Reuters reported.
Dmitry Peskov said: "It is just impossible to say something without having full information."
Russia's Defence Minister said: "We are looking into the circumstances of the crash of the Russian jet.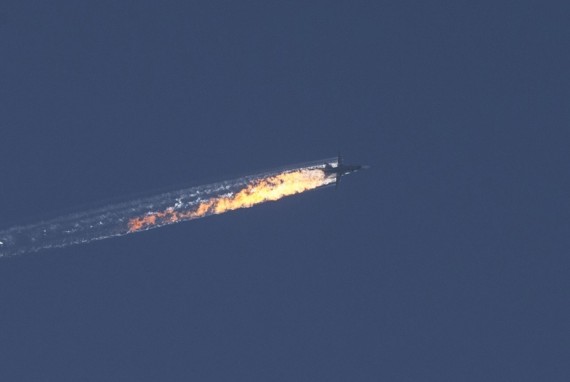 Turkey shot down a Russian fighter jet near the Syrian border on Tuesday
"The Ministry of Defense would like to stress that the plane was over the Syrian territory throughout the flight."
Foreign secretary Philip Hammond told MPs on Tuesday morning the downing of the Russian jet was "potentially a serious incident".
The British government was "urgently" seeking further details from Moscow and Ankara, he said.
Both pilots ejected themselves from the jet and could be seen parachuting down to the ground. Turkish media reports claim one is dead, and the other was captured by Syrian Turkmen rebels. Photos and videos have emerged showing one of the pilots in the aftermath of the crash. He was covered in bruises and burns and appeared dead.
A video, posted on Twitter by a man believed to be a Syrian-Turkmen rebel soldier, shows at least a dozen men surrounding the corpse of the pilot, dressed in Russian military fatigues, and some are heard shouting "Allahu Akbar" – "God is great'".
The rebels have claimed the pilot was dead when they found him.
Footage of the shooting shows the plane engulfed in flames as it comes crashing down in the Turkomen Mountains, an area which has been the cause of recent tensions between Turkey and Russia.
Russian helicopters are currently said to be searching the area to reach the pilots along with the wreckage of the jet, Doğan News Agency reported.
Meanwhile, Turkish Prime Minister Ahmet Davutoğlu has spoken with Chief of Staff General Hulusi Akar and Foreign Minister Feridun Sinirlioğlu regarding the incident, the Prime Minister's Office said.
Turkey will consult with NATO and the United Nations on the developments at the border with Syria, the PM's Office added, according to the Hurriyet Daily News.
A Turkish military statement said the plane violated Turkish airspace in Hatay province and was warned "10 times in five minutes" before shooting it down in Syrian territory over the town of Yaylidag, which is said to be controlled by rebels.
"Our two F-16 planes on air patrol duty intervened in the plane in question on November 24, 2015, 9:24am, according to the rules of engagement," the statement said.
The warplane was a Russian-made SU-24, Turkish presidential sources said, adding it was downed in line with Turkey's rules of engagement after violating Ankara's airspace.
President Tayyip Erdogan has been briefed by the head of the military and will talk to Prime Minister Ahmet Davutoglu, the sources said.
This is exactly the type of incident many feared would occur since Russia launched an air campaign against opponents of Syrian President Bashar al-Assad's government in late September.
Russia's defence ministry said the downed fighter jet was Russian and did not violate Turkish airspace, the RIA news agency reported.
VIDEO: Better quality footage of warplane shot down by the Turkish army crashing inside #Syria - @zaidbenjamin

One pilot dead, one captured by #Turkmen forces, CNN Türk reports citing local sources https://t.co/yo7WmpbSOY pic.twitter.com/zImwTuYHeU

— Hurriyet Daily News (@HDNER) November 24, 2015

November 24, 2015
Vote to send British jets into a war in Syria where Turkey's just shot down a Russian plane? Would be a v bad call

— Kevin Maguire (@Kevin_Maguire) November 24, 2015
Turkish media reporting 1 Russian pilot captured by Turkmen Syrian rebels who are looking for the other.

— Dominic Waghorn (@DominicWaghorn) November 24, 2015
The war of words heating up between Turkey & Russia over downed jet: Turks say 10 airspace warnings ignored, Russia that Su24 was over Syria

— Mark Urban (@MarkUrban01) November 24, 2015
Both Russia and its ally, Syria's government, have carried out strikes in the area. A Syrian military source said the reported downing was being investigated.
Turkish F16s warned the jet over the airspace violations before shooting it down, the military official told Reuters.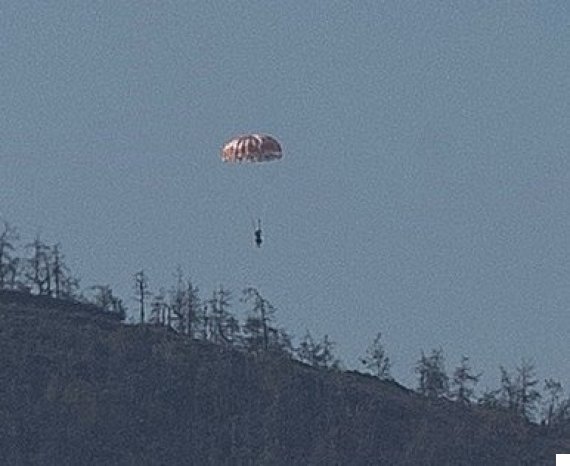 Reports have claimed that one of the Russian pilots has been captured
Footage from private broadcaster Haberturk TV showed a warplane going down in flames in a woodland area, a long plume of smoke trailing behind it. The plane went down in area known by Turks as "Turkmen Mountain" in northern Syria near the Turkish border, Haberturk said.
Separate footage from Turkey's Anadolu Agency showed two pilots parachuting out of the jet before it crashed.
The Syrian Observatory for Human Rights monitoring group said the warplane crashed in a mountainous area in the northern countryside of Latakia province and it was not immediately clear whether it was an aircraft from the Russian or Syrian air force.
In October CNN reported that tensions were rising fast between Turkey and Russia after Russian jets apparently violated Turkey's airspace twice.
Turkish President Recep Erdogan said he was losing his patience and invoked Article 5 of the NATO Treaty, saying that any "attack on Turkey means an attack on NATO."
SEE ALSO