The CEO dubbed "the most hated man in America" has reneged on his promise to lower the cost of a life-saving drug used by AIDs and cancer sufferers.
Martin Shkreli, boss of Turing Pharmaceuticals, said he would provide volume discounts of Daraprim but the pills will still sell for an individual cost of $750 (£497.50) each.
Shkreli provoked a worldwide backlash in September when he announced his company had acquired the rights to the drug and would increase the price from $13.50 (£9), a hike of 5,500%.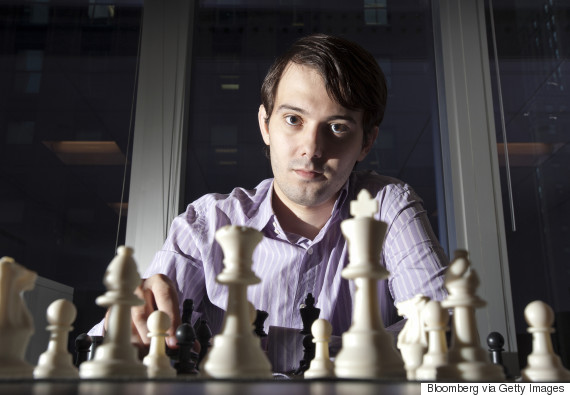 Martin Shkreli
After being roundly lambasted for the decision by everyone from Hilary Clinton to Donald trump, he announced he would make Daraprim "more affordable".
Price gouging like this in the specialty drug market is outrageous. Tomorrow I'll lay out a plan to take it on. -H https://t.co/9Z0Aw7aI6h

— Hillary Clinton (@HillaryClinton) September 21, 2015
He said at he time: ""We've agreed to lower the price on Daraprim to a point that is more affordable and is able to allow the company to make a profit, but a very small profit. We think these changes will be welcomed."
Instead, Shkreli has now said he will offer reductions of 50% to hospitals and introduce smaller bottles of 30 tablets as well as free sample starter packages starting next year.
Instead of working on my mixtape I have to work on corporate presentations. Oh well. At least I'll spit fire, either way.

— Martin Shkreli (@MartinShkreli) November 23, 2015
The drug combats toxoplasmosis, an infection that can arise in children because of poor immune systems, as well as patients suffering from AIDS and some form of cancers.
After the initial furore, it emerged that during Shkreli's term as CEO and founder of pharmaceutical company Retrophin, it acquired the rights to sell Thiola, used to treat cystinuria, a rare, incurable condition which causes persistent and painful kidney stones.
Sufferers can require between five and ten of the tablets a day, the Independent reports.
In a report from September last year, Reuters writes: "Shkreli said on a conference call after the deal that the drug, Thiola, then sold for $4,000 a year per patient, would be priced closer to rival drug penicillamine, which costs $80,000 to $140,000."
Writing for Forbes, Steve Brozak claimed Retrophin had bloated the price of a $1.50 tablet to $30 a tablet, representing a nearly 2,000% increase.
He added: "Keep in mind that Retrophin hasn't hasn't conducted any new trials, made any new claims about the drug, changed its formulation or delivery mechanism. As the only supplier of the drug to the U.S., Retrophin has increased the price for the drug just because it can."