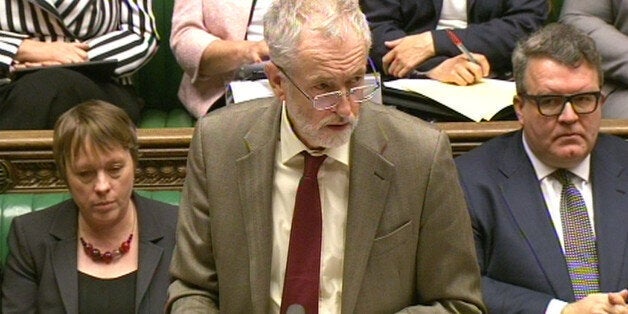 Jeremy Corbyn should resign as leader of the Labour Party over his handling of David Cameron's call for Britain to launch airstrikes against Isis in Syria, according to two Labour MPs.
The Labour leader is opposed to military action, but the majority of his shadow cabinet want to vote in favour. The split has led to suggestions some members of his top team could quit.
However former minister John Spellar said this morning it should be Corbyn that goes - despite having only been in office for two months. "They should hold on into those places. If anyone should resign after this incident, it should be Jeremy Corbyn," he said.
And Fiona MacTaggart, also a Labour former minister, said Corbyn's position had become "unsustainable" and he should quit.
This morning shadow foreign secretary Hiliary Benn, who supports military action, told BBC Radio 4's Today programme he would not quit. "I'm not going to resign, because I am doing my job as the shadow foreign secretary," he said.
Shadow chancellor John McDonnell, who is opposed to strikes, told his party to "calm down".
Spellar told BBC Radio 5 Live Corbyn did not have the right to act like a "Fuhrer" who "decides everything" the party does. "We have a Shadow Cabinet, we have collective responsibility. This is not the way to go about things. What we're seeing here is an attempted coup by Jeremy Corbyn and the people around him in the bunker trying to take over the party. It's unacceptable," he said.
"What we're seeing here is an attempted coup by a group to try and over-ride and over-run others. It is unacceptable.
"How does Jeremy Corbyn and his tiny band of Trots in the bunker think they've got the unique view on it all? It's absolutely right for him to put that view in the shadow cabinet.
"It's right for them to discuss it. They thought they were going away to resume that discussion on Monday. He's now trying to pre-empt that and whip up a storm inside the party. It is, as I say, unacceptable. Certainly, by the way, they should not resign. They should hold on into those places. If anyone should resign after this incident, it should be Jeremy Corbyn."
Spellar, who served as a shadow foreign minister under Ed Miliband, told The Huffington Post UK of his earlier comments: "His behaviour was intolerable. But I didn't call for him to resign. I said that of course the shadow cabinet shouldn't resign and that if anyone should resign, it should be Corbyn."
MacTaggart told BBC Radio Berkshire Corbyn "hasn't got a strategy to lead the party from where it is to where it needs to be and the people of the country can see that".
"I think it [Corbyn's leadership] probably is unsustainable," she said, adding that Labour "doesn't have the hunger for power that the Conservative party has".
"The Conservative party is good at getting rid of leaders who they can see aren't getting to lead the party to victory – my party isn't," she said.
Asked whether he should stand down, MacTaggart said: "I think that would be a sensible strategy because I think that the division at the moment is causing real problems."
Flynn told BBC Radio 4's World at One programme this afternoon: "There are terrible divisions in the party there is a gulf between the leader and the shadow cabinet between the PLP an the party in the country. It's a terrible terrible mess and it can't go on.
"I said to Jeremy if you end up like Michael Foot and Gordon Brown and Miliband as a liability to the party, if you are far less popular than the party coming up to an election, then you've got to go.
But Flynn warned Labour MPs not to try and oust Corbyn. "The only way he can go is if he decides himself to go because he is there with a huge majority from the party in the country and if the PLP attempt to throw him out there would be a terrible rift in the party also possibly a split in the party."
The veteran MP added that it was not sustainable for the shadow cabinet to be at war with its own leader. "Something has got to go," he said.
However shadow international development secretary Diane Abbott, a close ally of Corbyn who opposes military action, insisted the shadow cabinet was not entitled to vote down the leader and said she was confident they would come to the "right decision".
"I know what views party members will take if MPs ignore the views of the people at the grass roots and try and take this issue to the brink," she said during a round of broadcast interviews.
"Jeremy appoints the shadow cabinet – not the other way round. You cannot have a shadow cabinet voting down the leader of the Labour Party who has just been elected with the biggest mandate in history."