The Prime Minister is expected on Wednesday to ask them to vote on whether to go-ahead with airstrikes against him needing a "clear majority" from them. During the Parliamentary debate, it was clear MPs from all sides have concerns. Here are seven key issues they are considering based on yesterday's Parliamentary debate, where few MPs had a black-and-white position.
The "moderates" in Syria who could seize ISIL-held territory following a bombing raid. The figure is the "considered opinion" of the independent Joint Intelligence Committee, Mr Cameron said, but MPs questioned who they were, where they were, and whether their enemy was ISIL or President Assad.
Julian Lewis, chairman of the Defence Select Committee, said the large number of "non-Islamist, moderate, credible ground forces" was "a revelation to me". Former Conservative minister Peter Lilley said he needed convincing that a Free Syrian Army "actually exist", rather than a "rag-tag group of clans and tribal forces with no coherent force".
Labour MP Barry Gardiner said a lack of "sufficient and efficient ground forces" was the reason bombing raids had not worked so far. He said: "The Free Syrian Army is not adequate to, nor even focused on, the task of defeating Daesh. It is equally focused on undermining Assad's regime. Until the Government can guarantee a strong ground presence, does he accept that his strategy is one of hope, not confidence?"
Against some commentators suggesting it was Mr Cameron's "45 minutes" moment, one academic noted Mr Cameron was "about right" and a senior member of Labour's Shadow Cabinet told HuffPost UK how the Prime Minister was impressive in not over-playing the credibility of the figure.
The first concern leads onto the second. The Prime Minister has been at pains to make clear any motion put before MPs would not involve sending in British troops. The spectre of Iraq looms large. One of Mr Corbyn's seven questions to the PM dealt with the conundrum. "Without credible or acceptable ground forces, isn't the logic of an intensified air campaign mission creep and western boots on the ground?," he told the Commons.
But there's an opposing view too. Tory MP Richard Drax cautioned against ruling out the use of western ground troops. "God forbid that this should happen, but further major attacks on the west like those we have seen in Paris, London and New York could - I say 'could' - force or demand the western allies to deploy with local troops to crush ISIL and prevent further atrocities on our streets," he said.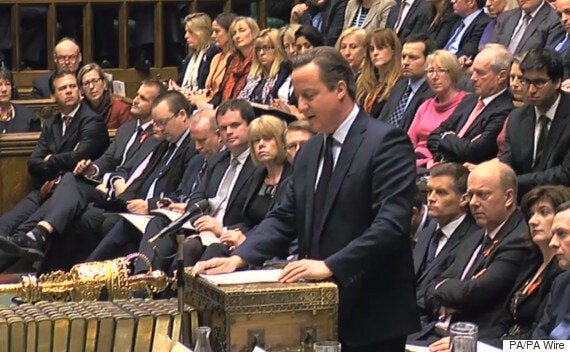 MPs are expected to vote next Wednesday on whether to back David Cameron's case for airstrikes in Syria
Against fears the West has fallen short of its responsibilities after previous bombing raids, the Prime Minister pledged £1 billion for the post-conflict reconstruction effort to support a new Syrian government. But it sits uncomfortably with some.
The SNP said its 56 MPs would not support airstrikes because of "unanswered" questions, and its Westminster leader, Angus Robertson, said: "The UK spent 13 times more bombing Libya than on its post-conflict stability and reconstruction. How much does he estimate the total cost of reconstruction will be, and does he think that the amount in his statement today will be sufficient?"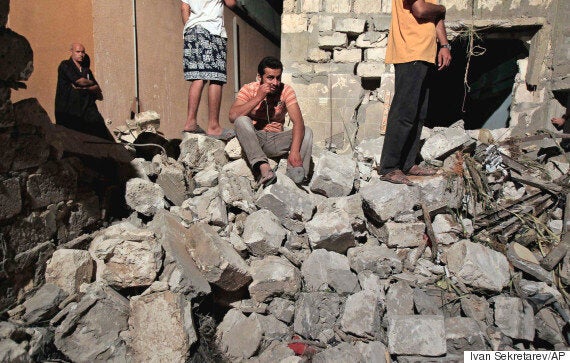 Property damaged in Libya in airstrikes during the bombing campaign that helped rebels oust former leader Moammar Gadhafi
The United Nations has approved a French proposal which authorises "combat by all means" against ISIL. But the communique - or resolution 2249 - does not provide any legal basis for military action, nor does it invoke chapter seven of the UN charter that authorises the use of force.
This was arguably the centrepiece of Mr Corbyn's justification for not getting involved, yet some Labour MPs take a different view. Former Shadow Chancellor Chris Leslie said the resolution was a "pivotal moment". Labour MP Diana Johnson asked whether chapter seven would "need to be invoked to allow military action".
The House of Commons Library today published a research paper stating there is no UN Security Council Resolution "clearly authorising the use of force in Syria". Instead, the legal justification relied upon by the UK and other states would be Iraq's request for military help in combating ISIL and collective self-defence.
The failed Commons vote in 2013 had a very different intention: remove the brutal Syrian ruler President Bashar al-Assad. This time, it's eradicating ISIL - and the PM made clear the two were separate concerns as he advanced his "ISIL-first" strategy in the Commons.
Tory MP Philip Davies wanted certainty. "I am prepared to support the Prime Minister in military action against Islamic State, which poses a severe and direct threat to us, but not against Assad, who does not," he said. "I want an ISIS-only strategy, rather than an ISIS-first strategy."
But many think with the Syrian dictator out of the way, the task of defeating ISIL would be far less problematic. And there are other ways to deal with him. Jo Cox, a Labour MP, said: "There is growing evidence that Assad's barbarity is unhelpful and is forcing moderate Syrians towards extremism. I feel that to date the UK has not given this crisis the diplomatic priority that it demanded."
The Government is clear that Assad "must go", but recognise that Russia will still wants to protect its interests in the region: for security, military bases and economic ties. Moscow has been unwavering in its loyalty to Assad, but the West hopes a compromise with President Vladimir Putin can be agreed after ISIL claimed it destroyed the Russian charter jet.
Tory MP Sarah Wollaston, who voted against action two years' ago but now backs the ISIL campaign, asked for "reassurance" British forces supporting local forces on the ground "will not be bombed by Russia". The PM said Russia has "done more to inflict damage on the moderate forces than on ISIL" but there are signs they have "accepted that people such as the Free Syrian Army and their civilian representatives should play a part in the future of Syria".
A minority actually called for an unlikely coalition. Tory grandee Sir Edward Leigh said Britain will "have to co-operate with Russia, Assad and the Syrian army" if the bombing war is to succeed.
"It is probably the most difficult argument," Mr Cameron acknowledged. But he said "teaming up" with Assad is "not practical, doable or the right course, not least because Assad has been something of a recruiting sergeant for ISIL".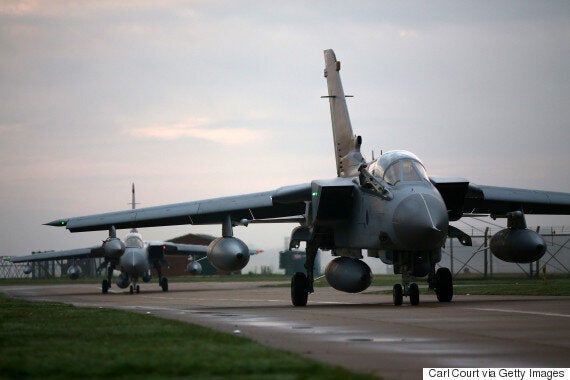 Tornado GR4s taxi along a runway as they arrive at RAF Marham, Norfolk
The PM argues that the particular capabilities of the RAF Tornado aircraft provide something that potential allies don't have.
The Brimstone missiles are accurate weapons which have "the lowest level of civilian casualties", he said. The plane's high-definition camera means planes can "hover over the Isle of Wight and be able to read the hands on Big Ben".
But the SNP defence spokesman, Brendan O'Hara, cautioned against the capability being unique, questioning whether the Royal Saudi air force has been using the Brimstone missile against ISIL since February. Mr Cameron countered it was one of the "most capable and accurate weapons systems" and "particularly in the hands of our highly trained RAF pilots".
Supporters of Mr Corbyn's position are likely to cite the unintended consequences of strikes, as has been reported by citizen journalists including RS. The UK would argue the RAF bombs are more precise.