Former 'Big Brother' contestant and YouTuber Sam Pepper is facing a massive backlash for his latest upload.
In the new video, Sam plays a "prank" (his words, not ours), on Vine star Sam Golbach, leading him to believe that his best friend had been shot dead in front of him, following a staged kidnapping.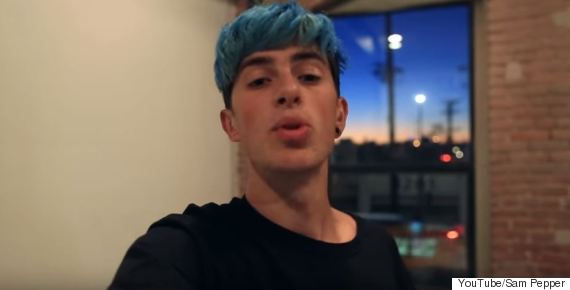 Sam Pepper, introducing the "prank"
The disturbing clip - which was uploaded on Sunday - has faced a huge backlash on Twitter, with some users calling for YouTube to take the video down, and suspend his account.
please research the public order act of 1986 and make it known that @sampepper's new "prank" is illegal/he can be charged !!!!

— bean (@reininat) November 30, 2015
why is sam pepper still on youtube

why does he think that pretending to murder someone, specifically your best friend a 'prank'

— mary joy (@hotdanisonfire) November 30, 2015
I am disgusted by the actions of Sam Pepper. His video was cruel, dangerous, and morally wrong. He is a disgrace to our YouTube community.

— Cole Ledford (@ColeLedford11) November 30, 2015
I hated Sam Pepper before it was cool.

— Rhys James (@rhysjamesy) November 30, 2015
@YouTube PLS DELETE SAM PEPPER:)))

— bianca 103 (@artvinyls) November 30, 2015
Hahah Sam pepper ITS A PRanK probably caused that guy actual trauma. But it's a P r@ nk ha ha ha Sam Pepper wot a fun guy,, delete the vid 😊

— James (BDAY) (@InternetJessy) November 30, 2015
1. What the heck is wrong with Sam pepper to devise a video like that

2. Why would Colby even be friends with him anymore after that

— rachel (@rachel_yoo) November 30, 2015
sam pepper is actual trash pls delete

— viv (@paynewbu) November 30, 2015
SAM PEPPER NEEDS TO HAVE HIS ACCOUNT DELETED THIS WAS SO HORRIBLE HE LITERALLY COULDVE GIVEN SOMEONE A HEART ATTACK

— Alexis Isabel (@lexi4prez) November 30, 2015
@sampepper im so , so disgusted. He looked absolutely terrified what the hell is wrong with you how are you allowed to even make videos

— !! JESS !! (@positvedonut) November 29, 2015
@sampepper this is actually disgusting I hope you feel ashamed for bringing such sadness to somebody. Low life.

— ya festive bitch bil (@butthurtbenzo) November 30, 2015
Sam pepper is legit the sickest person ever, ashamed to say I was ever a fan back in the day

— ♡ georgie ♡ (@Georgiiee26) November 29, 2015
Sam is yet to comment on the controversy his distasteful prank has stirred up, but wrote on Sunday night: "Glad you guys like the new prank! Lots more to come, weekly uploads starting at Xmas!"
Meanwhile, the victim of the prank, Sam Goldbach, issued a statement on his own Twitter page, defending Sam's video, because he feels it made him realise how much his friend and fellow Vine star meant to him.
For those of you that watched Sam Pepper's video... pic.twitter.com/vg7C9coKR0

— samuel (@SamGolbachh) November 29, 2015
This isn't the first time that one of Sam Pepper's videos has left a bad taste, though.
Last year, he was heavily criticised for a video which showed him groping unsuspecting women's bums, using what he claimed was a fake hand.
After being accused of sexual harassment amid the backlash, he later uploaded The Reveal, where he claimed he had shared the video - alongside another clip which saw the gender roles reversed - to highlight the issue of "sexual abuse against men".
He said at the time: "It goes without saying you can't go round touching people's bums without asking… I just wanted to show, in many cases people would be outraged by an act like this on a woman but then laugh it off when it's a man."
LIKE US ON FACEBOOK | FOLLOW US ON TWITTER