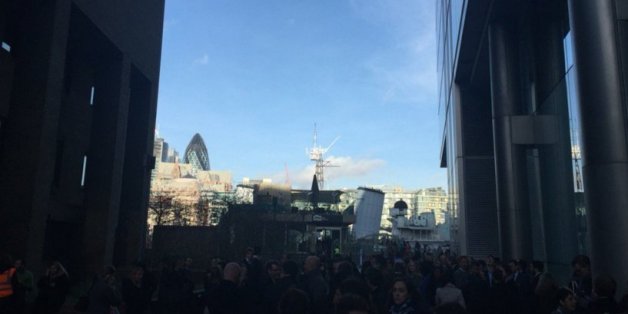 Robin Holley
Evacuations took place in the London Bridge area after reports of a suspicious item.
Offices were emptied on Tuesday afternoon when police were called to the Tooley Street area at 12.26.
Gary Haines, who was evacuated from the headquarters of Prostate Cancer UK, said that there were sniffer dogs in attendance:
Update from London Bridge. Sniffer dogs in Counting House, home of @ProstateUK

— Gary Haines (@seniahyrag) December 1, 2015
Images from the location showed police officers cordoning off the area.
Lots of buildings being evacuated near London Bridge. Police not allowed to comment. pic.twitter.com/FnV8tXEf1p

— Yannick Roux (@yanroux) December 1, 2015
What's going on? Hays Lane london bridge cordoned off by police pic.twitter.com/jTA4G25WqZ

— Jack Waterman (@JackAWaterman5) December 1, 2015
London Bridge office evacuation. Nothing much going on but herded towards HMS Belfast. Quite cold, need cup of tea. pic.twitter.com/93kem2jQ5H

— Robin Holley (@robagain) December 1, 2015
The cordon has now been lifted and the area re-opened.