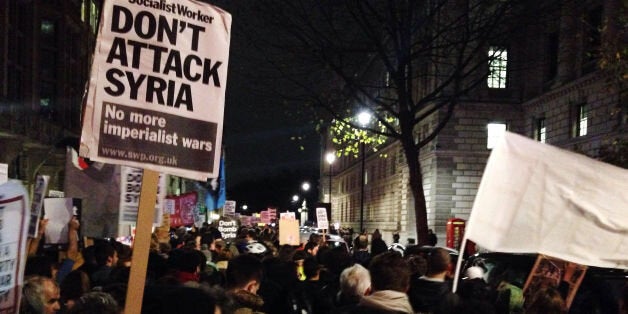 Stop the War convener Lindsey German tonight told hundreds of protestors she is "ashamed" that Tony Benn's son, Hilary, is "leading the drive to war" in Syria.
MPs from Labour, the SNP and the Greens all took to the stage to voice their opposition to the plan, which will be voted on in Parliament tomorrow.
Labour leader Jeremy Corbyn is against extending the bombing campaign from Iraq into Syria, but has given his MPs a free vote on the issue.
This evening, Ms German used her speech to attack the Government-sanction weapons sales to Saudi Arabia, before turning her fire on the Shadow Foreign Secretary.
She said: "I'm ashamed that the son of our former president Tony Benn is the person who is leading this drive to war. I'm sorry that he never listened more to his father's politics and I'm sorry that he is leading that fight."
Tonight's protest began at 6pm in Parliament Square, opposite the Houses of Parliament, before activists marched on the Conservative and Labour headquarters.
Hundreds of protestors waved banners emblazoned with the words 'Don't Bomb Syria' and cheered loudly as speaker after speaker took to the stage outlining their objections, which ranged from the killing of civilians to a lack of a coherent military strategy.
Green MP Caroline Lucas said "the Prime Minister has failed to make a compelling case for airstrikes on Syria" and "nobody would be happier than Isis" if the UK killed civilians during its bombing campaign.
Ms Lucas got the biggest cheer of the protest when she said: "We want action alright, we want to end British arms sales to the Middle East for a start. We want to stop cosying up to Saudi Arabia, we want to put pressure on Turkey to stop buying oil from Isis and we want support for the refugees in those refugee camps."
Labour MP Richard Burgon, a strong supporter of Mr Corbyn, also spoke out against extending the bombing campaign.
He said: "I'm not a pacifist. Isil do need to be defeated but I don't believe the UK bombing a third country can stop murderous, fanatical terrorists walking into a cinema, a concert hall or a tourist resort in a second country and shooting civilians in cold blood."
Mr Burgon also claimed bombing Isil in Syria – which the UK is already doing in Iraq – would feed the terrorist group's narrative that "the West is in a crusade against the Muslim world. This will recruit more people to Isil."
Former Respect MP George Galloway was the final speaker and said: "MPs phones, I know because I was in there a long time and I was very friendly with the staff including the telephone operators, they tell me MPs phones are ringing off the hook with constituents asking for their MPs by name."
He added: "This is a war that doesn't even have the support of the Daily Mail."