Kylie Jenner's new photoshoot with Interview Magazine has officially broken the internet... but not all for the right reasons.
The cover spread, shot by photographer Steven Klein in the style of artist Allen Jones (the man behind the infamous 'girl tables' that inspired a scene in A Clockwork Orange), show the 18-year-old transformed into a latex-clad mannequin.
But one image has been causing some controversy, with people speaking out in outrage at the fact that Jenner was pictured posing in a gold wheelchair.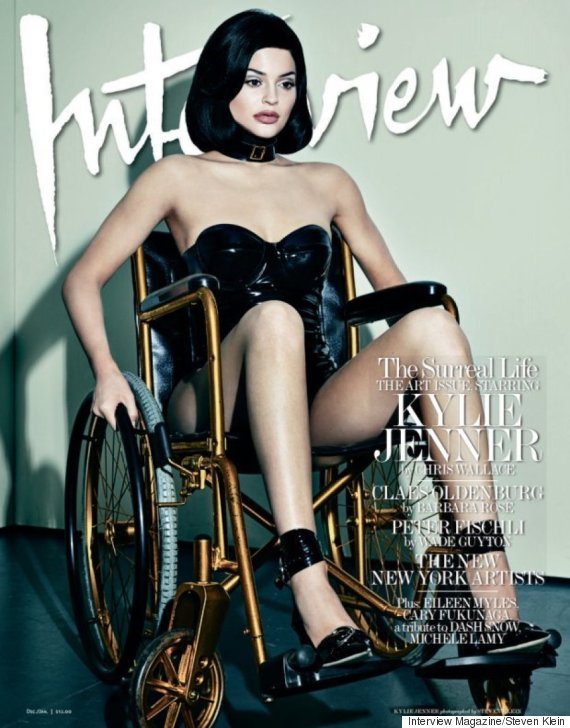 Interview Magazine defended their use of the wheelchair as a prop, telling E! News: "At Interview, we are proud of our tradition of working with great artists and empowering them to realise their distinct and often bold visions.
"The Kylie Jenner cover by Steven Klein, which references the British artist Allen Jones, is a part of this tradition, placing Kylie in a variety of positions of power and control and exploring her image as an object of vast media scrutiny.
"Our intention was to create a powerful set of pictures that get people thinking about image and creative expression, including the set with the wheelchair. But our intention was certainly not to offend anyone."
But is presenting the reality star as a figure metaphorically 'crippled' by fame really OK? Not according to these Twitter users.
@KylieJenner wow being in a wheelchair is so fun and fashionable! #Ableism is the ultimate fashion statement! pic.twitter.com/lOScQnODhy

— Ophelia Brown (@bandaidknees) December 1, 2015
@InterviewMag @KylieJenner since when did a wheelchair become a fashion accessory??????

— Nica Rodriguez (@nicarodriguezz) December 2, 2015
Kylie Jenner did blackface in a photoshoot, dreadlocs, and now wheelchair...stop pretending it's only the photographers fault.

— jordan rose (@maliagif) December 1, 2015
First time I used a wheelchair, I cried when I got home. Yet Kylie, who is abled-body, gets published for "fashion"

— candycane ho (@CalyCupcake) December 1, 2015
Oh I see! When I'm in my wheelchair noone can look me in the eye but when Kylie Jenner sits in a wheelchair it's FASHION. silly me.

— Amelia (@amysgotmilk) December 1, 2015
So disabled models can't get work or advance in the fashion industry but Kylie jenner can use a wheelchair and be classed as edgy 👌

— Beth (@Bendy_Mermaid) December 1, 2015
I like how @KylieJenner can pose in a wheelchair for a magazine but whenever I use one I get shouted at with abliest slurs & get called ugly

— candycane ho (@CalyCupcake) December 1, 2015
What do you think of the shoot? Let us know in the comments below and head over to Interview to check out the full interview and spread.
SEE ALSO:

Kylie Jenner's New Photoshoot Just Broke The Internet

The Most Hilarious Twitter Reactions To Kylie Jenner's Sold Out Lip Kits