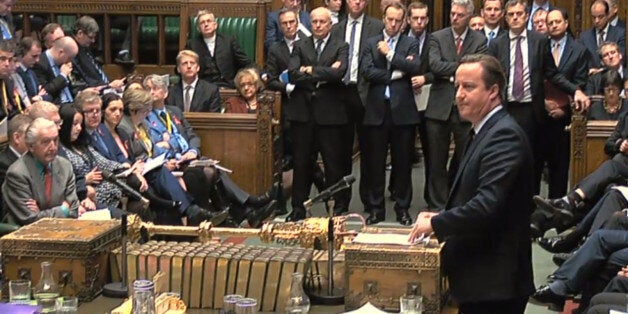 The Government has secured a huge support to authorise airstrikes in Syria targeted at ISIL extremists.
Some 397 MPs voted for the Government motion to expand bombing raids from Iraq and 223 against, a majority of 174.
Since the Tories have a slim notional majority of just 12, and some backbenchers were expected to rebel, David Cameron was hoping to attract the support of a large number of Labour MPs.
Early reports suggest 67 Labour MPs voted for bombing ISIL and 152 against, while 10 abstained.
Some 11 members of Jeremy Corbyn's Shadow Cabinet voted against his position and for strikes, it emerged.
And 17 in the Shadow Cabinet voted against bombing.
According to the Press Assocation, 66 Labour MPs voted for the government motion approving airstrikes.
Heidi Alexander (Lewisham East), Ian Austin (Dudley North), Adrian Bailey (West Bromwich West), Kevin Barron (Rother Valley), Margaret Beckett (Derby South), Hilary Benn (Leeds Central), Luciana Berger (Liverpool Wavertree), Tom Blenkinsop (Middlesbrough South & Cleveland East), Ben Bradshaw (Exeter), Chris Bryant (Rhondda), Alan Campbell (Tynemouth), Jenny Chapman (Darlington), Vernon Coaker (Gedling), Ann Coffey (Stockport), Yvette Cooper (Normanton, Pontefract & Castleford), Neil Coyle (Bermondsey & Old Southwark), Mary Creagh (Wakefield), Stella Creasy (Walthamstow), Simon Danczuk (Rochdale), Wayne David (Caerphilly), Gloria De Piero (Ashfield), Stephen Doughty (Cardiff South & Penarth), Jim Dowd (Lewisham West & Penge), Michael Dugher (Barnsley East), Angela Eagle (Wallasey), Maria Eagle (Garston & Halewood), Louise Ellman (Liverpool Riverside), Frank Field (Birkenhead), Jim Fitzpatrick (Poplar & Limehouse), Colleen Fletcher (Coventry North East), Caroline Flint (Don Valley), Harriet Harman (Camberwell & Peckham), Margaret Hodge (Barking), George Howarth (Knowsley), Tristram Hunt (Stoke-on-Trent Central), Dan Jarvis (Barnsley Central), Alan Johnson (Hull West & Hessle), Graham Jones (Hyndburn), Helen Jones (Warrington North), Kevan Jones (Durham North), Susan Elan Jones (Clwyd South), Liz Kendall (Leicester West), Dr Peter Kyle (Hove), Chris Leslie (Nottingham East), Holly Lynch (Halifax), Siobhain McDonagh (Mitcham & Morden), Pat McFadden (Wolverhampton South East), Conor McGinn (St Helens North), Alison McGovern (Wirral South), Bridget Phillipson (Houghton & Sunderland South), Jamie Reed (Copeland), Emma Reynolds (Wolverhampton North East), Geoffrey Robinson (Coventry North West), Joan Ryan (Enfield North), Lucy Powell (Manchester Central), Ruth Smeeth (Stoke-on-Trent North), Angela Smith (Penistone & Stocksbridge), John Spellar (Warley), Gisela Stuart (Birmingham Edgbaston), Gareth Thomas (Harrow West), Anna Turley (Redcar), Chuka Umunna (Streatham), Keith Vaz (Leicester East), Tom Watson (West Bromwich East), Phil Wilson (Sedgefield) and John Woodcock (Barrow & Furness).
The 10 hour-plus debate could come to be remembered for the penultimate speech of the day by Shadow Foreign Secretary, Hillary Benn, whose call to confront "confront this evil" and "do our bit in Syria" won applause from the Labour and Tory benches.
He said: "We are here faced by fascists - not just their calculated brutality, but their belief that they are superior to every single one of us in this chamber - they hold us in contempt.
"They hold our values in contempt, they hold our belief in tolerance and decency in contempt, they hold our democracy - the means by which we will make our decision tonight - in contempt
"But what we know about fascists is that they need to be defeated.
"My view is that we must now confront this evil. It is now time for us to do our bit in Syria. And that is why I ask my colleagues to vote for this motion tonight."
The vote means RAF strikes on the ISIL headquarters in Raqqa, northern Syria, can begin immediately with the expectations the first strikes will take place by the morning.
The result followed a tense debate, with opposition MPs demanding Cameron apologise for branding critics of the planned military strikes as "terrorist sympathisers".
Corbyn said the comment "demeans" the office of prime minister. But Cameron refused to apologise despite being repeatedly challenged and heckled.
The debate also exposed the deep split within the Labour Party on whether or not to support bombing. Veteran Labour MPs including Alan Johnson, Yvette Cooper and Margaret Beckett all intervened to encourage MPs to back strikes - in opposition to Corbyn.
The bitterness of the divisions within Labour spilled over in the debate, with pro-airstrike MP John Woodcock warning Labour was at risk of becoming "the vanguard for a sort of angry, intolerant pacifism" under Corbyn. "I think some of the people on the front bench now, and people who are heckling behind me need to think very carefully about the way they have conducted themselves over recent weeks," he said.
Setting out the case for military action, Cameron said action in Syria was not the same as the Iraq War. "This is not 2003. we must not use past mistakes for indifference or inaction," he told MPs. "Inaction is a choice. I believe it is the wrong choice."
"I know that the long term solution in Syria must ultimately be a government that represents all of its people and work with us to defeat the evil organisation of Isil," he said.
"This threat is very real, the question is this - do we work with our allies to degrade and destroy this threat or do we sit back and wait for them to attack us?"
Corbyn said "14 years of disastrous wars in the wider Middle East" showed why the UK should not launch airstrikes. "The spectre of Iraq, Afghanistan and Libya looms over this debate. To oppose another reckless and half-baked intervention isn't pacifism. It's hard-headed common sense," he said.
"It's wrong for us here in Westminster to see a problem, pass a motion and drop the bombs pretending we're doing something to solve it. That's what we did in Afghanistan, Iraq and Libya. Has terrorism increased or decreased as a result?"
Related