The price of the dress Princess Charlotte wore in the photos recently taken by the Duchess of Cambridge has been revealed, and it's not going to break the bank.
The six-month-old was wearing a frock with a pink, purple and blue pattern, which costs just £21 from the winter collection of Spanish retailer m&h.
M&h specialises in clothing with unique prints for children aged from newborn to toddler.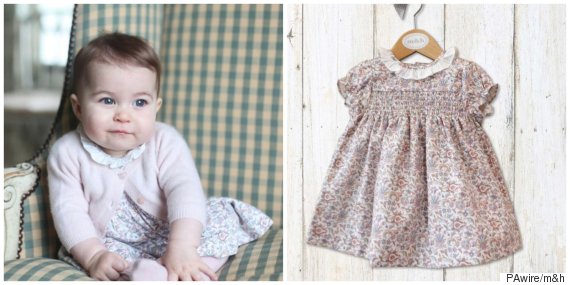 Princess Charlotte's dress retails at just £21 from a Spanish boutique
Princess Charlotte's Spanish nanny, Maria Teresa Turrion Borrallo, reportedly bought the dress in the city of Valladolid, in northwestern Spain.
Founder of the children's boutique, Margarita Pato Cid, was thrilled that the Princess wore the dress.
Responding to comments on their Facebook page congratulating the boutique, Cid wrote: "It's an honour for the Duchess of Cambridge to choose Spanish fashion to clothe the Princess. Thank you very much"
English parents have found the Facebook page and asked how they can order the dress.
Cid said while they don't sell online, they have received several orders of the dress via email.
"A lot of people ask why I don't open a store in London," she told HELLO! Online. "A lot of my stock is bought for children in London."
She said each piece of clothing at the boutique is made carefully by hand using fabric from Spain, and there are only a few pieces of each item made.
SEE ALSO:

Princess Charlotte's Fuddlewuddle Soft Toy Sells Out In Various Outlets After Being Pictured In Royal Photos

Princess Diana Photoshopped Into Charlotte Christening Picture With Kate Middleton

Princess Charlotte Pictures Taken By Duchess Of Cambridge Released