A black actor, who stars in the forthcoming film 'Star Wars: The Force Awakens,' has had his character shrunk on the Chinese promotional poster for the movie, sparking an outcry from fans of the franchise across social media.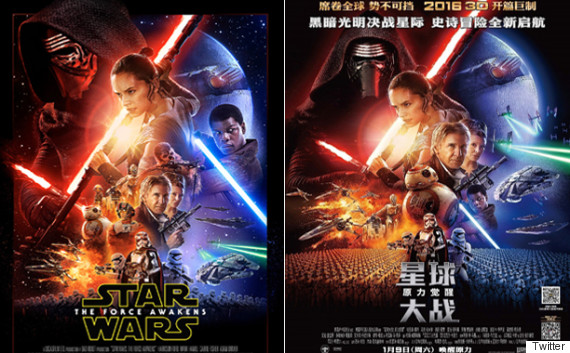 The UK and Chinese promotional posters for the forthcoming film
British actor John Boyega, from Peckham in London, appears on the Chinese poster in a far smaller profile than on the UK version, with critics claiming the change was made by Disney's China office for racist reasons. In the Chinese version, Chewbacca has also been removed, alongside Lupita Nyong'o and Oscar Isaac.
Left: UK version. Right: China version. Spot the main massive difference #StarWars #StarWarsForceAwakens pic.twitter.com/9AFfiSAa6L

— Guy Lambert (@SohoGuy) December 3, 2015
china's star wars poster shrunk john boyega because he's black, absolutely disgusting behaviour. pic.twitter.com/3vARSxtXLI

— bruschetta dortmund (@meridiansour) December 4, 2015
They actually removed John Boyega from the star wars poster in China..this world man

— Ish (@Bobby_Gizmo) December 4, 2015
Star Wars' Finn (who happens to be black) and Chewbacca (happens to be Wookiee) get shafted in China. HT @asmuniz pic.twitter.com/ATpvcd51L6

— Ray Kwong (@raykwong) December 1, 2015
Oh, come on, China. Really? Are they even trying anymore? I'm sure there's a great explanation for this one. https://t.co/folN1XaVRc

— Ling Ge (@lifesprettyge) December 4, 2015
Seriously China? #ComeOnMan #StarWars pic.twitter.com/ZJ6CGZWoxM

— Justin Baisden (@The_Jmoney) December 4, 2015
According to Entertainment Weekly, a racist campaign to boycott the film was launched after Boyega's character was revealed.
Speaking to the magazine, the actor said: "We've been having a continuous struggle with idiots, and now we should just force them to understand – and I love the way I just used Force there, by the way – just force people to see this is the new world. There are loads of people of different shades and backgrounds. Get used to it."
Disney has not responded to a request for comment.