A black actor, who stars in the forthcoming film 'Star Wars: The Force Awakens,' has had his character shrunk on the Chinese promotional poster for the movie, sparking an outcry from fans of the franchise across social media.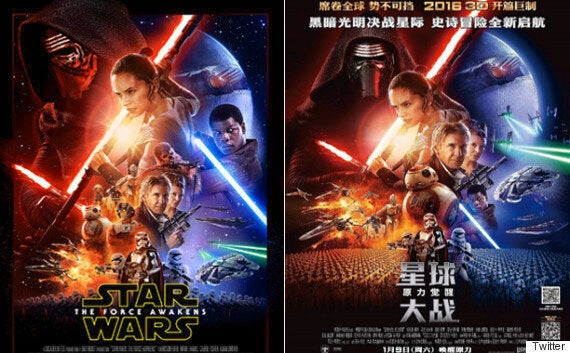 The UK and Chinese promotional posters for the forthcoming film
British actor John Boyega, from Peckham in London, appears on the Chinese poster in a far smaller profile than on the UK version, with critics claiming the change was made by Disney's China office for racist reasons. In the Chinese version, Chewbacca has also been removed, alongside Lupita Nyong'o and Oscar Isaac.
Speaking to the magazine, the actor said: "We've been having a continuous struggle with idiots, and now we should just force them to understand – and I love the way I just used Force there, by the way – just force people to see this is the new world. There are loads of people of different shades and backgrounds. Get used to it."
Disney has not responded to a request for comment.