The apparent terror attack at a London tube station has prompted a very British response to Islamophobia on social media.
On Saturday, a man reportedly wielding a knife stabbed a man and injured two others, in what police are investigating as a terror attack at Leytonstone station in east London.
Before being arrested, the suspect reportedly shouted "this is for Syria" and "all your blood will be spilled" during the incident. The religion of the attacker is not known.
But video apparently filmed as police moved in to make the arrest shows commuters lambasting the assailant, with at least one man shouting: "You ain't no Muslim bruv! You ain't no Muslim!"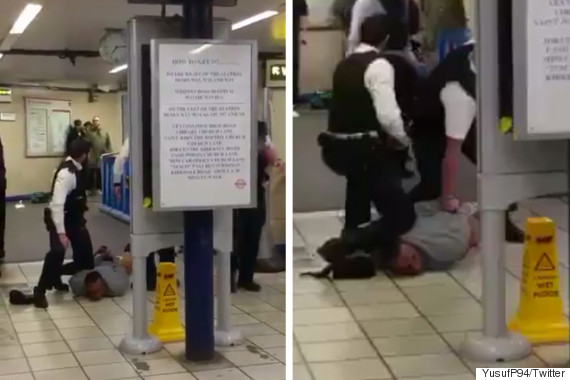 The phrase was shouted as the man was arrested
READ MORE: Knife-Wielding Man Stabs Victim At Underground Station, Shouting 'This Is For Syria'
Shocking scenes at Leytonstone Station pic.twitter.com/QwsynQjZHA

— Yusuf (@YusufP94) December 5, 2015
While it is still unclear who captured the footage and who made the remark, the phrase quickly trended on social media.
Ngl the hashtag #YouAintNoMuslimBruv makes me proud to be a British Muslim. No real Muslim kills/harms innocent people,end of. #Leytonstone

— Ja'Crispy (@suh_alien) December 6, 2015
#YouAintNoMuslimBruv hashtag is one of the reasons, I love London.

— L3ahpar (@l3ahpar) December 6, 2015
Can we make #YouAintNoMuslimBruv the new battle cry against terrorism? No guns, no bombs, no threats. Just those five words. #Leytonstone

— Kellie O'Gara (@LovelyShoes) December 5, 2015
Reports that someone yelled at perp: #YouAintNoMuslimBruv !

Yes..that sounds like a Londoner to me.

December 5, 2015
#YouAintNoMuslimBruv "put the knife down you fool" Gosh I love Londoners you made us proud

— Amanda Rose (@Amandarosegk) December 6, 2015
#youaintnomuslimbruv is the most #London response to terrorism you could imagine and pretty much sums up how we all feel about these maniacs

— Matthew Harper (@harper_matthew) December 5, 2015
Awful news about attack in #Leytonstone hope all those attacked make a full & speedy recovery. Bystander was right #YouAintNoMuslimBruv

— Humza Yousaf (@HumzaYousaf) December 6, 2015
#YouAintNoMuslimBruv Only calling the attacker a cad and bounder would have been more British.

— Johnnie Hales (@NorfolkMiniOC) December 6, 2015
The Met Police has said it is investigating the attack as a "terrorist incident."
The Met's head of Counter Terrorism Command, Commander Richard Walton, said: "I would urge the public to remain calm, but alert and vigilant. The threat from terrorism remains at severe, which means that a terrorist attack is highly likely."