Sir Alex Ferguson thinks he could have been a trade union leader if he had not become Britain's most successful football manager, he has told the Huffington Post UK.
The former Manchester United boss, who has just co-authored a book on leadership drawing on his decades of experience, was an engineer and a union representative and suspected there was a "tendency for me to go that way" if football had not been his life.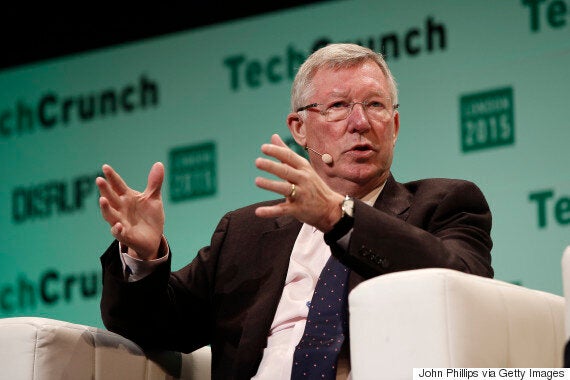 Sir Alex Ferguson speaking at the Copper Box Arena in London during TechCrunch Disrupt
Speaking to HuffPost UK after appearing at TechCrunch's Disrupt conference in London today, the 73-year-old ruled out any involvement in politics or other industries now he's retired from the game, putting the kibosh any prospect of entering the House of Lords.
Sir Alex was interviewed on stage by venture capitalist Sir Michael Moritz (full interview below). Together they authored the book, Leading: Learning from Life and My Years at Manchester United, which documents the football legend's leadership style and the lessons other industries can learn.
Asked what other business he thought he could have been a success in, he said: "If I wasn't involved in football, I would have found a way in life. And whatever my way would have been at the top end.
"I was an engineer and a shop steward. If I'd stayed in that industry I may have ended up as a union leader. I think there was a tendency for me to go that way."
But he added: "It was always football, football was my bent in life. I got where I wanted to get to."
As to whether he fancied giving another industry a go now, or the House of Lords, he said: "Too old. No, no. Definitely not."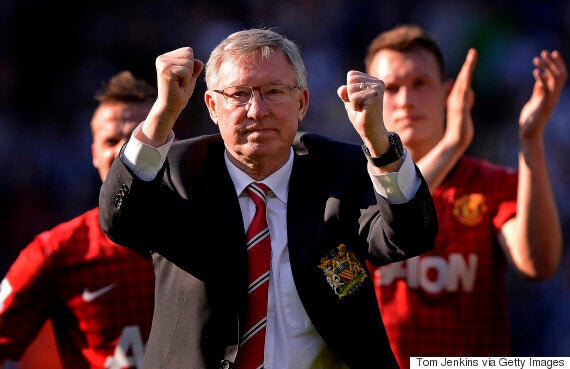 In close to three decades with United, Sir Alex won 38 trophies and 894 games
He was questioned on stage about media pressure, and admitted he used to splash his face with cold water before facing the Press, adding: "You have to win twice on a Saturday. You have to win the game and you have to win the press conference. Some managers fail, simply because they lack experience or they're emotional."
Speaking afterwards, he was asked by HuffPost UK if managers face an "unfair" amount of pressure in the era of social media compared to when he first began his career in charge of part-timers East Stirlingshire in 1974.
"There is an unfairness, I suppose, in some respects. But it's something you have to deal with," he said.
"When you become a manager there is an expectation you have to deal with that. You have to win that battle. Your fans are watching you - they are looking for me to give them a message. They're looking for me to control that Press conference. I worked really hard at that.
"There are some managers when they lose four or five games in a row, understandably there's a pressure on them. But once you get to the Press conference you can kill yourself by not have a good one."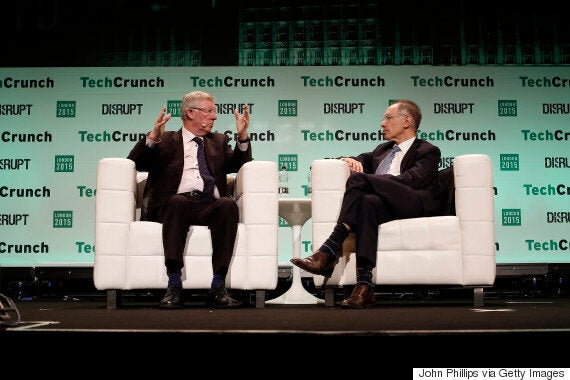 Sir Alex Ferguson in conversation with Sir Michael Moritz, his co-author
He said former Scotland manager Jock Stein was a "bit of a mentor for me", but that he wanted to "stand on my own feet, my own personality".
Of current world leaders, Sir Alex said he is "always impressed" with German chancellor, Angela Merkel. "She has something about her - a presence, a strength of character, a strong face. It feels as if she could control a country. I'd think she's a model for a lot of leaders," he said.
Ex-Manchester United star Roy Keane once praised Sir Alex's ability to judge what his players needed ahead of a game, underlined by a three-word pre-match team-talk that consisted of simply: "Lads, it's Tottenham."
Asked was the essence of his motivational speeches, he said: "Impact. There has to be a point where an impact can be made. Maybe what Roy says about a few words. I would always end with work ethic and concentration. Always my end to every speech.
"There would always be themes. If you're speaking to a group of players for 20-odd years, you can't keep talking with the same dialogue - so I changed stories all the time, but always human element stories."
TechCrunch Disrupt is the world's leading authority in debuting revolutionary startups, introducing game-changing technologies, and discussing what's top of mind for the tech industry's key innovators.

Disrupt gathers the best and brightest entrepreneurs, investors, hackers, and tech fans for on-stage interviews, the Startup Battlefield competition, a 24-hour Hackathon, Startup Alley, Hardware Alley, and After Parties.

Disrupt runs on December 7 and 8 in London.