Donald Trump has been caught mid-flinch whilst attempting to dodge a vicious looking bald eagle.
The footage, released by TIME Magazine, shows the Republican presidential hopeful cower in fear as the bird spread its wings across his face.
It was taken during a photoshoot marking Trump's position as runner up in the TIME 'Person of the Year' award, which was won by Angela Merkel.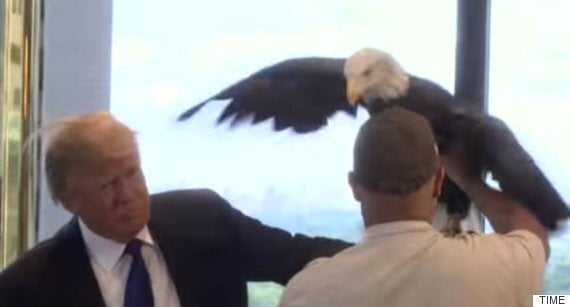 Donald Trump versus an eagle
Trump had agreed to pose with the symbolic bald eagle for the magazine's cover story. The idea to use the US symbol came from award-winning portrait photographer, Martin Schoeller.
The huge eagle, named 'Uncle Sam', is seen sitting on Trump's forearm, before pointing its beak at the US presidential candidate's face and repeatedly trying to fly away.
The footage has been shared across social media since Trump controversially stated that the US should block all Muslims from entering the country, claiming it was his temporary proposal in response to terrorism.
Coming to his own defence, Trump used President Franklin D. Roosevelt's authorisation of the detention of Japanese, German and Italian immigrants during World War II as an example.
Hillary Clinton - who Trump could run against next year - weighed in on the debate, tweeting: "Tell Donald Trump: Hate is not an American value."
David Cameron also issued a response to the comments. He broke the custom of British leaders not commenting on US presidential contenders to condemn Trump's remarks.
"The prime minister completely disagrees with the comments which are divisive, unhelpful and quite simply wrong," said Cameron's spokeswoman, Helen Bower.
Nigel Farage, the leader Ukip who has attracted his own share of criticism for his views on immigration, told the BBC that Trump's "knee-jerk reaction" to ban Muslims from entering America was "perhaps for him a political mistake too far."