Police are offering a £10,000 reward after a female robber attacked the widow of the late film director Michael Winner with an iron bar before tying her up and robbing her.
Geraldine Winner, 77, was beaten with an iron bar outside her home in Knightsbridge, central London, late on October 9, before being forced inside.
Her hands and feet were then tied and she was blindfolded as the thief made off with jewellery and other valuables.
Winner suffered serious head wounds and a broken finger in the attack and was left extremely shaken.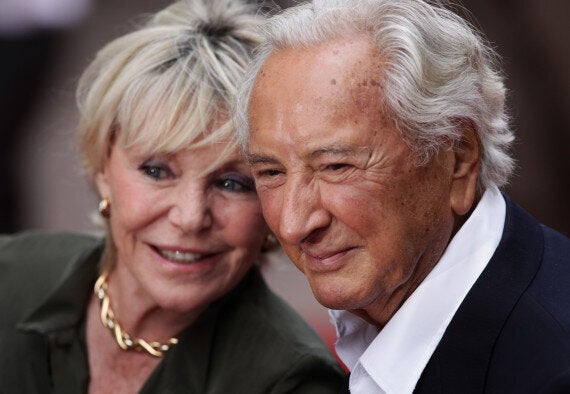 Geraldine Winner with her late husband, film director Michael Winner
She said: "They can take my possessions but they cannot take my memories."
Detective Chief Inspector Jane Corrigan, from Westminster CID, appealed for information and said the suspect was last seen walking up Kensington High Street.
She said: "I have never seen an attack of this nature committed by a lone female throughout my policing career."
"The suspect was very specific in terms of the items she was looking for and the motive is still being investigated."
Items stolen included a heart-shaped diamond pendant, cash including euros, and a painting of St Mark's Basilica in Venice by the artist Franz Richard Unterberger.
Corrigan said: "This incident has left Mrs Winner feeling vulnerable in her own home and I need the support of the public to solve this case.
"Someone knows this woman."
The suspect is described as a slimly built, white woman, in her mid 30s. She was wearing a dark coat, dark trousers, dark floppy hat and was carrying a large bag over her shoulder and a small rucksack on her back.
Officers previously said a man and woman were involved in the burglary, however a Metropolitan Police spokesman said it has since been established that only one suspect was involved.
CCTV footage of the offender will be shown on the BBC Crimewatch programme on Monday.
Michael Winner, who made more than 30 films including the blockbuster Death Wish series, died aged 77 at his home in Kensington in January 2013. He had been nursed by his wife following a lengthy battle with liver disease.
After her husband's death, Winner, a former dancer who he married in 2011, said in a statement: "Michael was a wonderful man, brilliant, funny and generous. A light has gone out in my life."
During his career, the director reinvented himself as a restaurant critic, writing about food in his typically flamboyant style in his Winner's Dinners column for the Sunday Times.
His appearance in adverts for motor insurance coined the catchphrase "Calm down dear, it's a commercial".
He also founded and funded the Police Memorial Trust following the murder of WPc Yvonne Fletcher outside the Libyan embassy in London in 1984.