Police have released CCTV footage of a gang of real-life grinches, who stole 190 Christmas trees from Manchester shopkeepers hoping to sell them.
Footage shows the gang-of-three working together to steal the Nordmann Fir trees worth £6,000 from a yard behind the Khawaja Brothers Mini Market in Chorlton-cum-Hardy, Greater Manchester.
Police said the men first struck the mini mart on Manchester Road around 9.40pm on November 28, before returning and taking more two days later. In total police said 190 trees were stolen.
Saqib Shabbir, 33, whose CCTV captured the men stealing the trees, said the theft had left him "heartbroken".
He told Sky News: "It has almost ruined my regular customers' Christmas.
"I don't want them (thieves) to enjoy theirs. I don't want them to have a smile on their face at Christmas.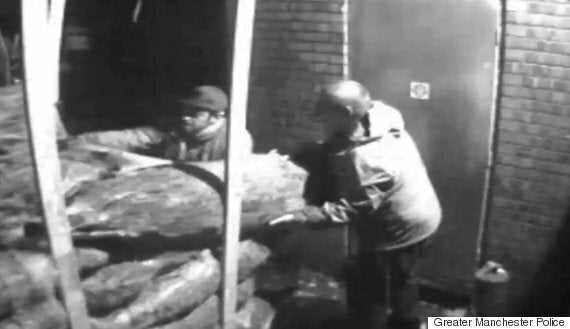 The men were caught on camera stealing 190 Christmas trees in Manchester
"We are just hoping somebody out there knows who did it and we are appealing to the community to help find the people responsible."
Detective Constable Trudy Lindsey of South Manchester division said: "The shop owners were devastated to discover that 190 of their Christmas trees had been stolen. This is their livelihood and the offenders selfishly put their business in jeopardy."
Lindsey said the gang's getaway van has since been seen in Chorlton, where it has been used to offer people Christmas trees.
"If you are offered one to buy I would ask that you contact police immediately," Lindsey said, appealing for anyone who recognises the men in the footage to contact Greater Manchester police.