The men have all been charged with trying to help Izzet Eren, 32, and Erwin Amoyaw-Gyamfi, 29, escape on their way to court in Wood Green, north London.
A 28-year-old British man from Tottenham, north London, was killed during the incident outside Wood Green Crown Court.
The shooting is being investigated by the Independent Police Complaints Commission (IPCC) and Directorate of Professional Standards - the Metropolitan Police's internal watchdog.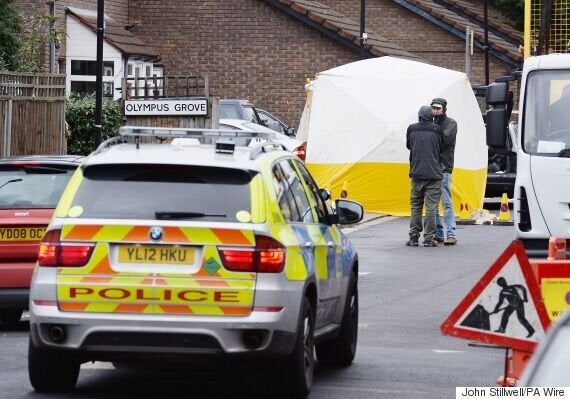 Officers and forensic teams at the scene of the shooting in Wood Green on Friday
Nathan Mason, Gokay Sogucakli, Ozcan Eren and Eren Hayser were all arrested following the police operation last week.
Eren, 31, of Douglas Road, Wood Green, and Hayser, 25, of Kettering Road, Enfield, have now been charged with conspiracy to aid the escape of the two prisoners.
Mason, 30, of Vicarage Road, Tottenham, and Sogucakli, 19, of the Roundway, Tottenham, face the same charge, as well as possessing an imitation firearm and using a motor vehicle taken without the owner's consent.
All four are due to appear in custody at Highbury Corner Magistrates' Court later today.
Armed police wearing balaclavas and in unmarked 4x4 vehicles carried out the "intelligence-led" operation.
Witness Nick Lindsay, a workman who was surfacing a road nearby, said the man who was shot was sitting in his car when police moved in.
He told Sky News: "The police all came down, they all jumped out of cars with their guns and said, 'Get down', and then there was a smash, then the gun shot went off. By that time police officers grabbed us to move us out of the way."
He said the incident was over in 10 to 15 seconds, but the man had been in the car for around 30 minutes before the police swooped in.
He said: "He was parked there for easily half an hour, I would have said, because he was there when we first turned up this morning. He must have been there at least half an hour, minimum."