The 2015 General Election saw 176 MPs elected to the Commons for the very first time. In a series of exclusive interviews, The Huffington Post UK is speaking to MPs from the 2015 intake of the Conservatives, Labour and SNP. This week, it's the frighteningly smart Suella Fernandes...

A conversation with Suella Fernandes can go anywhere - from a childhood in North London to a village carnival in Hampshire via Israel, immigration, the state of modern politics and Stevie Wonder.
The Tory MP for Fareham knows an awful lot about an awful lot, and is certainly not someone to hide behind 'no comment'.
From the shrillness of Labour in the tax credit debate to arguing why immigration needs to be controlled, the former barrister is not backwards in coming forwards.
As well as clearly being a politics nut, Suella has that rare quality in our elected representatives - she can laugh at herself.
Here is Suella Fernandes' 15 from '15:
1) Where were you born and raised?
I was born in Northwick Park Hospital in Harrow and I grew up in Wembley. I stayed there for most of my childhood and my parents are still there. I went a local state school in Brent, in Wembley in the eighties. My parents were really fed up with it because of the striking and the lack of discipline and they took the very difficult decision to move me out of that and take me to a private and independent school. I went to Cambridge University and did one year in France as part of an exchange. It was probably the best year of my life.
2) What did you want to be when you were 16?
I don't think I knew – that's very boring isn't it. I don't think I'd come across law at that point. I probably did want to be an actress as I did a bit of drama at school but I was a bit of an outdoorsy girl so I did a lot of camping and Duke of Edinburgh. I like all that outdoorsy life, so maybe some kind of adventurer or explorer.
3) When did you first become interested in politics?
It's very much from my home and my family. My mother was a local councillor for 16 years in Brent and my dad was a supporter. My mum and dad were always running little campaigns to save the library or getting a petition. The Conservative Party was quite a large part of our family life, lots of friends and that kind of thing. So I grew up around it but quite disinterested in it, it's not as exciting as going to the North Pole on an expedition.
When I went to university I did lots of student politics and I got involved in the Conservative association there and became chairman and made some really good friends who are in the party still, 15 years later, either working as advisors, or in journalism or as MPs. I don't remember any drunken nights with him but we were very good friends, and that's Robert Jenrick [MP for Newark]. James Davies [MP for Vale of Clwyd], he was a contemporary of mine.
4) Do you have any political heroes?
I've been inspired by my mum. She was a nurse who came to this country as an 18 year old from Mauritius. She was recruited by the NHS and she really got involved in the community and in politics as a result as a way of integration and serving. She got elected in 1991 and it was a real achievement for her. I really love that combination of grass root politics being really immersed in the community and real world experience, and also strong principles and convictions about what it is to be a Conservative.
We have a great tradition of welcoming people to this country, whether they are asylum seekers seeking safety or whether it is to make a new life and contribute to Britain for prosperity. Either way they are welcome and we are really rightly proud of that, but let's be honest about what is happening in some parts of our country. In parts of Lincolnshire the rate of immigration is about 1000 per cent. Parts of London – go to Bethnal Green in Tower Hamlets – then it doesn't look…people don't speak English. You've got aspects of culture and life ghettoisation which is not healthy and then we wonder why radicalisation and extremism takes place. There's still resentment and racism we are only going to break those barriers down if we talk honestly about how people are coming to this country and what there attitudes are and what they have to do to integrate.
Sometimes politicians don't want to go near this subject for fear of being called racist and we are the right people to embrace the issue in a fair and compassionate way.
I experienced a little bit of racism growing up, but not as much as my parents. I have been much luckier than my father for example when he came here from Kenya as a young man in the Sixties.
5) Who is your favourite politician from another party who is currently active?
I do admire Stella Creasy. She's really intelligent and I admire her campaigning zeal, and creativity and effectiveness, particularly on what she said in the last Parliament on payday loan sharks and I think that's a really important issue that she's bought up and I admire her for putting herself forward for deputy leader and she is a young woman who is really professional. I have a lot of time for her.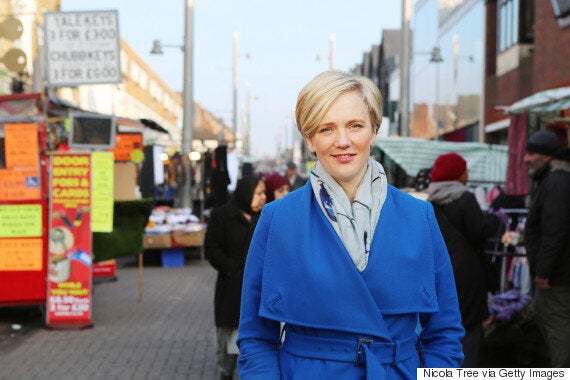 Labour MP for Walthamstow, Stella Creasy
6) What did you do for a living before becoming an MP?
I was a barrister for ten years. I started off in planning law, which is a really interesting area of law as it's a really interesting area of politics. It's really about that interface between the state and the individual and I really felt strongly when I was going into my career that the place of where you live or where you work or the road you walk down really has a huge affect on how you feel about your life. That is all determined to a large extent by Government planning decisions.
I did that for ten years, but that is part of a wider area of public law which is wherever there's a conflict between Government power and individuals. I also did judicial review, which is where the courts can step in and scrutinise a decision which is made by a public body. As part of that area I did a lot of work for the Government as as part of Treasury Counsel, which is kind of a specialist group of barristers appointed by the Attorney General to defend the Government. I did that in immigration law, defending the Home Office and the Home Secretary in the decisions she was making on immigration and asylum.
7) What do you do to relax?
I like the outdoors. I did the Great South Run in Portsmouth this year, and I enjoyed that. I've got a really lovely circle of friends who are really supportive. I love spending time with my friends. I like cooking and get a lot of pleasure and relaxation from going to the movies as well.
8) If you could run any Government department, which would it be?
I'm really passionate about education. I help set up a free school and I'm chairman of governors. It's a pioneering free school in Wembley.
9) What is the last book you read?
I read a book about Israel called 'Start-Up Nation'. I recently went to Israel with the Conservative Friends of Israel. 'Start-Up Nation' is fantastic, it's one of these popular science books but it just talks about how Israel from its diminutive size and small population and tenuous existence as well has defied the odds in terms of its economic growth and its innovation and how you've got this real enterprise spirit there particularly in the field of hi-tec and cyber security.
10) Who is your favourite band/artist?
I'm going to look at my playlist [Suella gets out her iPhone], I've had a lot of power ballads to get me through my running training. I really like a bit of Bruno Mars. I got a few of the tracks from that film Searching for Sugar Man, I like bluegrass and folk. I like Stevie Wonder, I do like U2, I like Robbie Williams, a bit of Justin, a bit of Rihanna. I like Jacques Brel, he might be my favourite one. Bob Marley, I like him.
11) Would you rather go on X Factor, Great British Bake Off or Strictly Come Dancing?
British Bake Off, definitely. I love baking.
12) What has been the biggest change since becoming an MP?
Less sleep. There's a lot to do, and it's non-stop. I actually want to say 'happier'. I feel a lot happier.
13) What is the one thing you would change about UK politics if you could?
The shrillness. You saw it in the tax credits debate. Some of the language from the Labour side towards the Conservatives has been quite offensive. They have completely polarised and sensationalised it. They've made it very shrill. They've said things like we want to harm children or we want to destroy lives; that the Conservatives are the party of unfairness. I did not come into politics and change my life and follow this calling for those reasons at all and to raise the temperature in that way is really unhelpful because it makes it personal and it's not constructive for finding a solution.
14) What one reason would you give someone to visit your constituency?
It's a beautiful place to live. One reason, although there are many, would be the warmth and decency of the people. The annual Titchfield Carnival is the second oldest carnival in the country and hundreds of people piled out and braved the cold October night and there were floats and fairy lights and bunting, there was a Carnival Queen, there was a soul band and people were dancing in the street. The pubs were heaving with everyone coming together.
15) What three words would your best friend use to describe you?
She would say: 'Suella is really warm-hearted'. I think she'd say 'sincere' and 'good fun'.
Popular in the Community