Christmas dinner is one of the best things about the 25th December, but when you have kids it can get a little manic.
Whether it's because children aren't patient enough to sit down for an entire meal or they're turning their nose up at the roast turkey, there's no problem that can't be solved with a little knowledge sharing among parents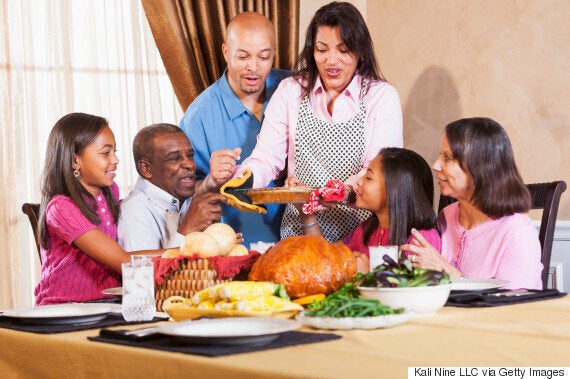 Here are 13 tips to get you through the day.
1. Turkey isn't worth a tussle.
The roast dinner might be something adults always look forward to, but kids have been known to turn their noses up at the tradition.
"My youngest kids (two and three) are having spaghetti bolognese for their Christmas dinner because neither of them are keen on a roast, and it's their Christmas too after all," said mum Ana Houghton.
Mum-of-two Katherine Teff also has an alternative to the family roast: "My kids (four and six) are too excited on Christmas day to sit and eat a roast that we have spent hours preparing.
"Instead, we have a picnic style party food lunch and once the children are in bed just the grown ups have a Christmas dinner."
2. Alternatively, wrap up a child-friendly roast.
If you really want your children to eat a roast, why not mix things up a bit?
Mum Angie Linford-Cheall turned her kids' roasts into wraps: "We let small ones eat it by making it into wraps.
"My adult children thought it was such a good idea they eat it that way too now!"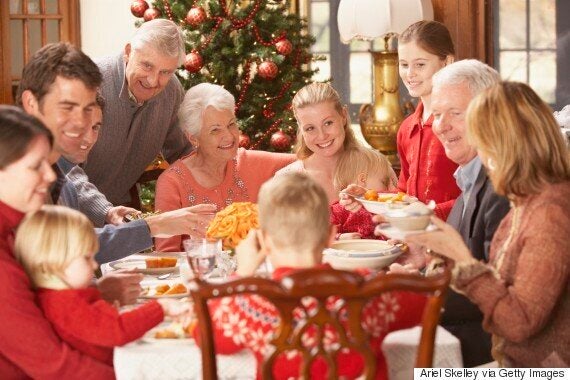 "We let our small children make their roast dinner into wraps!"
3. Colour-in tablecloths are a lifesaver.
We had tonnes of mums telling us that a colour-in table cloth was the way to go.
"They're a must," exclaimed Mandie Baylis. "It keeps mine occupied for ages."
Alexis Noble added: "It's the best invention ever - possibly more fun for the parents!"
Colour-in tablecloths be picked up at bargain prices on Amazon - but order soon to make sure it's there for the big day.
4. Let kids choose what they want.
Putting food on your children's plate that they just don't like will lead to "I don't want it" battles.
Avoid any food-related tantrums by giving children the option of which parts of the dinner they want to put on their plate (make a big fuss about how "yummy" the bowl of carrots looks to encourage them to add some vegetables on there too).
Mum Gemma Peadon said: "We put everything in dishes around the side and an adult helps my daughters chose what they want for dinner."
The excitement of having a cracker on the table with a present inside is sometimes too much to handle for kids, so telling them not to open it straight away is bound to cause some havoc.
"Crackers should be pulled whenever they want because Christmas dinner should be a relaxed affair," added Peadon.
Mum Francesca Nixon said her trick of mixing up the courses so the children eat at a different stage to the adults has worked for her for the past two years.
"My kids, now two and eight months old, will be having their main course while we have our starter," she explained. "Then we will put them both down for a nap while we finish Christmas dinner.
"It makes it much more relaxing."
Mel Sullivan said another option is to split up the Christmas meal so children aren't overwhelmed with too much all at once.
She said her family have their "starters" at lunch time (which includes soup and smoked salmon with bread) and then the turkey and roast dinner at about 5pm.
She added: "This also means that there's not a frantic rush to get everything cooked and the day is more relaxed."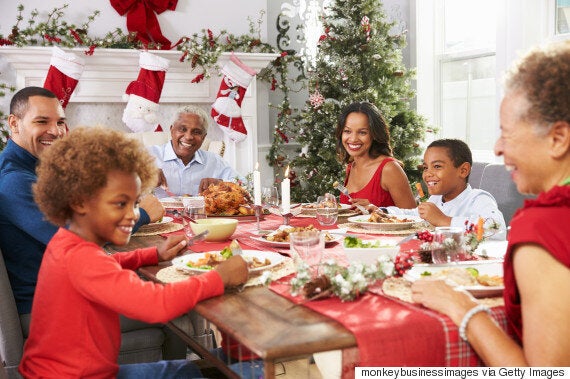 Suzi Jones said her family buy a big piece of Turkey breast that goes straight from freezer to oven.
She explained: "We did it last year and it took away all the worry of defrosting and making sure it was cooked through."
9. Involve the children in everything.
If you find yourself getting stressed about the children getting in the way or moaning that they are hungry while waiting for dinner, mum Beth Gerrard said there's a simple way to diffuse this - just get them involved.
"We involve our children in helping to set the table, lay out the crackers and give out small gifts at the table," she explained.
10. Let them be excused early.
Gerrard said Christmas is the one day she lets her children be excused from the table early, after they've eaten all they want.
"Let them go and play with their toys when they are done so the rest of you can relax a little over pudding and port," she said. "It works for us."
Are they chucking food on the floor? Turn a blind eye, so you can enjoy your own meal, advised Laly Pissenlis.
"Make sure everything is in chewable bites before they sit down and then pretend you can't see the food all over the table and the floor until you have finished your own plate," she said.
To avoid any last-minute panics or spending more of Christmas day in the kitchen than you would like, work out what you can prepare before the 25th.
Charlie Morrish said: "I roast all my meat the day before, then carve it and heat it through on the day.
"I also prep vegetables and other bits in front of the TV on Christmas eve, so then there's just a few bits to do on the day, so you can enjoy being with the children, not stressed in the kitchen."
Mum Justine Shephard does something very similar: "I cook my turkey or meat on Christmas eve and have also invested in a steamer, so on Christmas I buy ready-chopped vegetables and just throw them in steamer - no more worrying about pans boiling dry."
13. And one final piece of advice...
"If someone offers to cook for you then let them!"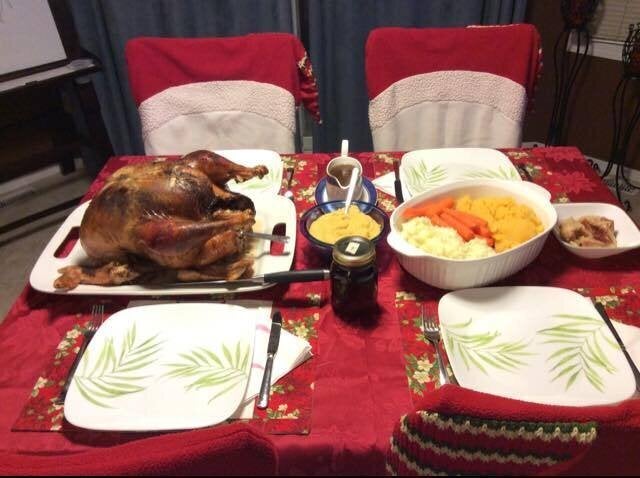 HuffPost Canada Readers Share Christmas Dinner Photos