Urine-repelling paint that "bounces back" the liquid is being tried in two east London "wetspots" to stop party goers from using public spaces as a toilet - a problem that has increased three-fold since last year.
Hackney Council is putting the coating on two walls in popular nightspots Shoreditch and Dalston during the Christmas and New Year party season in an attempt to flush out the offensive behaviour.
The council has fined more than 500 people for public urination in 2015 – three times as many as last year.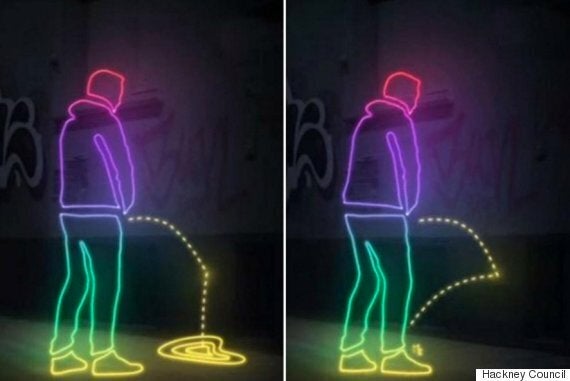 A diagram issued by Hackney Council which shows urine bouncing back from a coated wall, right, compared to what normally happens, left
According to the council, the coating creates a "barrier that completely repels liquid".
It said: "This means that anyone choosing to use the walls as a toilet will see their urine bounce off, covering their shoes and trousers. It also stops urine soaking into the wall – reducing stains and smells."
The council said it spent £100,000 each year washing urine off walls and pavements. The "peeback" wall is part of a strategy to reduce the problem which includes greater enforcement, more public toilets, and posters warning drinkers to relieve themselves in designated areas.
Councillor Feryal Demirci, the council's cabinet member for neighbourhoods and sustainability, said: "Come to Hackney and have fun this Christmas and New Year. Please enjoy yourselves safely and think about the people living nearby by keeping the noise down and not weeing in the street.
"No-one wants someone weeing on their own doorstep, yet some people continue to do it on the doorsteps of our residents and businesses. If the prospect of a fine doesn't put them off from weeing in the street, maybe the risk of getting covered in urine will."
The council noted that there are two sets of public toilets in Dalston, at Ridley Road Market and Dalston passage, open 24 hours a day, and that temporary urinals are situated at New Inn Yard, Gillett Square and Anning Street at weekends.
Hackney Council was also keen to point out that it is the only London borough to be ranked in the local authority Loo of the Year Premier League.
The council has received a mixed reaction to their trial with most twitter users taking the piss out of the initiative.