An Italian village council sparked fury after erecting large road-signs warning anyone who enters the hamlet to respect its "deep Christian traditions" or leave.
The signs in Pontoglio, a small municipal in the North of Italy, were immediately criticised by some on social media for being offensive and "racist".
The signs state: "Pontoglio, town of western culture and deep Christian tradition. People unwilling to respect local culture and tradition are invited to leave."
Although not said outright, several reports highlight that the messages were understood to be directed at Muslims, with local residents apparently dubbing them "no-Islam signs".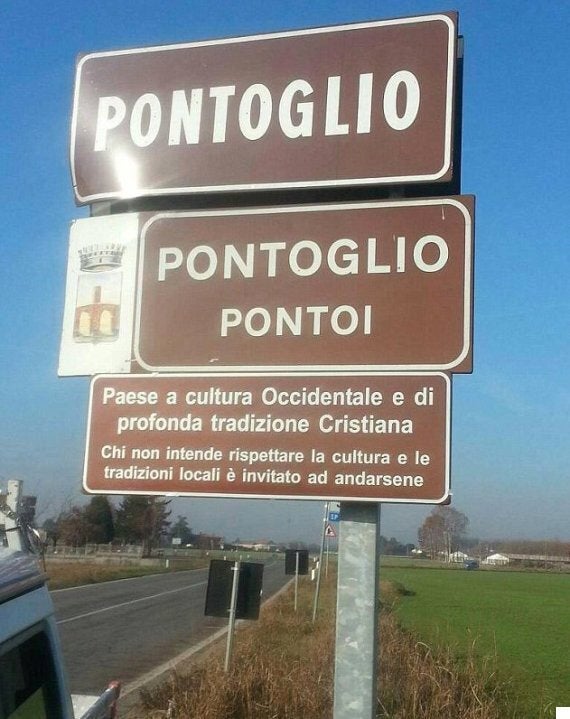 One of the signs now placed outside the entrance to Pontoglio
Council administrators posted news of the initiative on Facebook, but were accused of using racist - or razzisti - and discriminatory language, despite the fact the signs bear no reference to race.
Councillor Paolo Bocchi played down the claims and instead insisted the signs provided visitors with "cultural and historic information".
"Our culture is based on mutual respect. From women to music, art, habits and traditional rites," the council said in a statement posted on Facebook, defending its decision.
But nearby town Deputy Mayor Laura Castelletti hit back, commenting on social media: "I thought Italy was a secular country with no state religion and was not aware that women could be listed as part of a town's customs and traditions."
Others piled in, adding their own thoughts to the thread, including telling council chiefs: "Shame on you."
One user commented: "The Christian tradition, based on the gospel, says that Jesus has never invited anyone to leave, aside from the money changers from the temple, so if anything it is the mayor who should remove this sign, since this act is the first not to comply with that same tradition."