The parents of baby Jaxon Buell, who was born with parts of his skull missing, have spoken about the amazing support they have received from people around the world, while addressing criticism from Katie Hopkins.
"We actually had no idea who Katie Hopkins is. We still don't know and we certainly don't care," said Mr Buell to rapturous applause from the studio audience.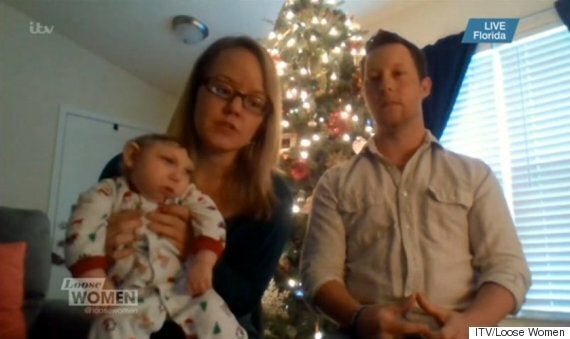 Baby Jaxon Buell can now say "I love you"
Mr Buell said the number of negative comments they receive has been dwarfed by the outpouring of support for their family on social media.
"It's very surreal, humbling," he said. "There's a large support group in the UK and we have a lot of support coming form that area.
"Seeing his story travel this far was never the intention, but obviously people have fallen in love with Jaxon."
"Every time that some has said a negative comment [about Jaxon], before we can get back to it there have been a dozen commenters who get back to them," he said, before adding that Jaxon's progress has meant the family are able to keep any negative comments in perspective.
"It really doesn't phase us, especially when it is unfounded," he said. "Jaxon is thriving.
"If those comments made more sense, perhaps they'd affect us more."
Jaxon was born with a rare condition called Microhydranencephaly, meaning parts of his brain and skull are missing.
His parents told McLean doctors spotted a problem on their ultrasound scans but couldn't fully diagnose Jaxon until after he was born.
"Doctors told us Jaxon wouldn't be suffering so we continued the pregnancy," said Ms Buell.
"All they could tell us was his brain was extremely under developed. He was very small, he was 1lb for almost my whole pregnancy, but he eventually got to 30lb."
Jaxon is the couple's first child and Mr Buell added that becoming parents has been "a rollercoster ride", but he likened their experience to that of all first time parents.
"This is our normal," he said. "Everything that we go through, this is our child, this is our family, this is our Jaxon."
Jaxon is now one year old and has reached many milestones his parents didn't expect him to. He can say "Mumma", "Daddy" and "I love you".
Mr Buell told The Loose Women audience that the last two weeks have been the best stretch of health his son has had to date.