A captivating photo project aims to encourage mums to feel confident and comfortable sharing their experience of breastfeeding.
"Perhaps if we were more in touch with our instincts and saw instinctual practices such as breastfeeding in our daily life it would be easier for women to breastfeed," says Suzie Blake, the photographer behind the 'What Does Breastfeeding Look Like' series.
"But we live in a sanitised world where breasts belong on page 3 (until recently) and where you're more likely to see a woman lactating in a porn film than for her baby. "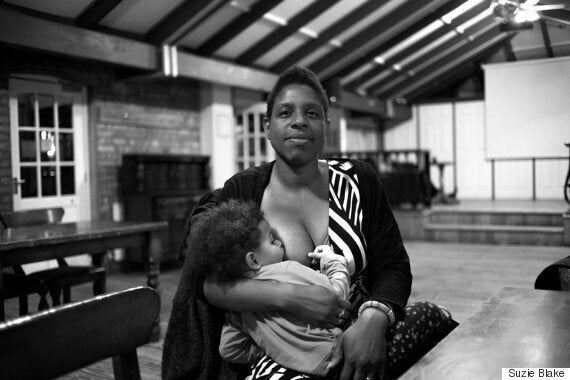 Lisa, one of the mums Suzie Blake photographed as she travelled across England
The Australian mum-of-two has travelled across England photographing mothers breastfeeding in their natural setting, be that at home, in the park or on the Tube.
"The women I've photographed seem to experience very similar situations," she told HuffPost UK Parents.
"Some felt uncomfortable about feeding in public or in the presence of certain people. Many of them experienced difficulty with the art of breastfeeding initially (mastitis, cracked nipples, difficulty latching on).
"There seems to be this attitude that being a 'good' mother means everything should come naturally, including breastfeeding. This expectation is ridiculous, it's like expecting someone to be able to do the Waltz without ever having seen it, let alone ever being taught it.
"We, the West, the women of the UK and Australia, live in a society where most people have never seen a woman breastfeeding, and yet we put pressure on women to instinctively know how to breastfeed."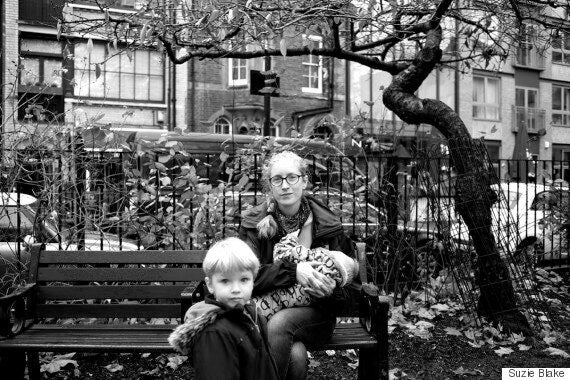 Catherine had a very different experience breastfeeding each of her two sons
Blake was inspired to start the project by her own experience of breastfeeding.
"I was sitting there breastfeeding my then six-month-old son Xavier, thinking about my application for my Masters in Fine Art," she explained.
"I was wondering what I could do for my thesis proposal and I started thinking about breastfeeding, photography, 'the gaze' and feminism, and how they relate.
"After doing some research I learned that it's a comparatively untouched element of feminist conversation, but an area of great importance."
Blake continued: "On a personal level I was getting tired of seeing unrealistic images of women breastfeeding, particularly Western women.
"There is a plethora of candid images of indigenous and tribal women breastfeeding, and they look so empowered. I want to show Western women in the same way. Breastfeeding in their environment and showing them as empowered.
"The objectification of women concerns me greatly.
"In the West breasts have evolved singularly as objects of male desirability.
"In saying that, I embrace the many functions of breasts. I don't believe a woman's breasts should necessarily be limited to infant feeding (unless that's what the woman wants of course), but nor should they be limited to fetishisation.
"We use our hands to write, throw a ball and play music - nobody questions the multiple functions of hands.
"However breasts, according to most, have one function - to appeal to men's sexual appetite. This is an example of patriarchal control over women's bodies.
"In order to reclaim our bodies we need to present our bodies as we choose. Presenting a woman's body in an image which isn't for fetishisation has the ability to subvert the dominant representation of women and their bodies in the media."
Blake said she was moved by all the mothers who took the time to pose for her. A couple of stories particularly stick in her mind.
"Emma Taylor, who I photographed breastfeeding her six-year-old and 16-month-old, explained to me her journey and I found it not only educational, but inspirational. She is an incredibly strong woman and I really admire her.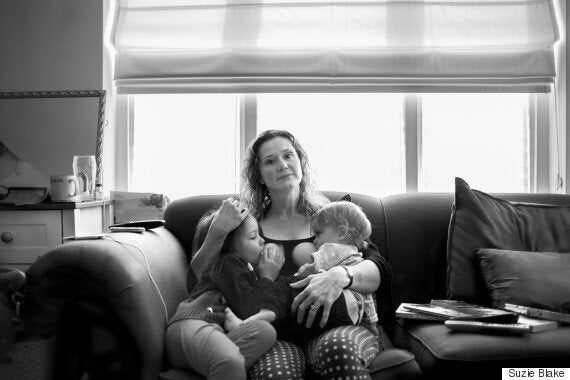 Emma didn't plan to tandem feed but she found it "easy, natural and normal"
Summing up her experience Blake says the project has taught her a lot about what it means to be a mother.
"Motherhood can be unifying, but it is fraught with cultural differences and personal differences that can have a dividing impact," she said.
"Breastfeeding is unifying because it is a biological experience. The good and the bad of it unifies us equally.
"When I was flying out of Heathrow airport I noticed a woman in a floral Hijab with a young baby, perhaps a few months old. She was wearing her baby, as was I, and we gave each other a smile.
"As it happened that same woman sat next to me on the flight. I wondered if she was breastfeeding, as I was keen to photograph a woman on an aeroplane. Turns out she was.
"I asked if she'd like to be involved in my project and she agreed. However, she was reluctant to have her face appear on social media. I asked if she would therefore consider pulling up her veil to obscure her face so it wouldn't be recognisable. She agreed."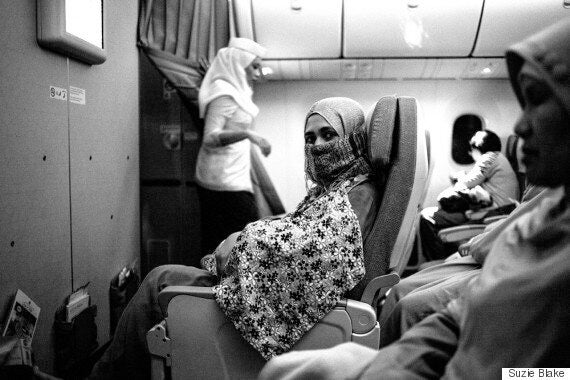 Suzie Blake said chatting to Tahnia about breastfeeding was "incredibly therapeutic"
"We talked at length about breastfeeding and our personal experiences," continued Blake.
"It's one of the best parts of the project - I get to have a good chat about all things breastfeeding with other mothers. It's incredibly therapeutic.
"In spite of the conflicts occurring in the world I felt a wonderful sense of togetherness with her.
"We are people. We are women. We have more in common than we don't and it is these commonalities we should focus on, rather than our differences, if we are to live in a harmonious world.
"I really hope my project can show togetherness and be a protagonist of change for the better."
Scroll down to see more beautiful portraits from Blake's photo series and to learn about the women in the pictures in their own words: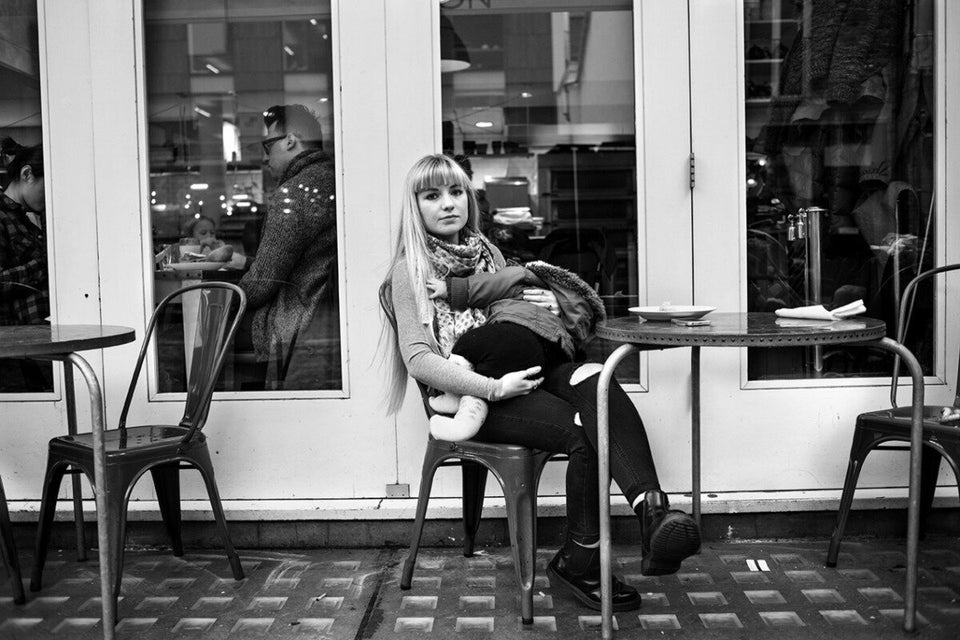 Breastfeeding In England (LIST)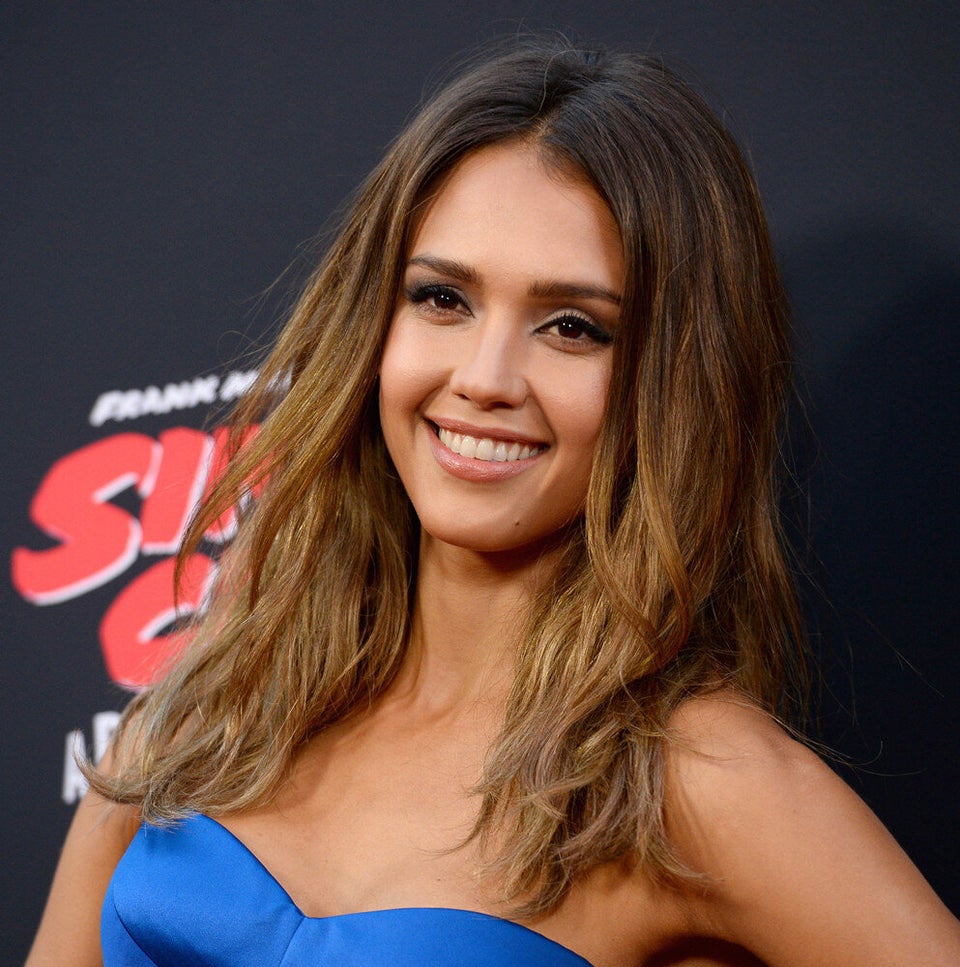 Breastfeeding Moments In Hollywood