This year has been a big year for feminism. Jennifer Lawrence wrote an essay about gender pay gaps in Hollywood, Hillary Clinton announced she was running for president, new Canadian Prime Minister Justin Trudeau appointed a cabinet with an equal number of men and women (with that incredible line, "because its 2015"), Malala - and many others - stood up with Emma Watson and declared herself a feminist.
But its not just celebrities taking up the mantle; many student feminist societies have made a difference across the UK.
Bristol University Feminist Society was only founded in 2009 but has been going from strength to strength each year. Its members were particularly moved by the refugee crisis and wanted to get involved. Rowena Salmon, spokeswoman for the society told HuffPost UK "as a committee we really wanted to do something to help refugees". She noticed that while many people were donating items to refugees in Calais, no one was talking about sanitary products. So she reached out to Refugee Aid and decided to help.
"I thought collecting pads would be really accessible for students and a way to link the campaign to our values as a feminist society," she said. "We're going to continue collecting into the New Year as it seems to be going quite well and neither the refugee crisis nor periods are going to stop over Christmas!"
The University Of Nottingham Feminists describe themselves as more than just a society - they're a campaign group. And this year they have been particularly busy. They successfully ran campaigns for 'tampon tubs' in university buildings and against lad culture in sport ('The Lad Culture Pledge').
The society also ran a campaign for 'Homeless Periods', collecting sanitary wear for homeless women. At the beginning of the year they had 'Men in Feminism', a photo project of men supporting the cause.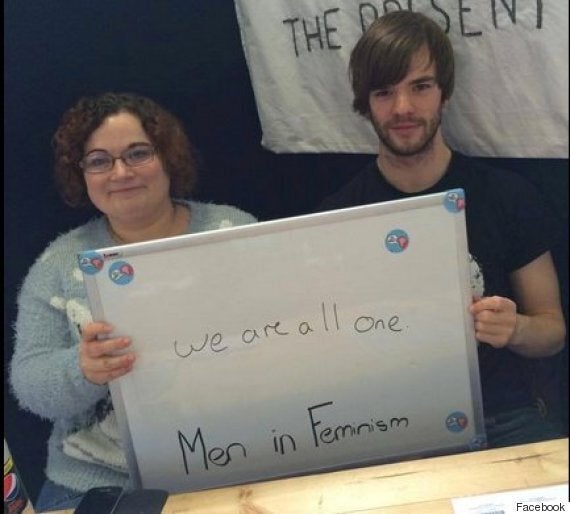 Up in Scotland, St Andrew's University Feminism Society hosted the One Billion Rising event on Valentine's Day. One Billion Rising is a global movement founded by Eve Ensler – the playwright and activist known for her play The Vagina Monologues – to end rape and sexual violence against women. The 'billion' refers to the UN statistic that one in three women will be raped or beaten in their lifetime, or about one billion.
The society also ran a "Reclaim the Night" event on 25 November, where members marched through the city's streets to mark the international day for the elimination of violence against women.
The Feminist Society at Newcastle University ran a 'Period Day' this year (which they will repeat in February 2016) where they ran a workshop about period shame and avoiding cisnormativity when talking about periods.
Rohan Kon, Secretary for the society said: "We campaigned for over six months, with a petition, information stalls and questionnaires to gauge how students felt about paying for periods. We also raised money to make menstrual care packs for homeless people who have periods. Eventually we took the motion to the students union council and it passed 100%! We now sell menstrual care products at cost price in the SU shop, and those in need can get them from the SU for free."
Aberystwyth's feminist society have nearly 200 members on Facebook and hold regular sessions of up to 40 people. Members have succeeded in removing the 'tampon tax' on sanitary items available at their Students' Union. The government adds 5% VAT to sanitary items, classifying them as a luxury and non-essential.
FemSoc member Elizabeth Kay said: "One of our earliest successes was ensuring the removal of the Tampon Tax at our Student Union. We firmly believe these items are essential, not a luxury. We've not been a society for long but already in that short space of time made a huge impact and name for ourselves.
"Last month we raised over £400 for the Mid Wales Rape Crisis Centre, one of our proudest achievements. We did this through a couple of bake sales and a charity even with live music, art and a raffle and photobooth. We also run open meetings every other week on topics such as privilege, consent, the sex industry, amongst other things. These are open to everyone and we invite healthy discussion."