The Environment Agency (EA) has promised a "complete rethink" of preparedness for flooding as Storm Frank threatens to bring more misery.
David Cameron defended the funding available for defences as he met people in York on Monday, taking advantage of a brief respite from the weather to start cleaning up.
But gales and downpours are forecast to sweep back in from Tuesday evening, with Cumbria and southern and central Scotland most at risk of more disruption.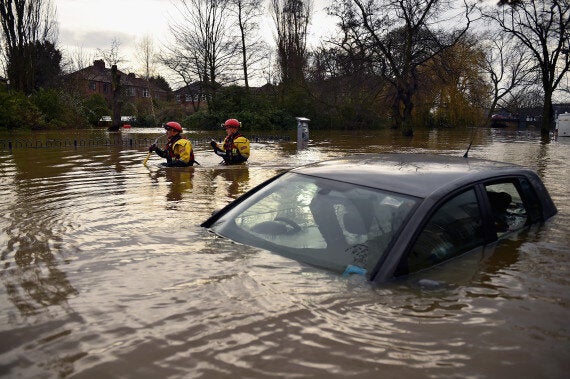 The Environmental Agency has promised a "complete rethink" of preparedness for flooding
Most of the nine remaining "severe" flood warnings issued by the EA for England and Wales - meaning potential loss of life - are centred on York, which was inundated on Boxing Day.
The Prime Minister met victims as well as those involved in the emergency response and insisted cash for defences was increasing.
He dismissed a complaint from the council leader in flood-hit Leeds the north was being neglected, claiming it got more per head than the south.
But he conceded the regularity with which homes were now being flooded made a review of what was being spent where a vital exercise.
The Government has ordered a major review of flood prevention strategy after the latest incident saw 500 troops deployed to help clean up after thousands were evacuated and many left without power.
EA deputy chief executive David Rooke said it would have to look at ways to flood-proof homes as well as traditional defences as the UK was "moving into a period of unknown extremes".
"We will need to have that complete rethink and ... move from not just providing better defences - and we have a £2.3 billion programme to do that over the next six years - but looking at increasing resilience," he told the BBC.
That would include solid floors, waterproof plaster, electrics moved up the walls and better early-warning systems, he suggested.
Cameron said: "We need to sit down and look at what we are planning to build, what we are planning to spend and see if more can be done.
"You don't just protect people, of course, through the flood defences, although they are important, and of course while some flood defences haven't worked this time, many flood defences have worked and protected thousands of homes."
He declined to comment on calls by the GMB union for a halt to staff reductions at the Agency it says will undermine its ability to launch out-of-hours responses to floods.
Green Party leader Natalie Bennett said the PM's response was "wholly inadequate" and showed he had not "grasped the reality of the climate change we're already experiencing".
She joined Committee on Climate Change chairman Lord Deben in calling for urgent action to prevent housing being built in flood-risk areas.
The Met Office said rain overnight would be much lighter than the recent downpours but Storm Frank - the sixth of the season - would arrive by the next evening.
It has issued amber warnings with up to 40mm of persistent rain expected widely across Northern Ireland, west and south-west Scotland, Wales and north west England - flooded by Storm Desmond - by Wednesday.
Twice that is possible - 80mm - over high ground, with some exposed areas in south-west Scotland and Cumbria warned they could be hit by 100-150mm.
It said the conditions were "not unusual for this time of year" and was comparable with the storms of the winter of 2013-14.
Met Office chief meteorologist Will Lang said: "Everyone should be aware of the potential for disruption in places from further flooding and the impacts of the gales to transport."