Former N-Dubz member, Dappy, has prompted a huge backlash online after tweeting some curious statements about the N-word.
I'm baffled as to why Dappy can say the n word in his song but censors it when he types a tweet pic.twitter.com/2sgBehLnv8

— Loudmouth Melvin (@loudmouthmelvin) December 29, 2015
The singer uses the word in a new song released yesterday (Monday 28 December) called 'Eros Apollo'.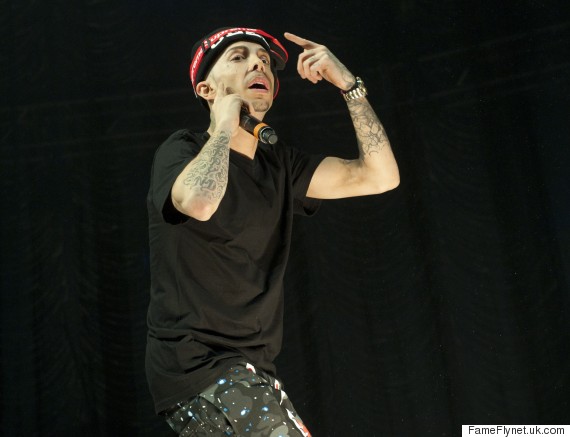 Dappy performing in Newcastle earlier this month
The tweet has since been deleted but not before a host of people took him to town for his statement, sparking a lively debate about what constitutes racism.
@TheDappy no. Bottom line is your not black.

— MrsSoFunMi (@Toaozay) December 29, 2015
This whole dappy thing man, like yeah he shouldn't have said it but cmon, you man know he's not racist, his logic let him down innit

— lanez (@TheRealFidKid) December 29, 2015
Dappy - real name Costadinos Contostavlos - is of Greek Cypriot descent.
@TheDappy @AskAboutAurelia no you're not black! No matter how hard you try! Just like no matter how hard I try, I'm not Greek-Cypriot

— Du'aine A Samuels (@DuaineASamuels) December 29, 2015
The singer later posted an apology on his Instagram account.
By this point many were making a comparison between Dappy and Rachel Dolezal, the former president of the National Association for the Advancement of Coloured People (NAACP), who resigned amid allegations she had "disguised" herself as a black woman.
She was publicly outed as a white woman by her own family.
Maybe Dappy is Rachel Dolezal's long lost son

— Yamikåni (@YamikaniSenpai) December 29, 2015
Dappy Dolezal is a great nickname, hope it sticks

— Dave B (@dacy_essex) December 29, 2015
The whole saga appears to have come as quite a shock to him when awoke on Tuesday morning.
Wowwwww!!! Just waking up to all this BS

— Dappy (@TheDappy) December 29, 2015
LIKE US ON FACEBOOK | FOLLOW US ON TWITTER