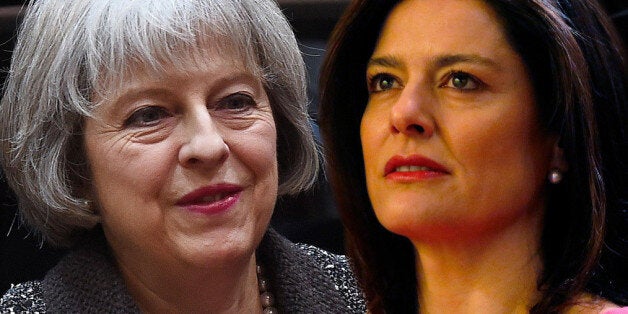 Miriam Gonzalez Durantez has come under fire for an "embarrassing" interview with Home Secretary Theresa May.
But some rushed to the defence of the lawyer and wife of former Deputy Prime Minister Nick Clegg, who was guest editing Radio 4's Today programme, as social media took sides over the head-to-head.
In a pre-recorded interview, Mrs Gonzalez Durantez asked if the "little girl" inside her is dreaming about becoming the next Prime Minister.
Mrs May responded: "She is dreaming of carrying on doing a good job in the Home Office in the role that I am at the moment. There is still a lot to do."
Mrs Gonzalez Durantez had asked the Conservative Cabinet minister if she wanted to lead the 'No' campaign ahead of the referendum on Britain's membership of the EU.
"Are we going to see for the very first time a woman leading the 'No' campaign in a Brexit referendum in this country?," she asked.
Mrs May replied: "My focus is on actually the negotiations that are taking place at the moment."
A laughing Mrs Gonzalez Durantez then told the Home Secretary that she had not answered the question.
"I'm a politician, Miriam," Mrs May said.
Anna Soubry, a junior Conservative minister, was among the first to express her displeasure at the tone of the interview.
But BBC presenter Clare Balding was among many to defend her programme.
And SNP MP and broadcaster John Nicolson took issue with Mrs May's responses.
Mrs Gonzalez Durantez - who runs a campaign to inspire young girls to make positive choices about their lives and careers - also spoke to celebrity chef and food campaigner Jamie Oliver and Great British Bake Off winner Nadiya Hussain to talk about and family and food.
She also interviewed Sir Richard Branson about balancing fatherhood and running a business, singer James Blunt about masculinity and sensitivity, and Vincent Kompany, captain of Manchester City and the Belgian national team, who's tried to use football as a force for good for disadvantaged young people in his native Brussels.
It was the last of three festive special editions of the Today programme after being guest edited by actor Michael Sheen and cyclist Bradley Wiggins earlier in the week.