Motorcycle clubs are patrolling areas of the north of England in an attempt to protect homes and businesses from looting.
The bikers are guarding areas of Hebden Bridge and Mytholmroyd after heavy flooding has led people to steal items left out to dry.
Around 20 to 30 members of at least four different clubs have banded together to support the devastated communities, with some even picking up teabags for the locals.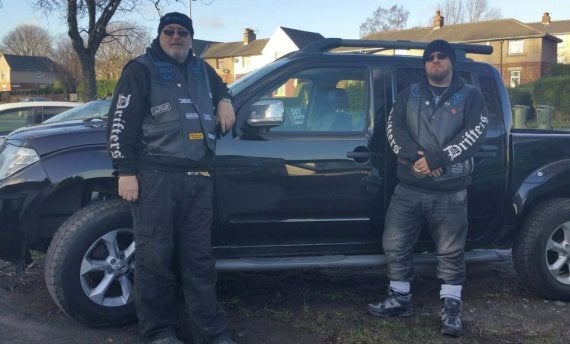 Bikers are protecting areas of northern England from looters
Members of the Drifters MCC, Pyeratz MCC and Nuntii Mortis MCC have joined forces to help out the flood victims in any way possible.
"We are out until the early hours. Last night it was about 1am, and it will probably be the same tonight, We just drive, park, walk, drive, park, walk. With our torches, looking for anything suspicious," Spencer, who runs a local pub, told the Guardian.
"We didn't want to go knocking on old people's doors. I am 6ft 5in and Dave's 6ft-odd, and knocking at some old dear's door at 9.30pm would probably scare them to death.
"But we are going to go round tonight and ask if they need anything from shops, because if they are stuck we can nip out and get them some teabags and things like that."
The intervention comes after callous thieves hit shops and homes of those flooded, including a bike shop in Calderdale.
The West Yorkshire shop posted a message to social media saying nine bikes had been snatched from the store, which was flooded on Boxing Day.
The Cycle Factory in Todmorden wrote: "Struggling for words here we got flooded on Saturday as did a lot of people. Last night we were robbed by the scum of the earth praying [sic] on flood victims."
A spokesman for West Yorkshire police said: "As the cleanup of Mytholmroyd, Todmorden and Hebden Bridge continues, we are being made aware of persons attending the area and removing items which are being left outside properties either for disposal or to dry out.
"In order to ensure the safety of empty properties in the area, additional police resources have been drafted in from other districts and areas.
"In addition to this, several motorcycle clubs from Bradford and surrounding areas have volunteered to patrol the area as extra eyes and ears on the ground."
Popular in the Community