'Come Dine With Me' has served up some truly memorable moments over the years, but on Tuesday night's show, we think we might have met the rudest contestant yet.
READ MORE:
Viewers of the Channel 4 dining show took to Twitter to share their shock after one guest, called Peter, laid into another after he lost out on the £1000 prize money to her.
He even went as far as to demand his guest, Jane, leave his property.
See, we told you he was rude.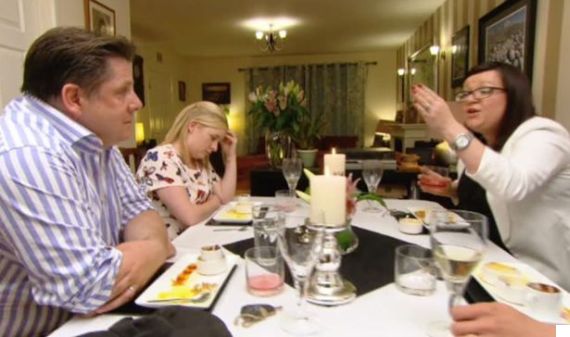 Uh oh
After learning that she had won the show, Peter accused Jane of deliberately sabotaging his own dinner party so she could bag the prize money.
"You ruined my night completely just so you could have the money," he fumed.
"I hope now you will spend it on getting some lessons in grace and decorum because you have all the grace of reversing dump trunk without any tyres on!"
Ouch.
Cue a bewildered Jane looking at the the other two (stunned) contestants, saying: "I don't get it."
"Well you wouldn't would you? Let's be honest, there's nobody in there, love," responded the host. "So Jane, take your money and get off my property!"
Twitter winced...
"Take your money and get off my property" - SAVAGE SCENES ON COME DINE WITH ME #comedinewithme

— Katie Chandler (@katiechands) January 4, 2016
This

This

This is the most awkward come dine with me I've ever watched...

Love it.

— Zoe (@scandalouslady) January 4, 2016
I'm still getting over tonight's Come Dine With Me a little. Genuinely traumatic. https://t.co/8c1cC1LfUN

— Jamie (@creepytennis) January 4, 2016
It's not the first time 'Come Dine With Me' has featured a seriously sore loser.
Back in 2014, Heather Horsfall was so upset at coming last that she threw a huge strop and disappeared to her bedroom to sulk.
Watch the moment Peter loses it with Jane in the (hilarious) clip above...
LIKE US ON FACEBOOK | FOLLOW US ON TWITTER