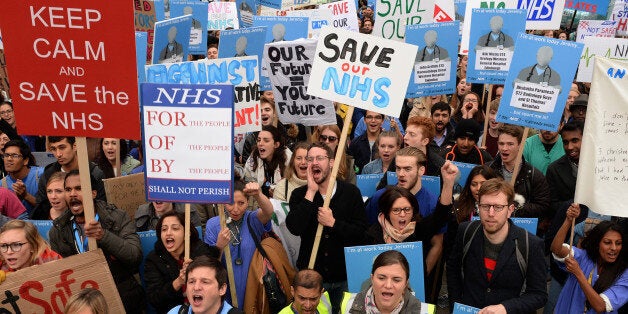 Figures showing more than a third of prospective medicine students have been put off the subject due to the government's treatment of junior doctors have been hailed a "disaster" for the NHS.
According to a poll from student discussion forum the Student Room, 37% say they will no longer study medicine thanks to the ongoing battle between health secretary Jeremy Hunt and doctors union the British Medical Association (BMA) over working conditions.
Dr Aaron Borbora, deputy chair of the BMA Junior Doctors' Committee, said the figures could be disastrous if young people are deterred from pursuing a career in medicine.
"These figures reveal a worrying trend and should serve as a serious wake-up call to government," he said.
"We need to ensure that the vital contribution junior doctors make is reflected through a fair and safe contract. Medicine is a difficult but also incredibly rewarding career.
"It would be a disaster for the NHS if the next generation of doctors, having seen how junior doctors are currently being treated, are deterred from entering the profession."
Hunt wants to decrease the number of hours during the working week which are classed as "unsociable" by 25%, meaning doctors will receive lower pay for working outside their traditional "normal" hours of nine to five.
Medics are likely to find themselves working more weekends, which, under the new contract, will no longer mean extra pay. As a result, many junior doctors are planning to strike.
On a discussion thread on the Student Room platform, one youth said the recent treatment of junior doctors had put them off the profession.
Writing under the name "Professor Oak", they said: "It would definitely put me off. Sounds so tough to be a junior doctor. There are easier options to get paid more if you're getting great grades unfortunately."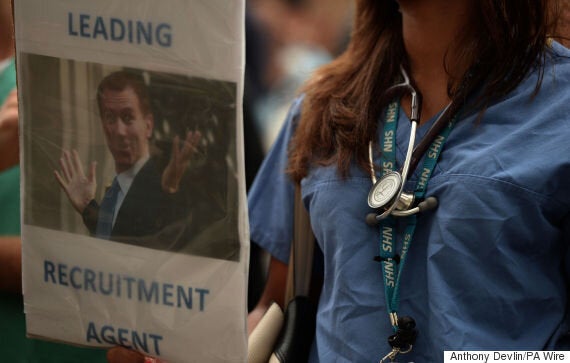 A woman holds a placard during the 'Let's Save the NHS' rally and protest march by junior doctors in London
However another insisted they were still determined to pursue a career in medicine.
"My GP said that current junior doctors have it way better than he did when he graduated years back," user kdizzle97 wrote. "I guess with this in mind, I'd still want to do it."
Massimo, a third year medic at Oxford University said: "Jeremy Hunt is trying to push for a seven day NHS, but he's forgetting the fact that doctors work seven days a week, 24 hours a day."
Second year student Akila added: "We're going to be overtired and overworked. We have patients' lives in our hands and it's a lot more dangerous."
Jack Wallington, community director of the Student Room, which questioned the 1,543 students, said: "With so many students put off of studying medicine, it signals a huge setback for the future NHS and will be of great concern to the wider public.
"The message being sent to our youth today is 'why bother" with medicine, as over a third of our brightest students now look to other, better compensated careers, reducing our pool of talent within healthcare significantly.
"[The public's] quality of healthcare looks set to reduce right at the time we face our greatest healthcare challenge in the history of the UK: an enormously top-heavy ageing population."
An investigation by the BBC recently found large numbers of GP surgeries in England have stopped taking on new patients as they are at "breaking point", thanks to being unable to fill staff vacancies.
Dr Chaand Nagpul, chairman of the BMA's GP committee, said practices were struggling to recruit new doctors.
"GP services are reaching breaking point as they struggle to cope with rising patient demand, falling resources and a shortage of GPs."
Wallington added: "[The Student Room's] latest data signals an alarming warning of an impending skills shortage in medicine, and places further questions over the future of the NHS."
In a statement addressing the strikes, Hunt said: "Our absolute priority is patient safety and making sure that the NHS delivers high-quality care seven days a week – and we know that's what doctors want too, so it is extremely disappointing that the BMA have chosen to take industrial action which helps no one.
"We had made good progress in talks, resolving 15 of the 16 issues put forward by the union – everything apart from weekend pay.
"We have now asked Acas to reconvene talks in the hope the BMA will return to sensible negotiations."
A Department of Health spokesperson said: "Medicine remains an attractive option for prospective students. Our contract offer to the BMA will mean a basic pay rise, safer hours and working arrangements and better training.
"Industrial action helps no-one which is why we've agreed to continue talks through ACAS."