Cartoon Network UK is facing criticism for 'censoring' a lesbian relationship from the children's show 'Steven Universe'.
The channel was subject to an online petition stating the network "is taking much-needed role models away from vulnerable kids."
The episode in question features a romantic dance between two female characters, Pearl and Rose Quartz.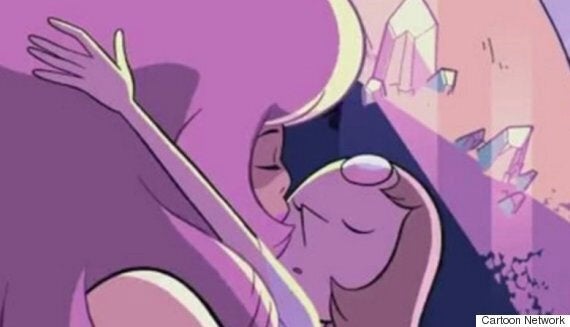 This scene has been removed from UK versions
However, when the scene was screened in the UK it featured close-ups of entirely different characters, with the removal of the dance entirely.
According to the online protest the show did not remove heterosexual romance scenes.
"The same episode ('We Need to Talk') has plenty of hetero dancing and kissing, so it looks like they're censoring this because it's two women," according to the petition.
The channel admitted to omitting scenes from the programme, but made no reference to the homosexual nature of the scenes.
"The US broadcast system requires that shows are marked with a rating –in this case PG (parental guidance necessary). In the UK we have to ensure everything on air is suitable for kids of any age at any time.
"We do feel that the slightly edited version is more comfortable for local kids and their parents. We have an ongoing dialogue with our audiences and our shows reflect their preferences. Research shows that UK kids often watch with younger siblings without parental supervision.
"Be assured that as a channel and network we celebrate diversity – evident across many of our shows and characters."
The full clip can be viewed below:
Related