'Celebrity Big Brother' bosses knew they were in for controversy when they signed up politician Winston McKenzie, and during Tuesday night's live launch, he'd upset viewers before he'd even set foot on the stage.
MORE 'CELEBRITY BIG BROTHER':
Winston, who was formerly a member of UKIP before joining the English Democrats, was met with a severe backlash online, over comments he made about gay people during his pre-recorded opening VT.
When quizzed about how he would react if he had to share the 'CBB' house with a gay man, he remarked: "How would I deal with a homosexual in the house? I guess I'd just be standing with my back against a brick wall."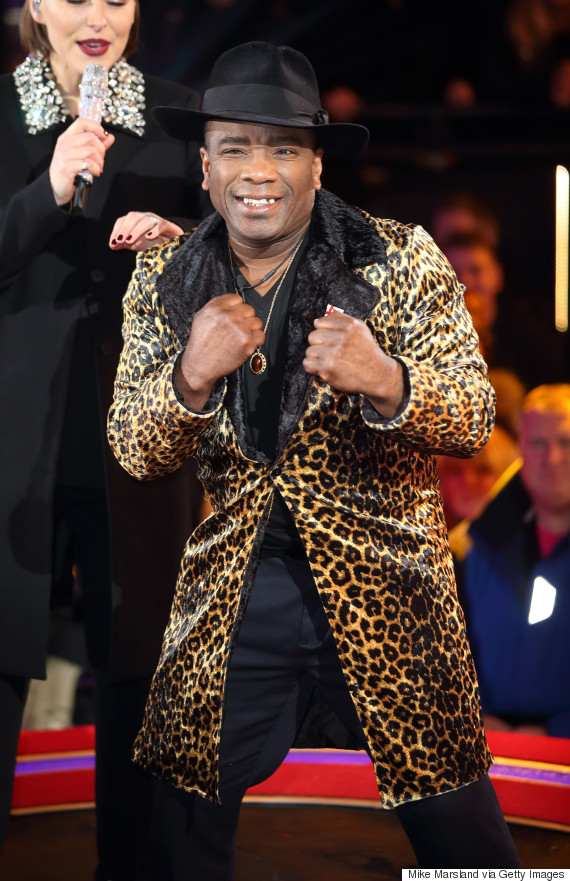 Winston McKenzie on his way into the 'CBB' house
His comments meant he was quickly pulled apart by 'CBB' viewers on Twitter before he'd even set foot in the house, with fans of the show criticising his "homophobic" opinion.
Don't know who Winston is but what a disgusting homophobic scumbag #CBB#CBB2016

— Danny (@DannyWxo) January 5, 2016
I can't explain how angry I am at Winston McKenzie making homophobic comments 😡 should be sent home.. #GetWinstonOut#CBB2016@bbuk

— Jack Green (@JackGreenUK) January 5, 2016
Winston McKenzie being homophobic on his celebrity big brother entrance... Best of luck mate you're gonna need it 👍🏼

— Joey Nunn (@Joeyynunn) January 5, 2016
Winston, you're in the wrong show if you think you'll get away with homophobic cave man views. Cant wait to see John take him on #CBBWinston

— Tom Knight (@TJ_Knight) January 5, 2016
Okay instantly dislike Winston. So homophobic. #CBB

— Amy Mitchell (@Mitchy_x) January 5, 2016
This dude is delusional and homophobic. Hope he doesn't last 👎#Winston#CBB

— dawniep78 (@Dawnie_p78) January 5, 2016
Viewers also took the opportunity to criticise Channel 5 for including him in the series at all when he had voiced such views, pointing out that he'd be reprimanded for such a comment had he made it inside the house.
Winston can be homophobic on his VT and go in, but homophobic in the house and get kicked out? #cbbpic.twitter.com/rY89770Wqq

— Lee McVeigh (@LeeMcVeigh) January 5, 2016
Winston McKenzie is going in to #CBB saying homophobic stuff people get kicked out for. Had it been racist statement he wouldn't be let in.

— James ReshufHallwood (@jhallwood) January 5, 2016
Funny, if Winston had made that homophobic comment INSIDE the house he'd be removed. #CBB

— Adam McGarry Byrne (@Adamdoodles) January 5, 2016
Winston made a homophobic slur in his VT & is allowed to go into the house???! Really #CBB ???! #dickhead

— Liane Curtis (@LianeCurtis) January 5, 2016
Why on EARTH would they allow homophobic comments in Winston's opening VT when they're completely forbidden in the house? #CBB

— IncrediblyRich (@IncrediblyRich) January 5, 2016
Winston entered the house saying a homophobic joke. He's got no chance of staying in long then. What a knob. #CBB

— James Anderson (@jammsss0209) January 5, 2016
That homophobic comment from Winston means a) he's an idiot b) he won't be on show long c) C5 apply different rules before show starts #cbb

— Mark Jefferies (@mirrorjeffers) January 5, 2016
#CBB2016#winston ? 😐 Ridiculous how you can air such homophobic drivel. Everything that's wrong with the world in one sentence.

— Matthew Bouch (@MatthewBouch) January 5, 2016
@channel5_tv@ofcom Great start to #cbb series with homophobic comments from Winston!!!

— Chris Beaumont (@beaumontchris2) January 5, 2016
As it goes, Winston is sharing his living space with not one but two gay men, former 'EastEnders' actor John Partridge and 'X Factor' finalist Christopher Maloney.
After making it into the house, Winston was dealt a blow fairly early on, when his suitcase was sacrificed as part of this series' launch night twist.
In recent times, several housemates have been thrown out of the house for inappropriate comments, with Ken Morley becoming the second housemate to leave via the back door back in January, after he was heard using a racist term while recounting a story.
Alexander O'Neal revealed in the months after his 'CBB' departure that he'd been asked to leave when he used a homophobic slur during a furious row with Perez Hilton, while Tila Tequila faced the boot less than a day after her entrance last summer, over an anti-Semitic blog post she had posted years earlier.
'Celebrity Big Brother' continues on Wednesday night, at 9pm on Channel 5.
LIKE US ON FACEBOOK | FOLLOW US ON TWITTER