By Wednesday, at least 106 criminal complaints had been filed after women were targeted in a series of sexual assaults and muggings in an "organised" mass attack at the busy German station.
As more details emerge of the attack, German police said that some of the Cologne assaults appeared similar to incidents reported in the past two years in Dusseldorf, where men have groped women to distract them before stealing their belongings.
Cologne and Dusseldorf are 25 miles apart.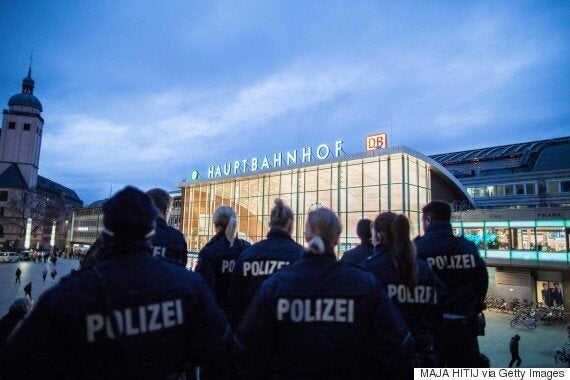 About 1,000 men gathered outside the city's main train station on Thursday, with smaller groups surrounding individual women, harassing them and stealing their belongings.
Police do not believe all 1,000 men were involved in the attacks, though they have not said how many were. One woman has reported that she was raped.
Fireworks were also thrown into the crowd.
One of the victims told the BBC that a firecracker was put in her hood. She will be left permanently scarred.
The attacks were described as a "completely new dimension of crime" by city police chief Wolfgang Albers.
The interior minister of North Rhine-Westphalia state, where Cologne and Dusseldorf are located, told news agency dpa that police have identified three suspects but have not yet arrested anyone.
The men involved were described as drunk and aggressive and largely of "Arab or North African" appearance, according to police.
Markus Niesczeri, a spokesman for Dusseldorf police, said that since the start of 2014, officers there have identified more than 2,000 suspects of North African origin in connection with organised thefts, though he did not say how many.
Dusseldorf police were working closely with their counterparts in Cologne to determine whether crimes in the two cities might be connected, Niesczeri said.
Cologne police have faced criticism for their response to the New Year's Eve assaults, the scale of which emerged only slowly. On Jan. 1, they issued a statement saying that the celebrations had been "largely peaceful."
Mayor Henriette Reker said she expected police to analyse what went wrong and "draw consequences from that."
In her first public appearance since the incident, Reker instructed women on how they could protect themselves.
She said: "There's always the possibility of keeping a certain distance of more than an arm's length – that is to say to make sure yourself you don't look to be too close to people who are not known to you, and to whom you don't have a trusting relationship."
Reker also said that women should avoid being in a celebratory mood. She was lambasted by many for "victim blaming".
Reker said on Wednesday that she regretted any misunderstanding, but had merely been pointing to existing prevention and counseling programs in response to a journalist's question.
"The priority is for concrete security to be provided on our streets and squares," she said in a statement.
Authorities have cautioned that the nationality and residency status of the Cologne suspects is still unknown, since no one has been arrested.