Arthur Simpson-Kent is being sought by police following the disappearance on December 13 of his partner Blake, 43, and their sons, Zachary, eight, and Amon, four, after a family visit to Leyton, east London.
Police, acting on a referral from another organisation - reportedly The Samaritans - spoke to the 48-year-old hairdresser on December 16 at the family home in Erith, Kent, but were unable to reach him two days later. The following day, on December 19, police listed him as a "high risk missing person". The family's disappearance remained a missing person's case until Blake's Renault Scenic was found in Bethnal Green, east London, on January 3. At that point police announced that Homicide and Major Crime Command detectives would lead the hunt. That led to forensic officers searching the family home on Tuesday, and following the discovery of the bodies, the case being declared a murder investigation.
Police are yet to formally identify the deceased, but post mortem examinations are due to take place Wednesday.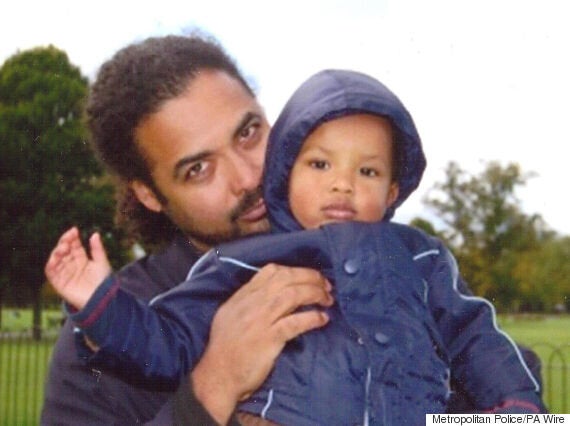 Police are hunting for Arthur Simpson-Kent over the disappearance of his partner Sian Blake and their two children, Zachary, eight, and Amon, four, seen above; it is believed he may have fled to Africa
Reports on Wednesday suggested Simpson-Kent had fled to Ghana as it emerged Scotland Yard began an investigation two days earlier into how the case was handled. The BBC has said the case would on Wednesday be referred to the Police Complaints Commission. Scotland Yard is yet to confirm that.
Detective Superintendent Paul Monk said Tuesday: "Sadly we found three bodies in the back garden of their home address and as such, this is now a murder investigation.
"Formal identification has yet to take place, it's too early to speculate but of course the family has been told and this is obviously a very difficult time for them."
Simpson-Kent's ex-wife Dominique Deblieux told The Sun that her former partner fled to Ghana just days before Christmas. She also further alleged he smoked cocaine and "dealt a little in it too".
She claimed that Simpson-Kent had eight children by various partners and alleged that he was abusive.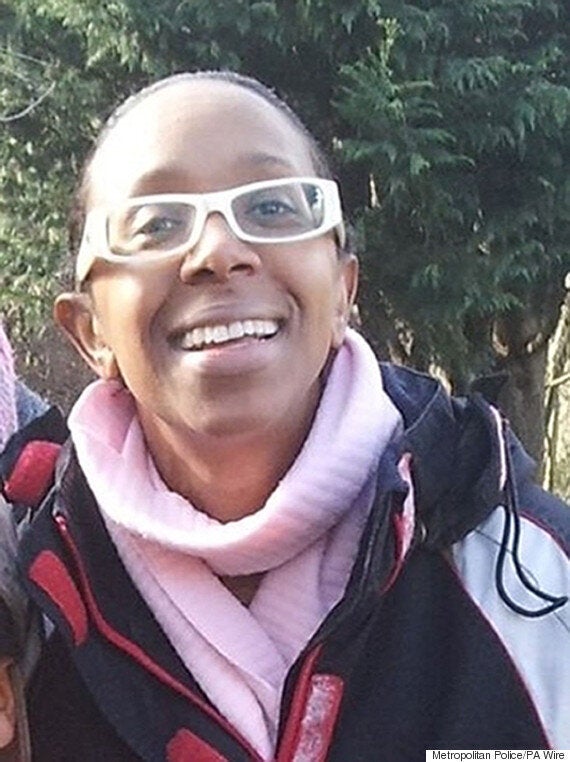 Sian Blake and her two children have been missing since December 13; on Tuesday police recovered three bodies from the garden of her home which are yet to be formally identified
The Sun further quoted a source as saying Simpson-Kent had travelled to Ghana via Glasgow and Amsterdam and that Interpol had been informed and an alert activated.
Police on Wednesday refused to comment on the claims, with a spokeswoman simply reiterating pleas for information on his whereabouts.
Officers have spoken to Blake's neighbours and have reportedly carried out "cell-site" analysis on his mobile phone in an effort to trace his movements. One neighbour is said to have told officers they saw him clearing out the family house with bin-liners before he disappeared. Police have not commented on that claim.
Police have appealed for any information on the family's movements in the weeks before they disappeared. Neighbours of the family have claimed that Zachary was no longer taken to school by his parents, and his younger brother, Amon, should have started, but did appear to have done so. Bexley Council has declined to comment on those claims.
MailOnline has reported that texts sent from Blake's phone said she wanted to be alone with her children for Christmas.
Detectives are said to have broken a window at the family home on December 18 after returning to speak with Simpson-Kent, but were said to have not found anything at that time.
The case has been referred to Scotland Yard's Directorate of Professional Standards, which will investigate why it took three weeks for murder detectives to be called in and for the bodies, thought to be that of Blake, who suffered from motor neurone disease, and her children, to be discovered. Scotland Yard said the case had not been referred to the Independent Police Complaints Commission.
A Scotland Yard spokesman said: "The Directorate of Professional Standards was informed on January 4 and is working with the investigation team to fully understand the timeline of police interaction with the family."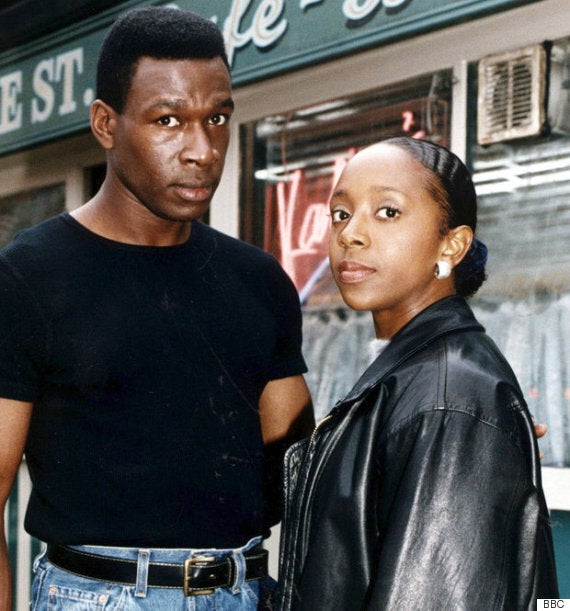 Blake with 'EastEnders' co-star Howard Antony
Neighbours said Blake, who played home-wrecker Frankie Pierre in the BBC soap in the mid-1990s, appeared "thin and frail" before she disappeared, and they feared her health was deteriorating rapidly. However, they added that the family appeared to be looking forward to Christmas and had put up a tree in the lounge.
Officers were said to have made daily door-to-door inquiries around Blake's neighbourhood after Simpson-Kent was listed as missing on December 18, but it took more than a fortnight for them to make a public appeal for information on the family's whereabouts. In initial appeals Simpson-Kent's name was not mentioned.
Neighbour Sam Sanni-Alashe was in tears as police unearthed the bodies from the Blake family home on Tuesday.
He said: "I am in shock, I can't talk. It is really hurtful. I know the lady. I see the children playing at the back. I say hello all the time. We are not close but she was a very happy woman.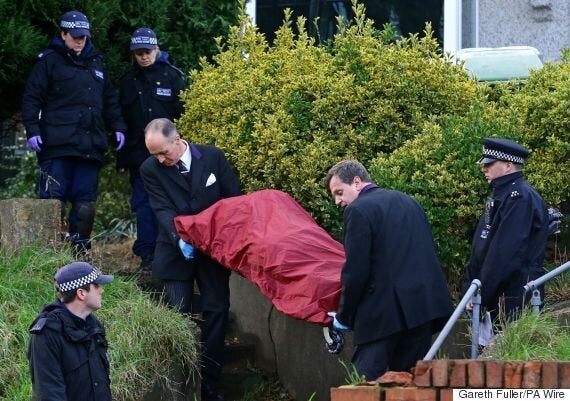 Police remove one of three bodies from Blake's Kent home; post mortem examinations will take place Wednesday to confirm their identities
"This is a disaster and it is awful for the community. I can see everything in the garden but these last few days I have chosen not to look. When my son finds out, he will be terrified."
Another neighbour, Hannah Cutting, 18, said: "I would see the kids playing at the window, then we were worried when police were there 24/7.
"It's awful just to think that something can happen on your doorstep and you see people and you have no idea what's going on."
A 30-year-old woman living nearby who knew Blake tearfully said: "She was a lovely, caring lady and we didn't know anything about her being in EastEnders. She was just the sign-language tutor with her two boys.
"I just feel really upset because I imagine that house and I just see those boys playing about and getting in the car. I was hoping she was just hiding away to have her last Christmas.
"I knew she was ill but we didn't know with what. I wish I had been a better neighbour. I'm devastated."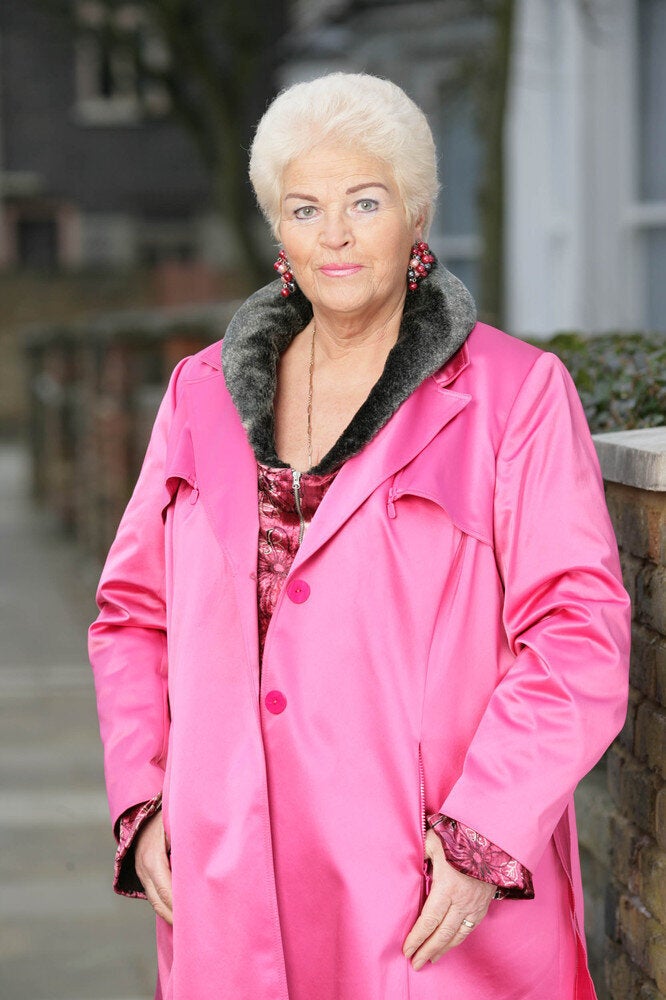 'EastEnders': The Women Of Albert Square
Previously an unknown actress, Blake's big break came when she was introduced as soul singer Frankie in EastEnders in June 1996 by series producer Jane Harris.
Her storylines saw her character frequently pursuing attached men and breaking up the marriage of Alan and Carol Jackson, played by Howard Antony and Lindsey Coulson.
According to IMDB, Blake was on the show for 56 episodes, reportedly quitting in 1997 because of hostility from viewers towards her manipulative character.
Her contemporaries on the BBC soap included Patsy Palmer and Dean Gaffney - who played Alan's stepchildren Bianca and Robbie - as well as Michael French (David Wicks) and Sylvester Williams (Mick McFarlane).
Blake also appeared in episodes of The Bill, Casualty, Doctors and Skins, and was the voice of Yugiri in 2015 video game Final Fantasy XIV: Heavensward.